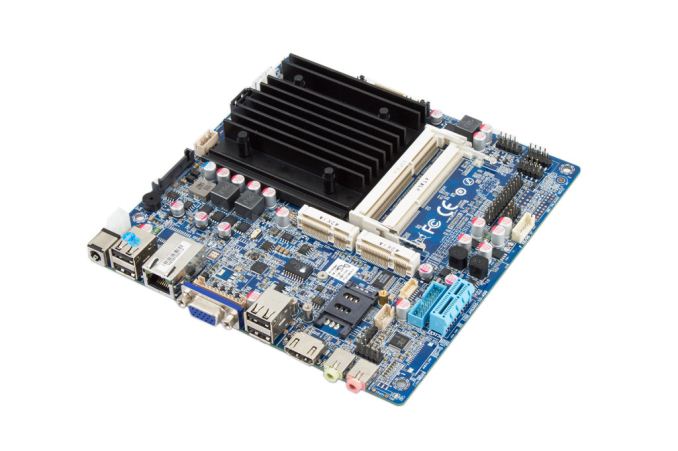 Habey's main focus in the PC market is towards industrial computers, with Ganesh having reviewed the BIS-6590 and BIS-6922 fanless systems last year. Industrial oriented components by their nature require sufficient design for 24/7 operation, sometimes in niche environments. To that extent Habey has released the MITX-6771, a Bay Trail based thin mini-ITX motherboard equipped with the Celeron J1900 SoC for the main purpose of providing an drop-in upgrade path for Intel DN2800MT users in the embedded sector. This means that the connectivity/IO of this new motherboard is designed to match the DN2800MT, with Habey adding a couple of extra features.

Habey MITX-6771 left, Intel DN2800MT right
Using the 10W J1900 (quad core, 2.42 GHz) and a sufficient heatsink allows Habey to continue its fanless range, but due to the thin mini-ITX standard, motherboard design starts to get creative. The motherboard supports two DDR3L SODIMM modules for up to 8 GB of DRAM, and storage comes via an mSATA slot and a SATA 3 Gbps port. The mini-PCIe slot supports SIM card adaptors (such as this one suggested by Habey) to be used with the onboard SIM reader, with a further PCIe 2.0 x1 slot for non-thin mini-ITX environments. Network connectivity is either via the SIM card or the Realtek NIC.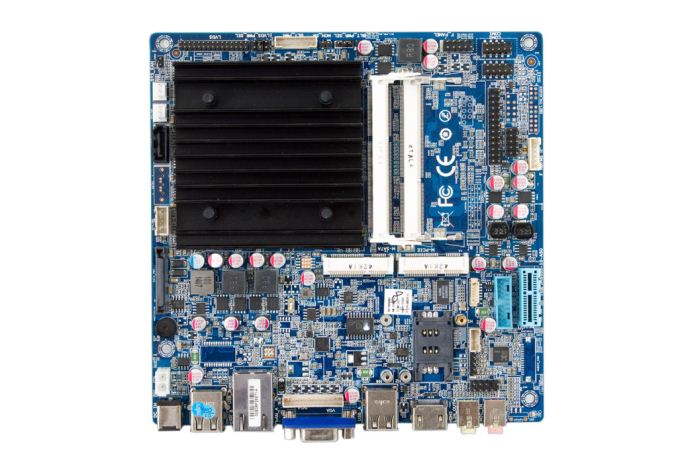 The board has VGA and HDMI video outputs on the rear IO, with an LVDS header next to the CPU heatsink. The four USB 2.0 ports on the rear are combined with a USB 2.0 header and a USB 3.0 header. There is also an LPT header, two COM headers and audio is provided by a Realtek ALC662. OEM options include ALC892 audio, an additional SATA port or a second gigabit Ethernet port (in exchange for two of the rear USB ports).
The main aim for this sort of product is digital signage, industrial automation, medical, connected appliances and point-of-sale type systems, although Habey is keen to point out that media streaming is also a focus. Despite the limited one-year warranty, Habey is offering a Long Life Cycle Support package, although we are currently enquiring as to what this entails.
Users might note the lack of an ATX power connector on board, namely because power is either derived from the DC-IN jack on the rear IO or a 2-pin ATX connector just behind the DC-In. Inside the box is a SATA to two-pin ATX cable.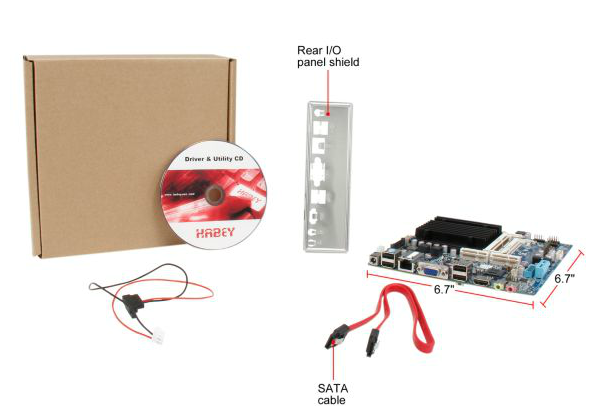 Habey retails some of their products on Newegg rather than going through them direct, and the MITX-6771 comes in at $150. This is near double what the consumer motherboards cost, although there are no consumer motherboards with SIM card (and thus 3G/4G) functionality or are a direct drop-in for the DN2800MT, rear IO and all.
Source: Habey