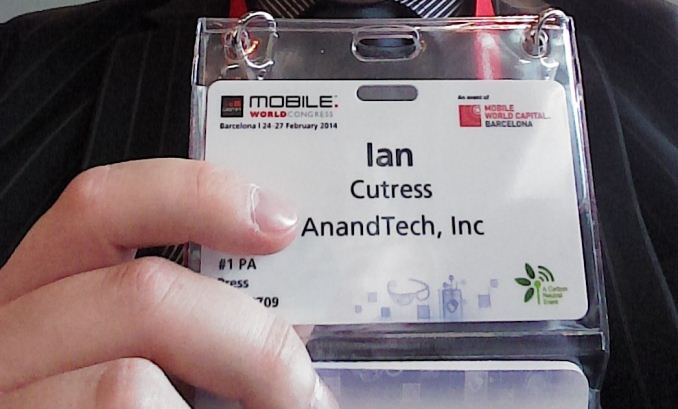 The decision to send four editors to MWC this year meant that Anand, Brian, Joshua and I were thrust deep in the heart of Barcelona for the best part of the week, surrounded by the companies that shape the mobile industry. Despite my several previous trips to Computex, for Joshua and I this was our first public event in the mobile industry with all these companies in one location, and I wanted to jot down a few of my thoughts on one of the largest instances of business-to-business agglomeration in the technology industry.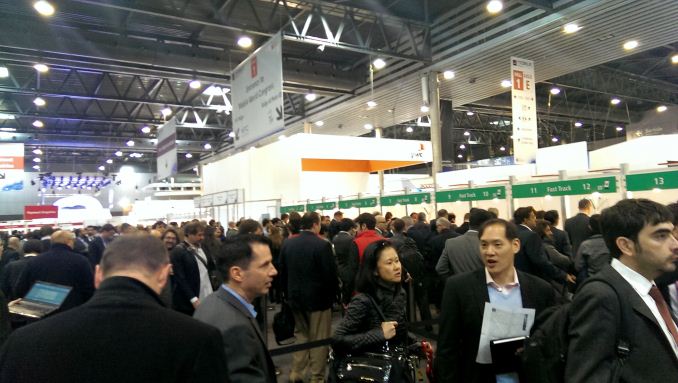 On the face of it, MWC sounds large. The cited number of individuals at the event (business, press and other) is in the region of 75,000, and the benefit to the local Catalonian economy is rated at 350 million euros. Walking though the eight halls of businesses using the event to showcase their technology and to meet partners is a figurative minefield of different walking speeds and backpacks aiming for the eye. As always with events of this caliber, the interaction with all 75,000 of these individuals means keeping hand sanitizer on your person is vital in order to avoid future viral issues. Several of the AnandTech editors were ill after CES, with Brian and Anand having their own stories of MWC in the past.
MWC is technically Monday to Thursday; however press briefings and events started on the Sunday. Brian and I attended the Microsoft Press Event on Sunday, where an update for Windows 8.1 and Windows Phone was announced to be rolled out in the spring. A lot of focus on Microsoft right now is regarding their acquisition of Nokia, and Microsoft were pleased to announce that Windows Phone had overtaken Blackberry to be the third largest smartphone OS.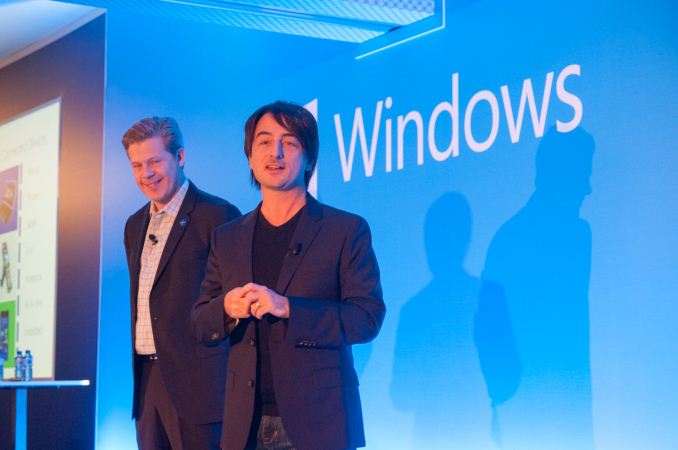 While Windows Phone has had a rough time of late, their new update is aimed at bringing several features that Android and iOS users have had for a while. On the Windows 8.1 side, features such as IE8 compatibility for IE11 and a focus on the OS for non-touch users were the main key points. Because I am primarily a PC user, I have not significantly used a touch based OS on a laptop for any serious length of time but the updates are welcome news should I invest in a Windows 8.1 device. Finally there was some discussion regarding the Nokia X, and how Microsoft felt about Nokia shipping a brand new Android based device rather than a Windows Phone. The counter punch there is that the Nokia X combines the Android Open Source Platform with a tile-based implementation of the OS, not too dissimilar to Windows Phone. I have a feeling future developments in this Android arena might come to a slow halt, with Nokia going all in with Windows Phone.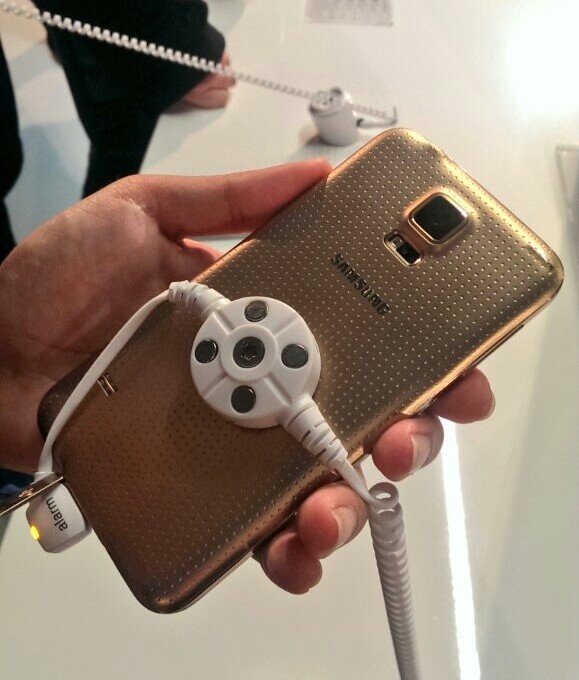 The big news of the event, both pre-event with unplanned leaks/speculation and with regards to the industry, was Samsung's Unpacked Event on the Monday. The 'Unpacked5' logo pointed fingers to the Samsung Galaxy S5, the latest iteration in the Galaxy line. The event was apparently low-key compared to previous presentations, with the invitation of the Barcelona Philharmonic Orchestra to initiate the proceedings.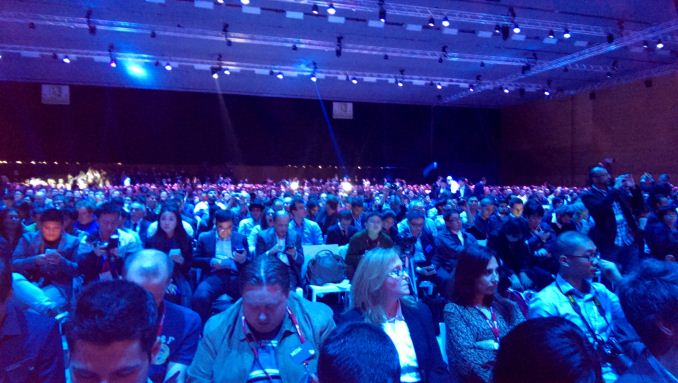 The SGS5 was ultimately a small jump from the SGS4, rather than the large jump that some users had expected. The use of 2x2 MIMO and a Snapdragon 801 SoC were the highlights on my end, while a lot of focus was put on the health technology by Samsung. To be honest, the front design looks similar enough (to me at least) to the old generation that I would have to ask or see the rear to distinguish the difference between the SGS4 and SGS5. Brian, Anand and I got a long hands-on feel with the device, testing the camera, responsiveness and the fingerprint sensor. In this event Samsung also announced the Gear 2 and Gear Fit, the smartwatch and health-related band that comes under the heading of wearables.
My opinion of the wearable ecosystem is fairly low to begin with (with the big question being 'why?'), based on the fact that I do not casually wear a watch and do not wish to know to the smallest detail the quality of my exercise routine. The quote regarding 'put anyone in a full body scanner and you will find 5 things wrong' resonates with my feeling, but the direction of the market is headed in that area. We still seem to be a few generations out in terms of applicability and user experience for the mass market, and I particularly agree with Intel's Genevieve Bell with her statement 'The much bigger question is not one about style but about meaning. Why are we going to wear these objects on our bodies? What are they going to say about us to others? Why would others care about them and what is the symbolic work these things do?'. In my opinion, something like the Galaxy Fit needs to move down to around $80 to become more appealable to the majority. However, the flexible color display marks a good point in technology evolution in the display space. Incidentally, this was labeled at the event as 'Samsung Unpacked 2014 Part 1', suggesting that at least another 'Unpacked' event is down the road sometime this year. Amusingly, one wireless SSID name at the event pointed to an un-announced device from HTC, although it was later discovered to be a social experiment by a journalist interested in seeing the reaction from other media.
For the most part of MWC on my side it was all to do with learning about the companies that we deal with in the mobile space. I come from a PC component background, and while mobile devices are essentially small PCs, the market is younger and going through the same evolution we saw in the PC space at the turn of the century. There are many stages to the equation and players willing to put their products forward, but ultimately it all comes down to performance, cost, perception and design wins. The event for me meant looking at the ecosystem from silicon to device, from people like ARM, Qualcomm, Samsung and Intel all the way through Mediatek, Broadcom, Peregrine Semiconductors, and ending up with Microsoft, Lenovo, Sony, Samsung again, LG, ZTE, Huawei, Nokia and Motorola. Every stage of a smartphone is riddled with intricacies regarding connectivity, power consumption, performance, industrial design, feature set and carrier integration.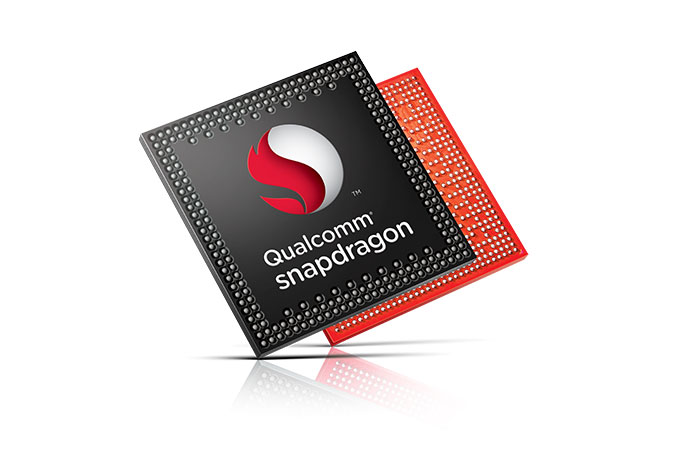 MWC is Qualcomm's big consumer facing event of the year, and throughout the week we met a lot of smart people up and down the company. The big announcement on their side was Snapdragon 801, which found its way into the Samsung Galaxy S5. We also saw the Snapdragon 610 and 615 being announced, using quad and octo-ARM Cortex A53s rather than an in-house Krait variant. A big part of the show talked about these new Octo-core SoCs with all the same core (Mediatek also has at least one), where the focus is purely on markets like China were numbers sell devices rather than user experience. The Chinese market seems to care about cores, speed and memory, and thus many of the SoC vendors want to compete in this large market. Qualcomm also showed demonstrations of 450Mbps LTE, Carrier Aggregation and multiple-event streaming via LTE, in a system not too dissimilar to that seen by the 2015 Marty McFly in Back To The Future II. Microsoft in their press conference leaned heavily on the Qualcomm Reference Design as a platform to bring Windows Phone to more markets by removing more of the burden of development from their partners – this is ultimately more a win for Qualcomm than Microsoft from my point of view.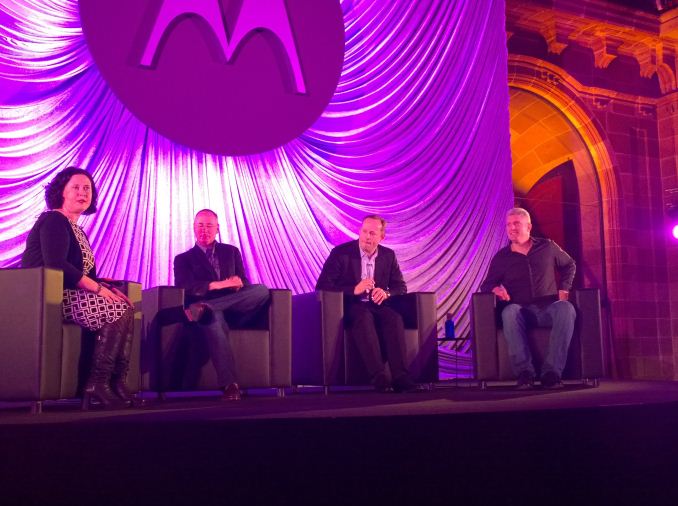 The Motorola Press Event threw up a number of challenges for Motorola. As far as I understand it, the initial plan was to have an intimate discussion session (basic Q&A) with the CEO Dennis Woodside, however he moved on to become COO of Dropbox recently. Thus with an event scheduled, planned and booked, three of the senior people in the company were given the Q&A treatment instead. Two announcements came out of it, either planned or otherwise: Motorola are working on a new watch, and the Moto X replacement is planned for late summer giving the device line a one-year cadence.
ARM celebrated their #50billionchips shipped announcement, meaning that for every individual on the planet there are now ~7 ARM chips. We were invited to their impromptu booth celebration during MWC, where I met with a few members from their UK offices. These are very smart people (there are smart people everywhere at MWC), and due to their location in Cambridge an hour away from where I live, with any luck I will be speaking to them in the future regarding architecture deep dives, a HQ Tour and perhaps an interview or two with them.
Trips to Rightware and Kishonti to talk about benchmarking software and relevance is also always interesting, especially when dealing with real-world relevance and implementations of new graphics standards on the mobile side. Also of note was SanDisk launching a 128GB microSD, which reminds me of a particular xkcd What-If regarding data sizes.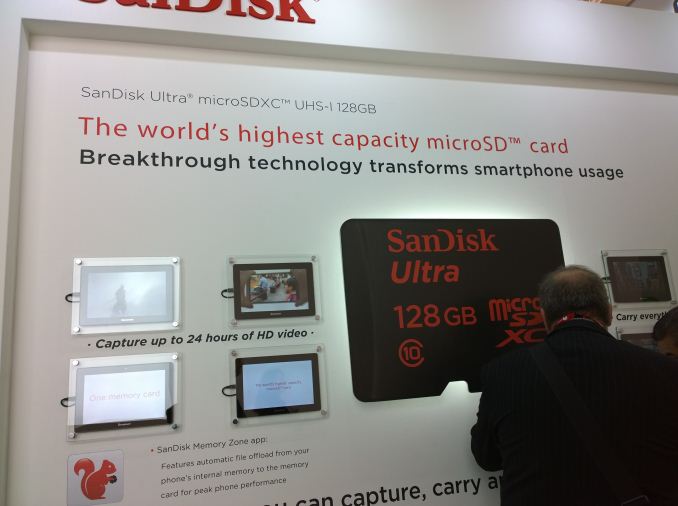 There were a few announcements during MWC designed to shake up the industry. We reported on the leaked memo putting Stephen Elop, ex Nokia CEO, in charge of the Devices and Studios Division at Microsoft. This essentially means he will be in charge of the Xbox platform, and internet-related response was not overly positive. Actions speak louder than words, so we all wait to see what Elop can bring to the platform, which just announced price cuts in the US (as well as the UK I notice). Google's Project Ara also seems to be picking up speed in the design phase, and SanDisk announced their storage solution platform for smartphones to improve random-IO performance in these devices by an order of magnitude.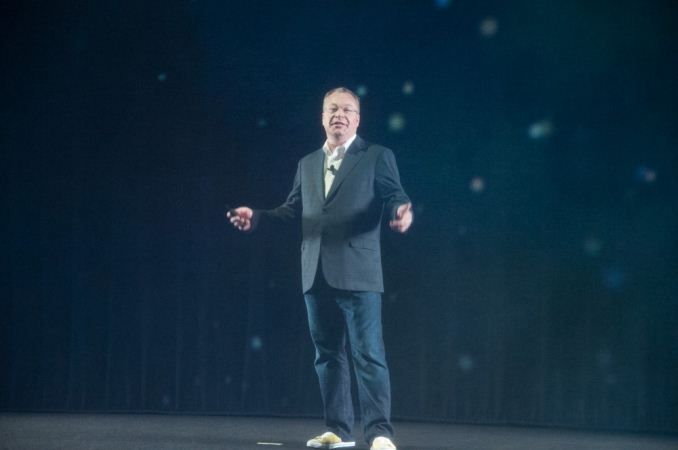 I really enjoyed MWC, and I hope to be at MWC next year. I want to talk to these companies at that point about how they think 2014 has performed and what lies ahead for 2015. Within the industry there is scope for consolidation, a race to the bottom and then innovation, similar to what we saw in the PC component space. Right now the specification race seems to dominate (remember Pentium 4?), and announcements of $25 smartphones along with Nokia's growth in of devices like the Nokia 220 in emerging markets are going to push this train along its tracks. ARM's presence, along with Qualcomm's design and Intel playing catch-up should provide interesting reading. While it is one thing to lead the market, innovation and strategic planning will create the next generation. We also have to mention Apple in all of this, and see what Cupertino has up its sleeve in the following months at WWDC.