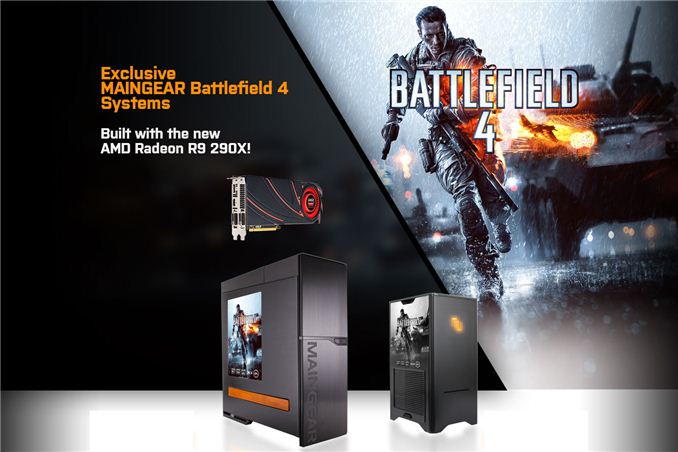 During the past week, AMD revealed their new R7 and R9 desktop GPUs, which mostly consist of rebranded 7000-series parts (e.g. the R9-280X). The one exception is the R9-290X, which uses the Hawaii core. Full details are not yet public, but Maingear is now taking preorders for their Shift and F131 systems that use the GPU. They also include a few pieces of information about the cards. For one, the R9-290X will ship with 4GB GDDR5 (along with TrueAudio and 4K resolution support), and second, the estimated ship date on the Shift and F131 is 10/23/2013.
As part of the offer, pre-ordering will also get you a copy of Battlefield 4 along with Battlefield 4 branded cases and hardware. These are "limited edition" systems, but that appears to be mostly related to the BF4 branding elements – and of course, Battlefield 4 will be one of the first games to support AMD's Mantle API. The Shift is a CrossFire setup coming standard with two R9-290X cards and supporting up to three cards, with either the FX 9370 or 9590 CPU; pricing starts at around $3789. The F131 comes standard with a single R9-290X and supports up to two cards, and it uses an FX 8350; pricing begins at $2199 (depending on options).
Both systems are expensive and Maingear is known for relatively large markups, so it's difficult to say how much each card will cost. The systems are also using AMD FX CPUs and motherboards, and while there are areas where AMD is still competitive, it's pretty clear that overall Intel is well ahead in most areas of CPU performance. I suspect we'll see Intel systems with R9-290X show up around the same time from other vendors, but we'll wait for the full review before coming to any final recommendations.
10/10/2013 Update: CyberPowerPC has also announced systems with R9-290X for pre-order with a Battlefield 4 motif, and not surprisingly much of the hardware is strikingly similar to the Maingear offerings. The base model starts at $2169, and there are a lot more customization options available (e.g. seven different motherboards, FX-8350/9370/9590 CPUs, RAM, etc.) I suspect we'll see additional vendors announcing such systems in the next week or two.
Source: Maingear PR