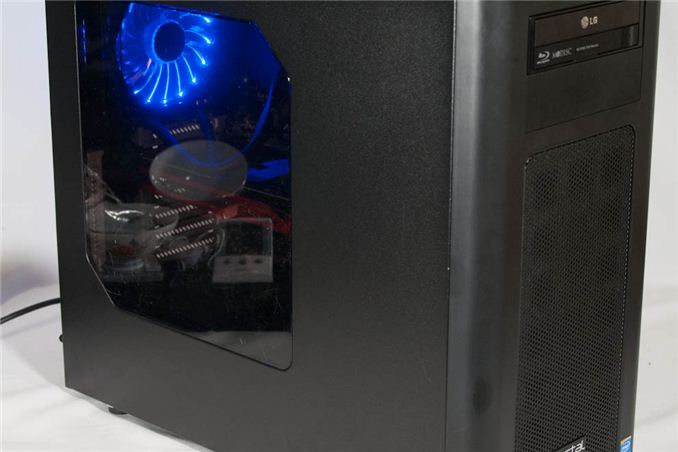 CyberPowerPC has carved out a niche for itself as a large scale system integrator that offers a build for pretty much any user, and today they're giving us an opportunity to once again put the screws to Haswell's new Intel Core i7-4770K as well as get some field practice in with the AMD Radeon HD 7990. These two are undoubtedly among the fastest products in their respective markets, and CyberPowerPC has seen fit to combine them in a reasonably small but attractive enclosure from Fractal Design.
Yet there's a little bit of skepticism when it comes to both parts. The i7-4770K is without a doubt the fastest mainstream chip that Intel has produced, clock for clock, but word in the corners of the internet is that the Haswell-based chip is having trouble hitting comparable overclocks to the previous two generations of Intel parts. Meanwhile, AMD was essentially caught with their pants down when the lack of frame metering in their drivers was exposed, making CrossFire a rough deal and taking a lot of the shine off the flagship Radeon HD 7990. CyberPowerPC can only work with what's available, so we can at least see what's going on with the Gamer Xtreme 5200.
CyberPowerPC Gamer Xtreme 5200 Specifications
Chassis
Fractal Design Arc Midi R2
Processor
Intel Core i7-4770K
(4x3.5GHz, Turbo to 3.9GHz, Overclocked to 4.2GHz, 22nm, 8MB L3, 84W)
Motherboard
ASUS Z87-K
Memory
2x8GB Corsair Vengeance DDR3-1600 (maximum 4x8GB)
Graphics
AMD Radeon HD 7990 3GB x2
2x (2048 GCN cores, 1000MHz/6GHz core/RAM, 384-bit memory bus)
Hard Drive(s)
Corsair Neutron 64GB SATA 6Gbps SSD

Toshiba DT01ACA 1TB SATA 6Gbps HDD
Optical Drive(s)
HL-DT-ST UH12NS30 BD-ROM/DVD+-RW
Power Supply
Cooler Master 800W Silent Pro Gold 80 Plus Gold PSU
Networking
Realtek PCIe Gigabit Ethernet
Audio
Realtek ALC887
Speaker, line-in, mic, and surround jacks
Front Side
Optical drive
Top Side
2x USB 3.0
Headphone and mic jacks
Power and reset buttons
Three-speed fan controller
Back Side
2x PS/2
DVI (IGP)
HDMI (IGP)
VGA (IGP)
4x USB 2.0
2x USB 3.0
Gigabit ethernet
Mic, headphone, and surround jacks
1x DVI (HD 7990)
4x Mini-DisplayPort (HD 7990)
Operating System
Windows 8 64-bit
Extras
80 Plus Gold PSU
120mm Asetek Closed Loop Cooler
Fan Controller
Warranty
3-year limited parts and labor, lifetime customer support
Pricing
Starts at $2,219
Review system configured at $2,316
First, it bears mentioning that certain components in our review unit aren't available on the configurator. The 64GB Corsair Neutron SSD isn't offered anymore, nor is the 800W Cooler Master Silent Pro Gold power supply. Comparable parts are available, but before we get into the meat of this configuration, there are some slightly odd component choices to be highlighted.
The ASUS Z87-K is by no means a bad board and will certainly get the job done, but it's bizarre to see a modern motherboard in a build above the $2,000 mark (let alone the $1,000 mark) that's missing all six audio outputs on the back. The back I/O cluster isn't supremely lacking but it's definitely feature light. Z87 boards are commanding a bit of a premium so it's understandable if SIs have to go with more "budget oriented" options, but this is an oddball nonetheless.
The other side of the budget equation is the storage subsystem. The 64GB Corsair Neutron is no longer available as an option, but the remaining 64GB storage options aren't exciting and either way, this segment of the SSD market really isn't compelling in any way anymore. I haven't been able to survive off of a 64GB system drive for a long time, and honestly the default SSD should really be 120GB/128GB at this point, especially since the price difference is arguably negligible. 1TB of mechanical storage isn't bad, but Toshiba hard drives really aren't what we want to be seeing as they tend to be a bit slower than competing drives from HGST, Western Digital, Samsung, and Seagate.
When we get to the heart of the Gamer Xtreme 5200, we're really dealing with the Intel Core i7-4770K and the AMD Radeon HD 7990. The Haswell-based i7-4770K gets a healthy boost in IPC performance over its predecessor, the Ivy Bridge i7-3770K, but loses that boost almost immediately in overclocking headroom. While it comes down to quibbling over 200MHz here or there, the increase in IPC does make that loss noticeable; either way, the i7-4770K is stuck at a dismal 4.2GHz overclock, just 300MHz over its highest stock turbo bin, a paltry 8% increase. Typical overclocks on Ivy were closer to 4.4GHz, and what we're left with is a plateau of overclocked performance over the course of three generations now.
Meanwhile, the AMD Radeon HD 7990 has had a bit of a troubled life since it was launched. Heat issues make it difficult to use in quad-GPU CrossFire, while CrossFire itself has had serious issues with frame metering. The current beta drivers do help with frame metering, but still not in Eyefinity. Performance potential is undeniably strong, and AMD has been slashing the hell out of the 7990's price to get it competitive, but users looking for triple-screen surround action might actually be better served saving some bread and buying either a single AMD Radeon HD 7970 or an NVIDIA GeForce GTX 780. The 7990 is actually the lion's share of the cost of this system, and if you must have multi-GPU performance and/or surround you can actually get a pair of GTX 770s for roughly the same price. I think that's a better deal.