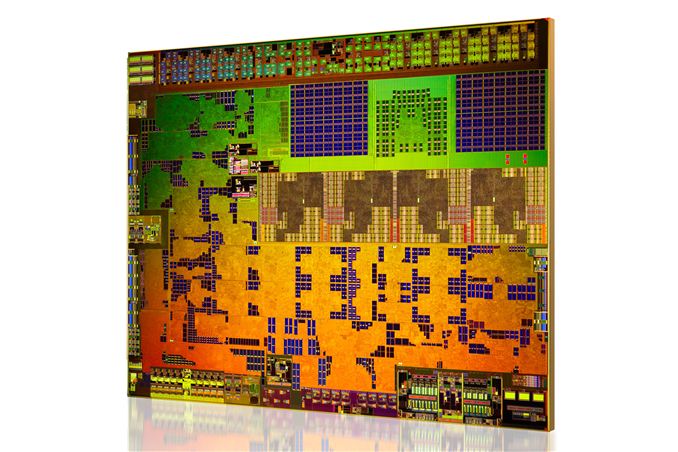 AMD has a three-pronged assault going out today: at the bottom (in terms of performance) is their 2013 AMD Elite Mobility Platform, formerly codenamed Temash. Next up is the newly christened 2013 AMD Mainstream APU Platform, aka Kabini. And at the higher end of the spectrum we're also getting the Richland update to Trinity, which AMD is calling their 2013 Elite Performance APU Platform. We'll cover all of these with individual Pipeline pieces, starting with Kabini. Here's the overview of the Kabini parts: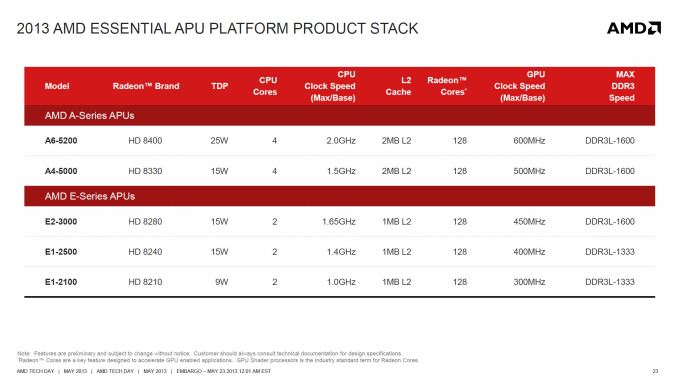 In total there are five new Kabini APUs launching: one 25W part, three 15W parts, and one 9W offering. The hardware is the same from the architectural side of things, with the A-Series parts coming with four Jaguar CPU cores and supporting DDR3L-1600 while the E-Series will be dual-core with DDR3L-1333 on two of the models and DDR3L-1600 on the highest performance option. The GPUs in all cases will be fully enabled 128 core GCN architecture parts, but clock speeds range from 300MHz on the 9W part up to 600MHz on the 25W part, with the 15W parts filling in at clocks of 400-500MHz.
You can see how the A4-5000 performs in our full Kabini review, and Anand has also gone into the architectural details of Temash/Kabini. On higher performance laptops, the A6-5200 should provide a tangibly faster experience thanks to the 500MHz higher CPU clocks and 100MHz higher GPU clock. Kabini certainly isn't designed to run heavy PC games at high frame rates, but tablet-style games should work very well. The A6-5200 may also be enough to close the game between Kabini and Ivy Bridge in terms of graphics performance, though of course Haswell is right around the corner and will raise the bar once more.
AMD provided plenty of material to discuss, and as usual there's a lot of marketing material that we don't need to get into too much. For those of you that want to see the original AMD slides, though, here's the full Kabini slide gallery.