We have covered CES announcements from Netgear and D-Link already and we now move on to TRENDnet. Despite being headquartered in Torrance in southern California, they seem to have had better success in Latin and South America than in the USA market. Apparently, things have been changing and they have steadily started increasing their market share in NA starting in 2007 - 2008. Given that we have been hearing about TRENDnet products for quite some time, we took the chance at CES to go and look at their offerings.
The star of the show was undoubtedly their dual spatial stream 802.11ac USB 3.0 dongle. Last year, we saw 802.11ac USB 2.0 dongles, but even a single spatial stream in 802.11ac can provide up to 433 Mbps. Therefore, many users were wary of purchasing these dongles. USB 3.0, on the other hand, provides enough bandwidth for multiple spatial streams. The TRENDnet TEW-805UB can connect to either a dual spatial stream 802.11ac network for 867 Mbps of theoretical throughput or a dual spatial stream 802.11n network for 300 Mbps of theoretical throughput. The TEW-805UB will ship in April 2013 with a MSRP of $70.
TRENDnet has been reliant on Qualcomm Atheros silicon for their routers so far. Due to this, they have been late in jumping on to the 802.11ac router scene since Broadcom has the only shipping radio solution. Similar to the 802.11ac routers launched by Buffalo and Netgear last year, the TRENDnet TEW-812DRU uses a Broadcom solution for both the radios and the processor.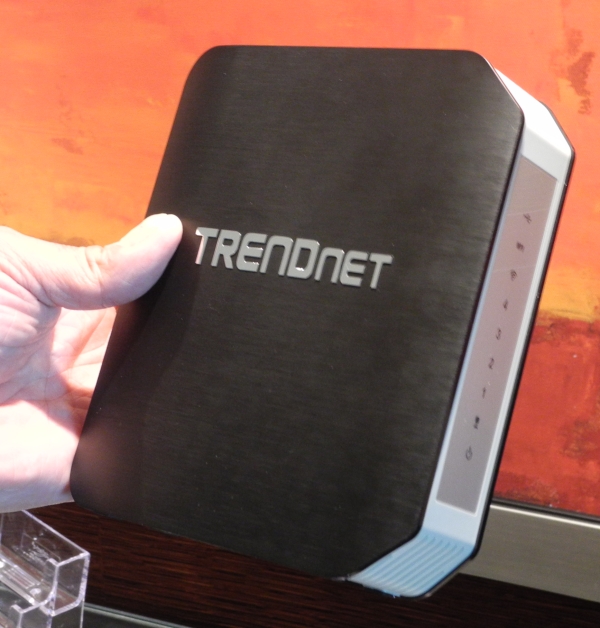 The TEW-812DRU is scheduled to ship later this month with a MSR of $230 (with the street price expected to be similar to other 802.11ac routers at $180).
Some of the other products introduced by TRENDnet at CES include the TV-IP851WC and TV-IP851WIC pan / tilt / zoom cloud cameras (TRENDnet's name for IP surveillance devices with automatic monitoring over the Internet and local network using mobile apps or a web browser), TEW-717HRE and TEW-713HRE compact wireless 802.11n range extenders and the TPL-407E / TPL-407E2K compact powerline adapters with passthrough capabilities.