Netgear's press conference at CES 2013 is kicking off as I write this, and the focus this time around seems to be heavily in the connected entertainment solutions area. We have already seen Netgear's Google TV device pass by the FCC, and the device (NeoTV PRIME GTV 100) is officially launching today for $130. This is $30 more than Vizio's Google TV device and we are very interested in checking out what the extra $30 nets the consumers. The aVia media player app comes pre-installed, and it should be possible to install other market apps also.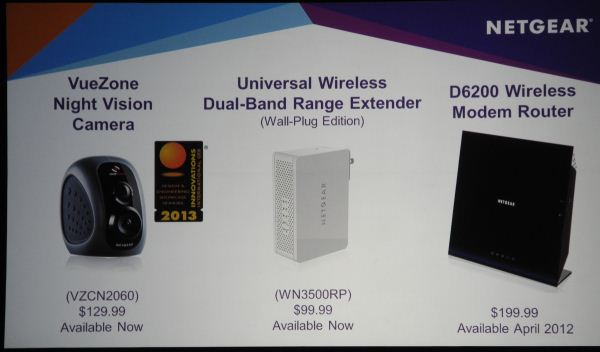 Existing NeoTV players (NTV300, NTV300S and NTV300SL) are also being updated with a Slinglayer app which enables users to enjoy live TV with placeshifting.
In an interesting move, Netgear has teamed up with Digital Keystone to deliver service providers with a platform to provide Neomedia, a universal media gateway technology which doesn't require middleware in the consumer premises equipment, yet manages to deliver broadcast and personal content to multiple screens. The important capabilities include in-home and cloud-based access to live and recorded linear TV services, secure playback on retail and thin IP clients, aggregation of live TV, VoD and network DVR services. We will try to learn more about this platform when we meet up with Netgear later this week at CES.
Netgear purchased VueZone, a consumer IP camera vendor, last year. Today, a new product has been introduced under the VueZone brand, the VZCN2060. The add-on night vision camera consist of two parts, an AC-powered IR lamp along with a wire-free infrared camera and will retail at $130. Home monitoring solutions using IP camera are taking off in a big way, and Netgear's wire-free solution with VueZone cameras [ www.netgear.com/vuezone ] is quite innovative.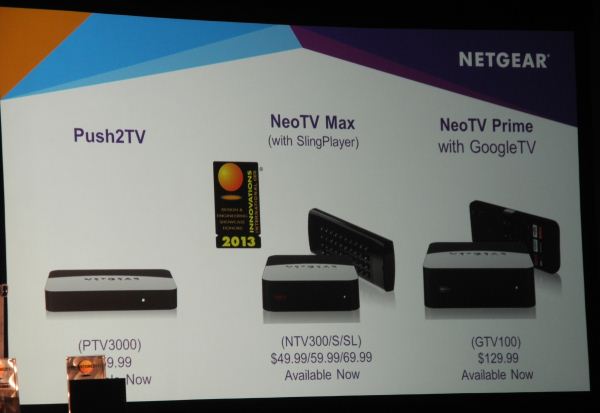 Netgear is also introducing some networking equipment at the show. These include the WN3500RP dual-band Wi-Fi range extender (wall plug edition) which also has support for AirPlay / DLNA music streaming when connected to speakers, the D6200 WiFi DSL modem router with 867 Mbps 802.11ac and 300 Mbps 802.11n and an integrated DSL modem and a Music Extender kit (XAUB2511) for playing music using AirPlay from any computing device to any stereo system. Stay tuned for more information after we get some hands-on time later this week with what Netgear has to showcase at CES.