Teardown and Component Analysis
The Iomega EZ Media & Backup Center allows unofficial SSH access. Even without opening up the unit, we could determine that the unit was based on the Marvell Feroceon 88FR131 Kirkwood processor. There is 128 MB of DRAM on the board, and the OS is a customised version of Linux.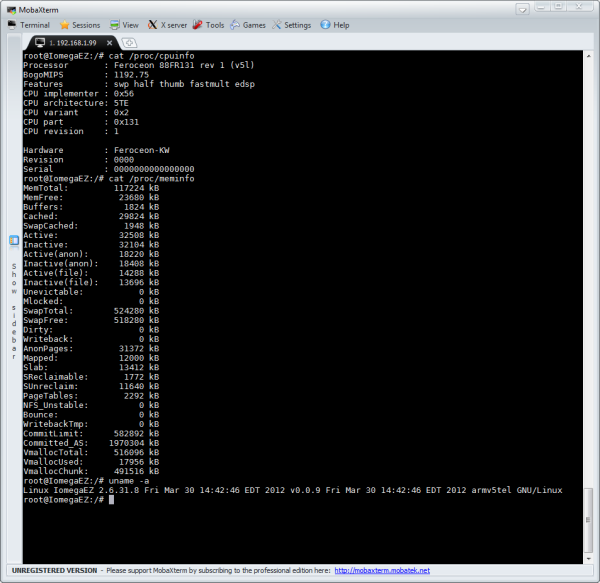 The unit is quite easy to take apart. We have a 2000 GB Seagate Barracuda 7200 rpm drive (ST2000DM001). A GbE and USB port make up the rear along with push buttons for the power and reset functions and the power adapter port.
On the motherboard, we have the following important components:
Marvell F62E1 Kirkwoord SoC (Dual core at 1.2 GHz)
Samsung K4B1G1646G DDR3 SDRAM (1Gbit - 128 MB, x16)
Marvell Alaska 88E1318 GbE PHY
The Iomega EZ unit has only half the DRAM of the comparable Western Digital My Book Live (128 MB vs. 256 MB). The Iomega EZ's CPU also seems weaker in terms of the BogoMIPS rating (1200 vs. 1600). That said, the Iomega EZ has some additional useful features such as an explicit power button and a USB 2.0 host port.