Synology is a well respected brand in the low to mid-range NAS market. However, they missed a high-end flagship in their lineup to compete against products such as the ReadyDATA units from Netgear and the TS-EC1279U-RP from QNAP. These high-end flagship units support both SATA and SAS drives and serve as a solution for SMEs (Small & Medium Enterprises) who don't need all the bells and whistles of a SAN, but still require virtualization support and scalability. Today, Synology is launching their first product to target this market, the RS10613xs+. The unit has 10 bays in a 2U form factor. It can accept both SATA and SAS drives, an essential requirement in this market. (The Synology RS3413xs+ also targets large scale businesses, but doesn't support SAS drives).
The RS10613xs+ can be connected to up to 8 RX1213sas expansion modules, each of which has 12 bays. A system based on the RS10613xs+ can, thus, scale up to 106 SAS drives in total.
The highlights of the RS10613xs+ include:
Optimization for virtual network storage, with support for both iSCSI and NFS.
VMWare Vsphere 5, Microsoft Windows Server 2012 with Hyper-V and Citrix XenServer certifications.
VAAI integration, including Hardware Assisted Locking (ATS), Block Zero, Full Copying, and Thin Provisioning.
Synology High Availability Manager for minimum downtime.
SSD caching for improved speeds
Unlike the ReadyDATA series (and similar to the QNAP SAS-enabled TS-EC1279U-RP), the RS10613xs+ doesn't offer ZFS. Instead, the unit offers RAID for data redundancy and runs Synology's own OS, the Disk Station Manager (DSM). The detailed hardware specifications are provided below: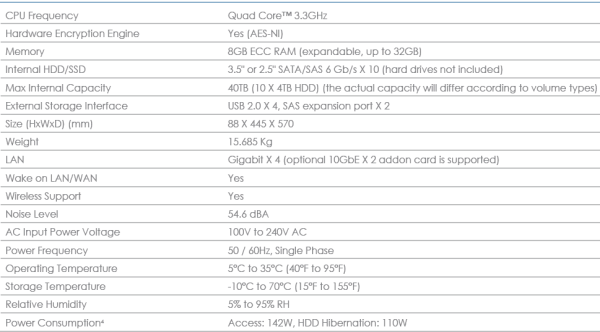 Though Synology doesn't explicity specify the CPU, we believe it is the Xeon E3-1240. By default, the unit comes with 4 GbE ports, but a PCIe 2.0 x8 slot is available to accommodate a dual 10GbE card. With link aggregation configured over these 6 links and SSDs in all the 10 bays in RAID5 configuration, Synology claims that the unit provides 2 GBps+ throughput and 200K+ IOPS.
The RS10613+ is priced at $7000 and comes with a 3-year limited warranty, with an option to upgrade to a 5-year plan. Do readers feel that ZFS is essential in this market? Feel free to sound off in the comments.
In other NAS news from Synology, the DS713+ was launched last week. Recently, we have seen a number of Atom-based 2-bay NAS units such as the Iomega StorCenter px2-300d (based on the Intel Atom D525). Synology's latest offering in this space is the DS713+. It has dual GbE links and can be expanded with the DX513 expansion module to become a 7-bay NAS.
The DS713+ has the latest Intel Atom D2701 Cedarview CPU and can deliver up to 202.3 MBps read and 135.84 MBps write throughput as per Synology's claims.