While Apple's new iPad won't be available until Friday, some users have gotten their hands on the new models and done some preliminary benchmarks. A Vietnamese site, tinhte.vn, posted a screenshot of GeekBench running on the new iPad (model iPad3,3) which showed a score of 756 and a 1.00GHz ARMv7 processor. For comparison, the GeekBench score of iPad 2 is 751, which confirms that the GeekBench reading of the frequency is indeed correct.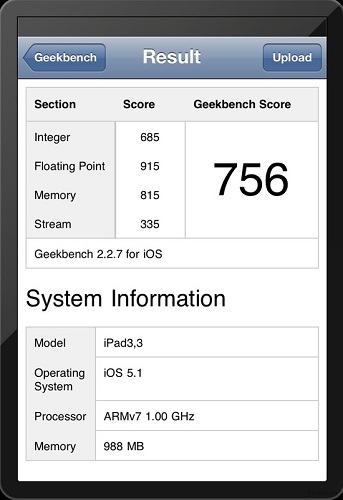 Image courtesy of tinhte.vn
In a nutshell, the processor in A5X is largely the same as in A5: We are looking at two Cortex-A9 cores running at up to 1.0GHz. Some people were anticipating an increase in the clock speed as A5X is expected to be 32nm while A5 was based on older 45nm process node, but it appears that Apple used all the gains of a smaller process node for better graphics.
The GeekBench screenshot also confirms 1GB of RAM, although that was fairly certain even before the release thanks to leaked screenshots.
The GPU, especially its frequency, is still a mystery but hopefully we will be able to get our hands on the new iPad as soon as possible and start testing.
Source: Tinhte.vn