Introducing Rosewill's RK-9000 Mechanical Keyboard
As enthusiasts and professionals we spend a lot of time checking out what's under the hood of the computers and devices we use, but thankfully more and more we're paying attention to how we actually interact with hardware, what the user experience is like. User experience has been a major selling point of Apple's products, but there's one place where even Apple has been a bit neglectful: the keyboard. On notebooks your options are limited, but on the desktop you have access to mechanical keyboards. Today we'll take a quick look at Rosewill's RK-9000 mechanical keyboard and see if it's worth the price premium.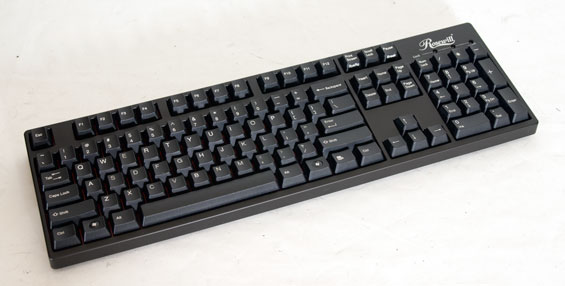 Before we get started with breaking down the RK-9000, a brief explanation of what we mean by "mechanical keyboard." There are several different types of switches used in modern keyboards, but the most common is the "membrane" switch. At its most basic, there's a "bubble" under each key, and when you press down the bubble makes contact with a circuit board beneath and registers the keypress. The attraction to this design is simple enough: it's cheap and easy to make. The problem is that as far as tactile response goes, it sucks out loud.
Enter mechanical switches. If you're old enough to remember what keyboards were like in the eighties and prior, you'll remember big, heavy keyboards with loud springs and plenty of feedback. Obviously it's a hell of a lot more expensive to equip a bunch of keys with springs, and that's why mechanical keyboards remain a bit of a niche product. That's a shame, too.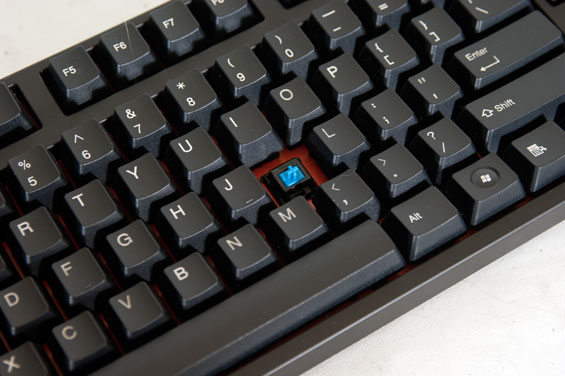 Rosewill offers four different mechanical keyboards, each based on the four different types of Cherry MX mechanical switches available. The Cherry MX Blue is the clickiest, the loudest, and the most tactile of the four; we have Corsair's Vengeance keyboards with the Cherry MX Red switches due in house soon, and we'll be able to compare and contrast then.
Aesthetically, the RK-9000 series isn't much to look at and you wouldn't be faulted for thinking they at least appear cheap. These look like generic black keyboards; no shortcut keys, not even so much as a fancy design. Black keys, black frame, but man is the RK-9000 heavy. With a $99 price tag it's hard not to fault anyone for taking one look at the keyboard and thinking, "Seriously?" Even the package is pretty bare; the keyboard itself has a mini-USB port in the back, and the keyboard comes with two cables, one mini-USB-to-PS2, and one mini-USB-to-USB. That's it.
Of course, once you've actually typed on the RK-9000, your impression will change in a hurry.