Samsung has already sold 5 million of them in 85 days in Korea and Europe, but until now the Galaxy S II has been just a dream in a US phone buyers eye. All that was rectified tonight when Samsung announced three Galaxy S II variants that will be entering the US market on Sprint, AT&T and T-Mobile. Brian already ran through the specifications but we thought we'd provide some hands-on impressions from our time with them and a little overview. TouchWiz 4.0 was also showed off, and the skin is comprehensive enough that we'll devote some time in the future to flesh it out. First, a gallery from the event. Apologies for some of the shots, but lining up the best shot in this evironment is impossible.
Sprint Epic 4G Touch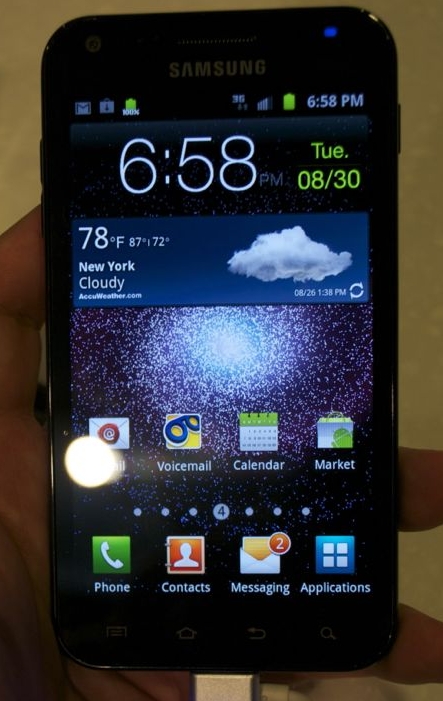 Sprint will be first out of the gates with the Epic 4G Touch, launching on September 16th for $199 on contract. The device is one of two 4.5" slates whose WVGA (800x480) Super AMOLED Plus display is bright and vivid, and surprisingly crisp given the relatively low resolution. There's no denying that pixel density enthusiasts would have been thrilled at 720p or even qHD, but in the hand the only real effect was to make the icons comically large. Horizontal size not withstanding these devices are light and thin, though Sprint's variant is not the thinnest clocking in nearly a millimeter thicker than AT&T's at 9.65 mm. On first grab the lightness gave the impression I was holding a mock-up and not the real thing, but this WiMAX equipped featherweight was smooth and fast in navigating the device's UI. Nenamark was loaded on the device so we ran it through its paces and though the benchmark is not one we regularly feature the device smoothly ran it at 46+FPS. For those thinking of joining The Now Network, this phone will be hard to pass up.
AT&T Samsung Galaxy S II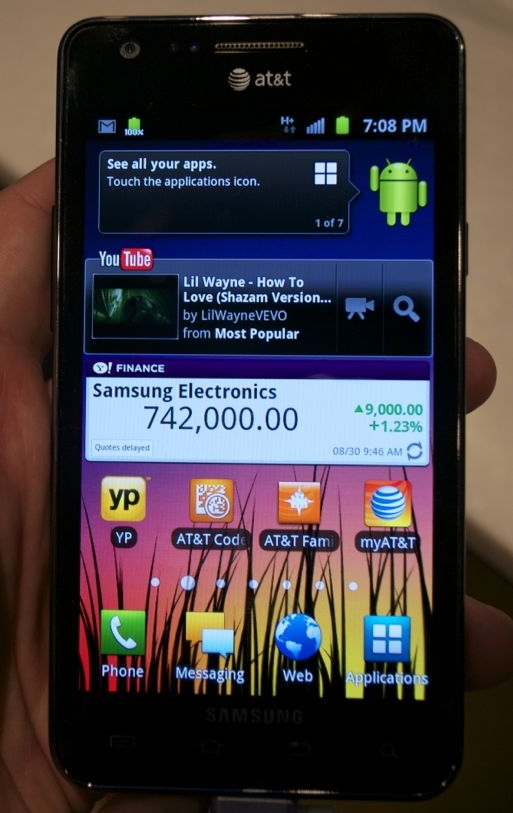 Ma Bell has foregone alternate naming for their variant, and as the pictures bear out, this is also the closest to the international version that has made the rounds through out Asia and Europe. The 4.3" device lends itself better to the WVGA resolution, and feels noticeably smaller in the hand. Absent in all of these devices is the physical home button so prominent in the international version, but each feels solid in the hand despite a glossy plastic exterior that doesn't feel as premium as the soft touch or metal frames found on recent HTC phones. AT&T's SGSII shares the Exynos SoC and Mali GPU of the Epic 4G Touch and international version so while it is smaller it is no less fast. An NFC radio is on hand, though it was not mentioned at the event it's confirmed by FCC documentation. Release and pricing have not been announced, but we imagine they won't stray far from Sprint's date and pricing. Though it wasn't listed in the specifications released tonight, the phone is rated for HSPA+ at 21.1 Mbps, matching the international version and most likely indicating that both are using the same X-Gold 626 baseband. So, with AT&T's model so closely aping the already shipping internation version, why not be the first out the door? Not sure, but we hope it means it's not long coming.
T-Mobile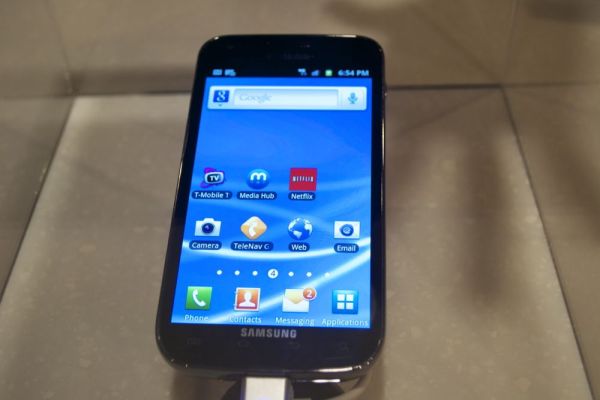 T-Mobile is joining Sprint in the 4.5" form factor, though the demo models they had on hand presented rounder corners than Sprint's variant. And that's pretty much all we can say. Samsung and T-Mobile representatives committed to a dual-core processor but would go no further with launch date, pricing or specifications. Indeed, the demo models were kept under glass and not even the representatives were allowed to handle them, except to turn them on periodically so we could appreciate the display. As Brian pointed out in the earlier piece, this could end up being Qualcomm powered, in particular given that a dual core Snapdragon paired with Qualcomm's MDM8220 could make this T-Mo's first DC-HSPA+ 42 Mbps device.
Overview
Since its announcement back at Mobile World Congress in February, the Samsung Galaxy S II has generated a lot of excitement and that excitement has lead to impressive sales figures. This, of course, follows in the success of their first generation Galaxy S devices. But what is it about these phone's that is lighting the world on fire? In a big way, this has to do with Exynos, Samsung's succesor to Hummingbird. The two components of Exynos are a dual-core Cortex A9 clocked at 1.2 GHz and the Mali-400 GPU, both ARM designs. ARM states that clock-for-clock a single-core Cortex-A9 should outperform a Cortex-A8 by about 20%. Give that same A9 a 20% clock bump, and a 40% performance improvement is possible before the second core even comes into the picture. But that only tells us why the Galaxy S II is such a huge improvement over, say, the Nexus S.
What makes the Galaxy S II seem to drastically outpace newer devices like the Droid 3, whose 1 GHz OMAP 4 SoC also features an A9 processor? The special sauce, as Brian will delve into further in his upcoming review of the international Galaxy S II, is Samsung's ability to leverage the Mali-400 to accelerate UI elements and even elements of the browsing experience, as well.
September 16th is fast approaching, so we'll know soon just how well the US variants will perform relative to their international siblings. In the meanwhile, stay tuned for our review and some more Samsung news at the IFA Unpacked event on Thursday.