ASUS N82Jv-X2 Low and Medium Gaming
Following our new testing procedure, our gaming results for this midrange GPU and system will look at Low, Medium, and High quality settings. It should come as little surprise that High settings are typically too much for most titles, but we'll get to that in a moment. First, let's start with a look at Low and Medium testing. Again, the M11x R2 and A660D are going to be the main comparison points; the former has the same GPU with a slower (and lower power) CPU, while the latter comes equipped with AMD's "equivalent" of the GT 335M.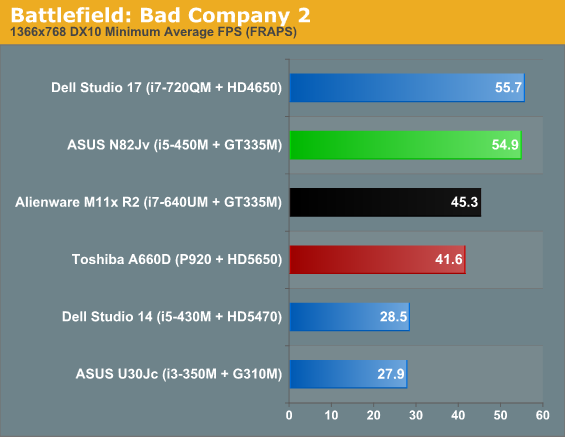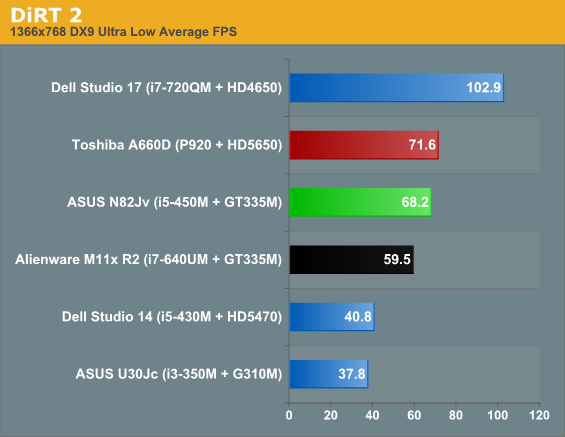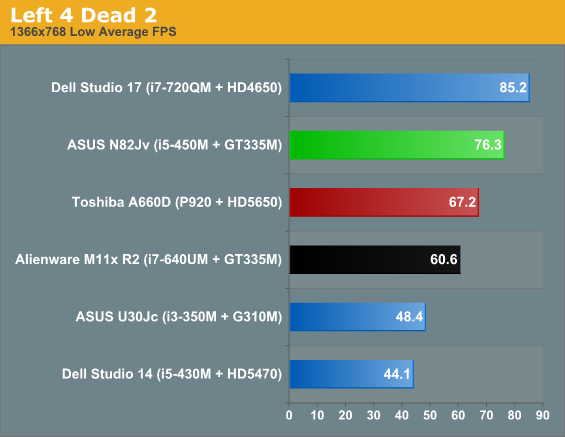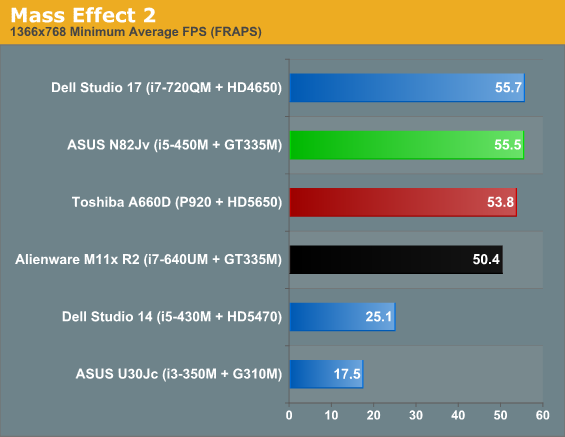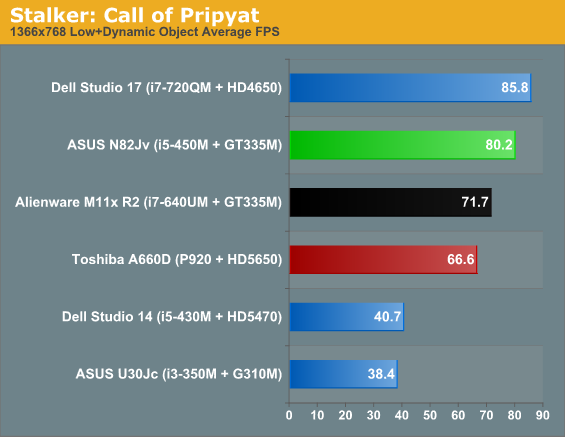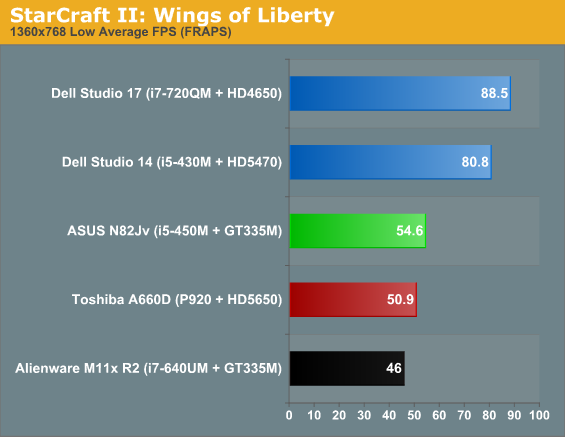 Low quality settings aren't where the GT 335M is designed to play, so frame rates are generally close to or above 60 FPS. The faster CPU in the N82Jv certainly shows up, though it's not the knockout blow you might expect. ASUS beats the M11x R2 by an average of 17% at low detail settings; we expect the margin would grow a bit if we compared with the i5-520UM equipped M11x, but even then there are hints that the system is becoming GPU limited. The lead over the A660D with HD 5650 ends up being 12% on average, but with the A660D winning out by 6% in DiRT 2. Also note that Toshiba is using lower clocked 450MHz 5650 chips, plus the P920 as we already showed is no performance powerhouse, so HD 5650 at 550MHz should come out on top of GT 335M by 10% or more.
A quick look at the Dell Studio 14 also shows why we don't like the gap between 5470 and 5650 in AMD's mobile GPU lineup: outside of StarCraft II, the N82Jv/GT 335M ends up being nearly twice as fast as the HD 5470. The reason StarCraft II doesn't conform to the other results is that Optimus tends to create a few bottlenecks when frame rates get above 60 FPS. Remember that Optimus transfers the completed frames over the PCIe bus to system memory, so you're dealing with memory bottlenecks as well as PCIe congestion. For 1366x768, we're only looking at around 240MB/s of bandwidth, so that shouldn't cause too many issues, but clearly something is holding back the Optimus systems in SC2.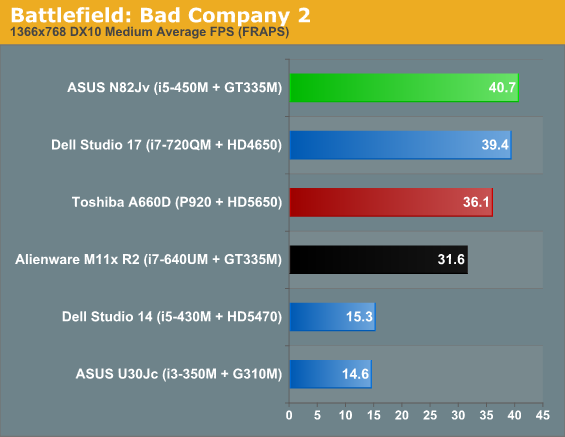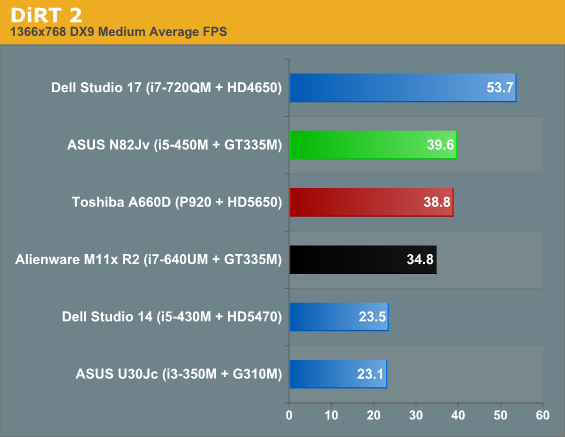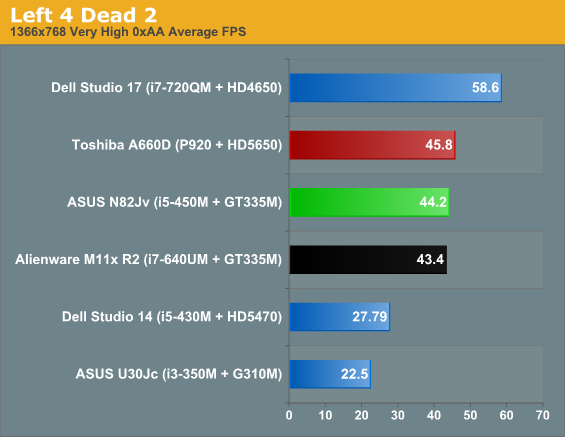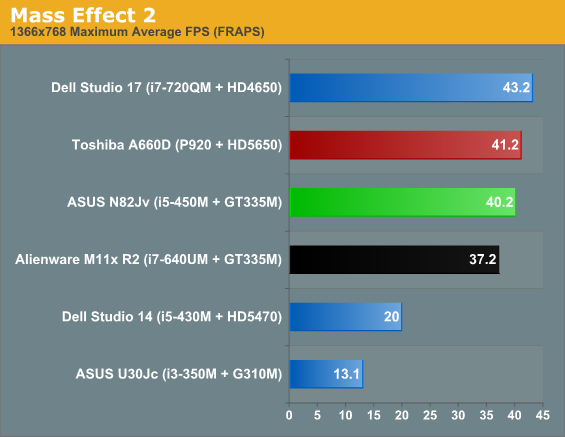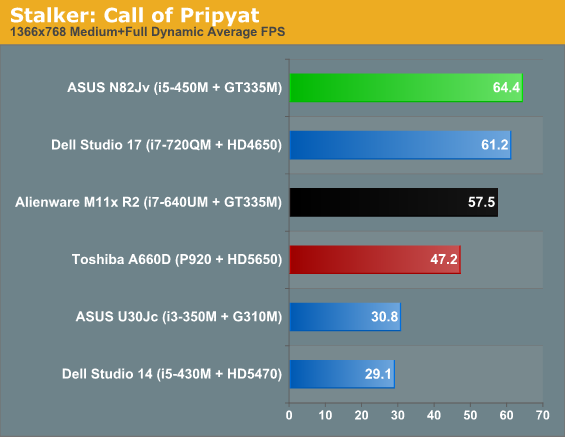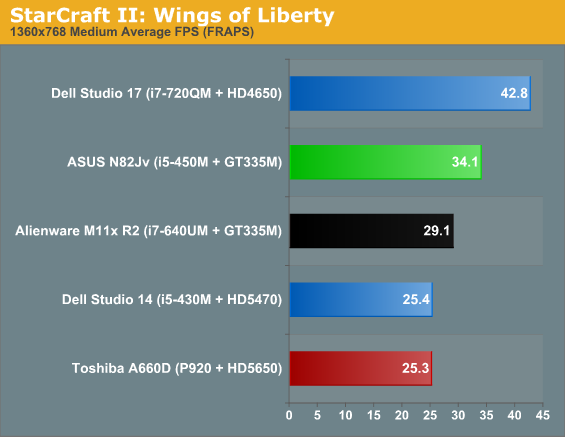 Moving up to Medium details doesn't radically alter the picture, although some of the gaps change slightly. The lead over the M11x R2 drops to 14%, indicating we are becoming more GPU bound. The N82Jv is 13% faster than the A660D, which is nearly the same as the low detail results, but a look at the individual games shows AMD moving into the lead in L4D2 and ME2 by a small margin, while in STALKER and SC2 the GT 335M lead grows to around 35%. How much of the lead comes from the CPU difference vs. the GPU difference isn't entirely clear at this point, though we should have an Acer AS5551G-4591 in house next week to shed some light on things. Also note that the lead over the Studio 14 jumps to 92% average, or 103% if we drop the lower 34% lead in SC2. (Note to Dell: We'd love to see the Studio 14 with an HD 5650!)
Medium quality gaming is where the GT 335M comes into its own. All of the games are at 40FPS or higher, except for SC2 where our intense benchmarking sequence drops average frame rates to 34FPS—still very playable for an RTS! These are all recent titles that can tax laptops quite a bit, and there are plenty of older/less taxing games that will work great on midrange mobile GPUs (World of WarCraft should break into the 60+ FPS range, for example). Is a $1000 laptop going to come anywhere near a $1000 desktop? Not a chance… but then you can't pick up your desktop and walk out the door to go to a LAN party in 60 seconds flat.