ASUS' Republic of Gamers range is soon to have a new member, in the shape of the ASUS Rampage III Formula. Using the X58 chipset, this board is designed for looks, uncompromised performance, overclocking, and the best possible online gaming experience with the new SupremeFX X-Fi 2 audio solution. However, based on our recent high-end X58 roundup, the X58 market is stagnating between the budget X58 and high end, where the minor features that few people end up using seem destined to create a huge markup price. ASUS hopes to alleviate such issues with the release of the Rampage III Formula, by finding a happy medium.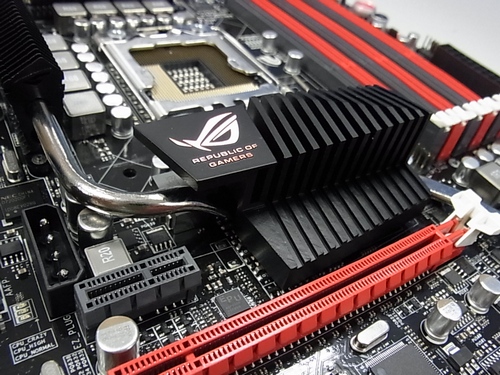 To dissect a motherboard in 2010 requires carving through the marketing fluff, and looking at the meat on offer. In this case, the Rampage III Formula offers a lot of what you would expect from a high-end X58 board – six DDR3 memory slots supporting 2200MHz and a maximum 24GB, three PCIe 2.0 x16 slots (in x16/x16/x0, x16/x0/x16 and x16/x8/x8) supporting 3-way SLI and CrossFireX, two SATA 6Gb/s via the Marvell 9128 controller, Gigabit LAN from the Intel 82567V Ethernet controller and USB 3.0 from an NEC Controller.
For the overclocker, ASUS give the usual ROG Connect, allowing the tweaking of parameters in real time via a notebook, as well as Probelt, an easy access panel for motherboard measuring points. For the gamer, ASUS give you GameFirst, a network traffic management feature that allows prioritisation of gaming ping over other network traffic coming from your machine. For the audiophile, the built-in 8-channel SupremeFX X-Fi 2 features hardware-accelerated EAX 5.0 and OpenAL for cinematic in-game audio, as well as supporting THX TruStudio PRO.
From the images, we can tell this board is at least aesthetically pleasing. For extra PCIe power, there's a 4-pin molex connector near the top of the PCIe slots which could end up being fiddly inside a case. We like the fact that ASUS are at least spending some money on the better class of component in the Intel LAN controller. Until some tests and numbers come out the woodwork can we tell you if it's any good or not, compared to the already saturated X58 motherboard market. ASUS are unfortunately being tight lipped on release date and pricing, but expect news 'over the summer'.