If you're on the lookout for a GTX460, you had two choices – the 768MB versions, or the 1GB variants. From our recent review, the 1GB versions, due to their increased memory bus width, outperformed the 768MB versions by quite a few percentage points. This is also reflected in the price of the 1GB 460 over the 768MB 460. So now Gainward are adding to the mix, with a 2GB GTX 460 model.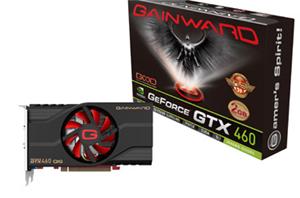 The Gainward GTX 460 2GB 'Golden Sample' uses the same 256-bit memory bus width as the 1GB cards, giving the same rated memory bandwidth as the 1GB models. Out of the box, the card comes pre-overclocked from 675MHz to 700Mhz on the GPU, and stock-clocked at 3600MHz (effective) for the memory. Ports come in the form of HDMI, two DVI, and a VGA.
Gainward's marketing of their 'Golden Sample' series is to promote the overclockability of their cards through improved design and cooling – this card is promoted with 6mm water-based heatpipes and an 80mm fan. The GPU of the 1GB version of the cards, as shown at AnandTech, overclocked to around 825MHz-835Mhz on stock voltages; the double memory on this Gainward 2GB card could ultimately limit memory overclocking.
Two questions arise from the dust – does anyone really need a 2GB frame buffer on a graphics card, and how much does it cost? To answer the first, not many; GPU programmers who require large graphics memory and do not want to shell out money for Tesla products could take advantage. In terms of gaming, a few gaming situations and resolutions would see an immediate benefit from the extra memory; however, with the expectation that gaming will become more detailed in the future, the 2GB could allow for a degree of future proofing. In answer to the second, we've heard around $280 is the consumer price. Looking at Newegg.com, a 1GB GTX 460 will set you back at least $230, and the 1280MB GTX 470 comes in at $330 – thus positioning the 2GB GTX 460 between the two.
Ultimately, performance and overclocking figures will show if the 2GB frame buffer, and the price, is justified. There's no word on release date yet, but expect Gainward to start shipping review samples as soon as they can.