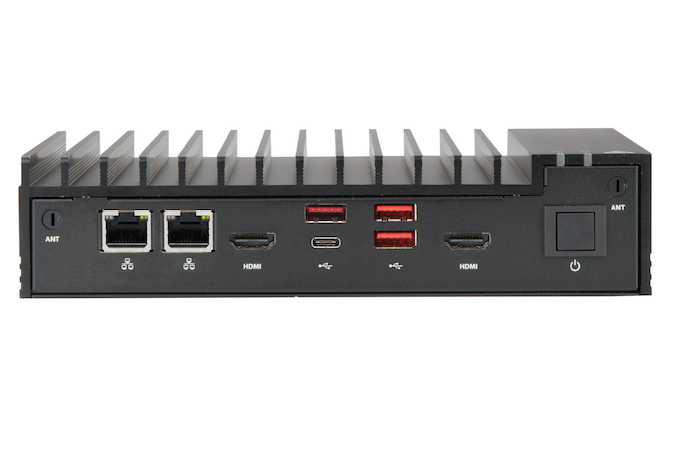 Compact passively-cooled systems find application in a wide variety of market segments including industrial automation, IoT gateways, medical systems, kiosks, surveillance, and digital signage. These are meant to be deployed for 24x7 operation in challenging environmental conditions. The requirements in these segments are often ignored by traditional consumer PCs - wide operating temperature range, ruggedness, support for specific I/O types, etc. Absence of moving parts (fanless nature) reduces scope for system failure.
Supermicro has a number of systems targeting this market under the Embedded/IoT category. Their SuperServer E100 product line makes use of motherboards in the 3.5" SBC form-factor. In particular, the E100-12T lineup makes use of embedded Tiger Lake-U SoCs to create powerful, yet compact and fanless systems.
The SYS-E100-12T-H based on the Intel Core i7-1185GRE is the highest performing system in the lineup. The review below takes a detailed look at the features and performance profile of the system, along with an evaluation of the thermal solution.
Introduction and Product Impressions
Supermicro's SYS-E100-12T series of systems is based on the Super X12STN 3.5" SBC boards. Each board is available to end customers in two variants - one with an integrated heatsink, and another without (WOHS). The SYS-E100-12T takes the Super X12STN-WOHS board and mounts it inside the CES-E101-03 fanless case meant for boards in this particular form factor.
Processors meant for the embedded market make it to end customers much later than their consumer counterparts - they have a long life-cycle, and the qualification cycles are lengthy too. Even though Intel's Alder Lake processors are trickling into ultra-compact form-factor systems already, the time for wide availability of Supermicro's SYS-E100-12T has come only now.
Despite the SYS-E100-12T series being tagged as SuperServer systems, the systems do not use ECC memory. There is no separate BMC, but that is not a surprise for a machine based on a 3.5" SBC board. However, to make up for that, the SYS-E100-12T-H does support vPro and remote management capabilities use AMT. The system also supports Supermicro's monitoring utility 'SuperDoctor' - this allows Nagios integration for centralized infrastructure monitoring.
In keeping up with the target market's requirements, the SYS-E100-12T comes with a wide range of I/O interfaces - two NBASE-T (up to 2.5Gbps) LAN connections, four USB 2.0 ports, a serial port, multiple COM ports, four USB 3.2 Gen 2 ports (three Type-A and one Type-C), and support for analog audio outputs, WLAN cards, and nano SIM cards.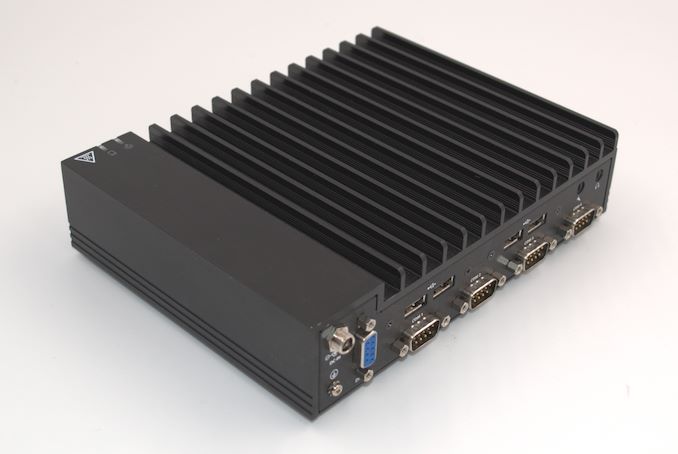 In addition to the main unit, Supermicro supplies a lockable 12V 7A (84W) DC power adapter, thermal pads for cards to be installed on the board, screws for the installation, as well as mounting hardware for the system.
Our review sample included 2x 32GB DDR4-3200 SODIMMs as well as a 240GB InnoDisk M.2 NVMe drive. The full specifications of the review sample are provided in the table below.
Supermicro SM-E100-12T-H Specifications
(as tested)
Processor
Intel Core i7-1185GRE
Tiger Lake 4C/8T, 1.8 - 4.4 GHz
Intel 10nm SuperFin, 12MB L2, 15W
Memory
Innodisk M4SE-BGS2OC0M-A DDR4-3200 SODIMM
22-22-22-52 @ 3200 MHz
2x32 GB
Graphics
Intel Iris Xe Graphics
(96EU @ 1.35 GHz)
Disk Drive(s)
Innodisk M.2 (S80) 3TE7 DEM28-B56DK1EW1QF
(256 GB; M.2 2280 SATA III;)
(64L 3D TLC; InnoDisk ID301 Controller)
Networking
2x 2.5 GbE RJ-45 (Intel I225-IT)
Audio
Realtek ALC888S Audio Codec On-board (Optional Audio Jack, N/A in Review System)
Audio Bitstreaming Support over HDMI Ports
Video
1x HDMI 2.0b
1x HDMI 1.4b
Miscellaneous I/O Ports
3x USB 3.2 Gen 2 Type-A (Front)
1x USB 3.2 Gen 2 Type-C (Front)
4x USB 2.0 (Rear)
Digital I/O via DB9 (Rear)
4x RS-232 COM (Rear)
Operating System
Windows 11 Enterprise (22000.708)
Pricing
(Street Pricing on June 6th, 2022)
US $1216 (Barebones)
US $1866 (as configured, no OS)
Full Specifications
Supermicro SuperServer E100-12T-H Specifications
Supermicro is in the process of expanding retail availability of the system. Currently, only one e-tailer has a listing for the product. The SM-E100-12T-H stands out from the the embedded / industrial PCs reviewed previously by us. Dual NBASE-T (2.5 GbE) ports and the presence of a Type-C port are unique selling points. The motherboard used in the system is also quite flexible.
The chassis is made of extruded aluminum and carries significant heft. The top of the chassis mounts as a heat sink on the processor, allowing heat to be dissipated away quickly. A few photographs of the internals of the system are provided in the gallery below.
In the next section, we take a look at the system setup and follow it up with a detailed platform analysis.