Cold Test Results (~22°C Ambient)
For the testing of PSUs, we are using high precision electronic loads with a maximum power draw of 2700 Watts, a Rigol DS5042M 40 MHz oscilloscope, an Extech 380803 power analyzer, two high precision UNI-T UT-325 digital thermometers, an Extech HD600 SPL meter, a self-designed hotbox and various other bits and parts. For a thorough explanation of our testing methodology and more details on our equipment, please refer to our How We Test PSUs - 2014 Pipeline post.
Due to the unique thermal design of the Nightjar NJ700, we had to change our testing methodology quite a bit. As there is no airflow to assess, we placed a sensor on the bottom side of the chassis and measure its surface temperature instead. Note that these thermal results are not directly comparable with those obtained by testing regular air-cooled products.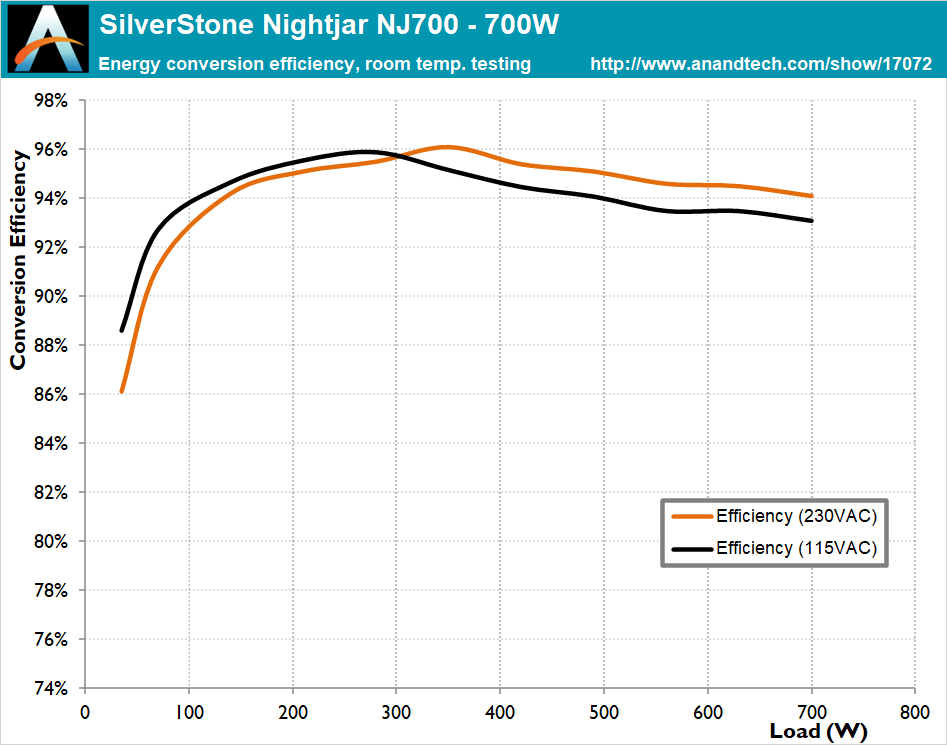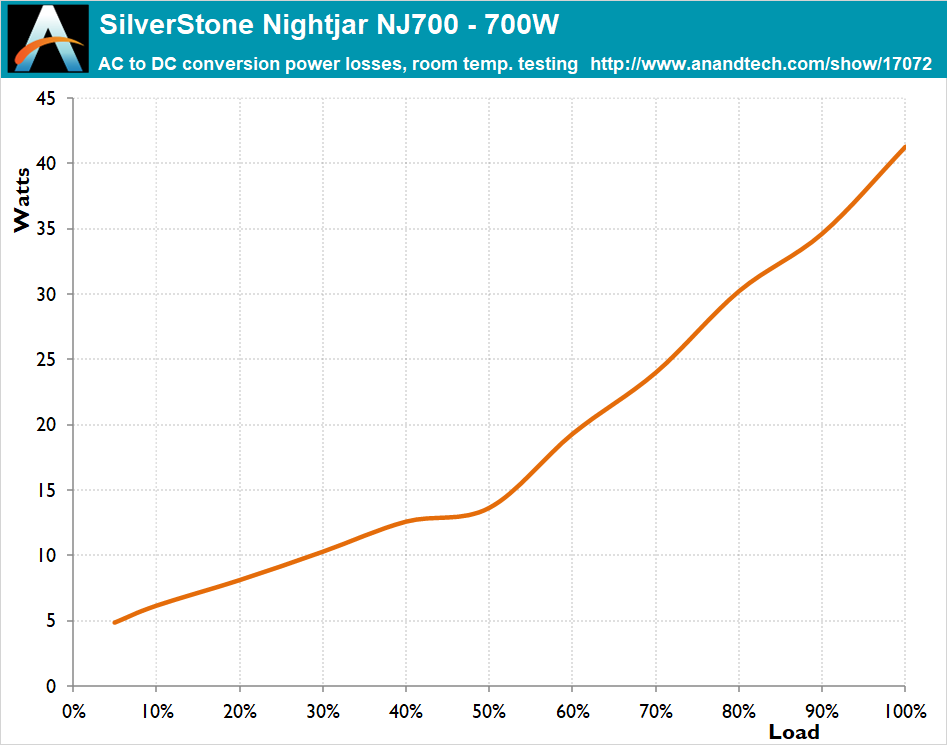 As expected from a fanless PSU with this kind of power output, its efficiency is extremely high. Our measurements indicate that the SilverStone NJ700 surpasses the 80Plus Titanium requirements regardless of its input voltage. It has an amazing 95% average efficiency across the entire nominal load range when powered by an 230V AC source, which drops down by just 0.6% when the input is lowered to 115V AC. The efficiency at just 5% load is above 86% and the peak efficiency is above 96%.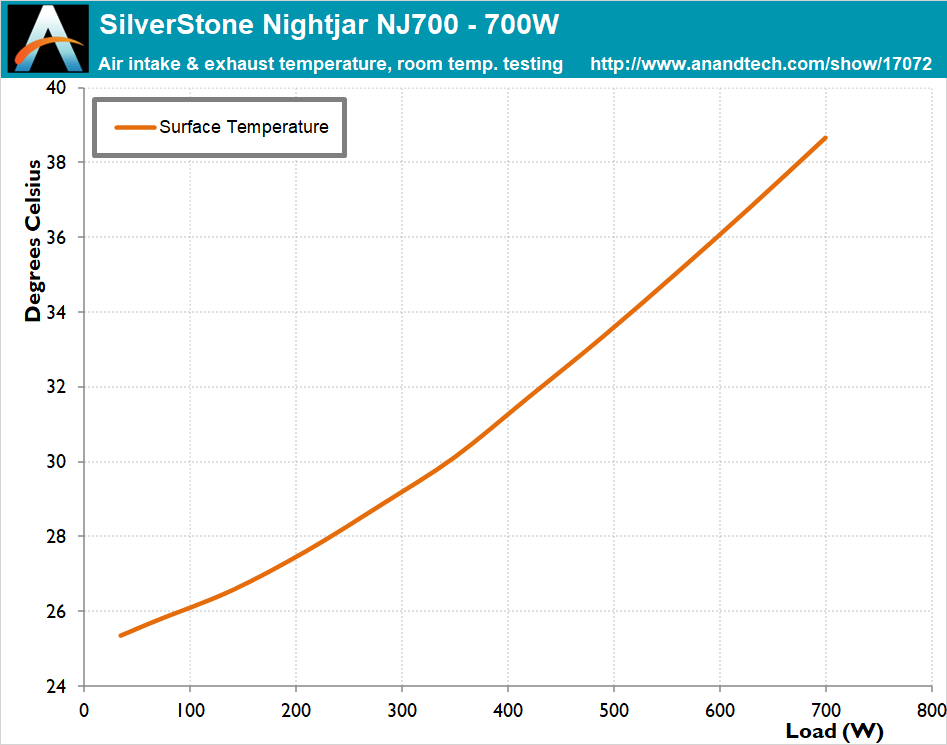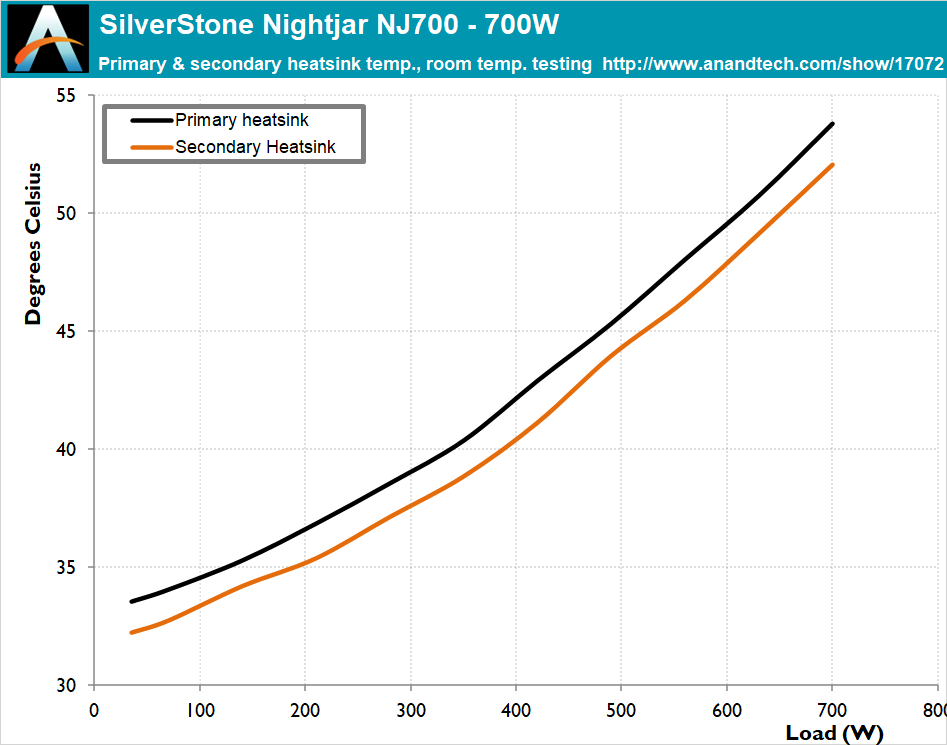 As expected from any well-designed PSU without active cooling, the surface temperature increases almost linearly and in near-perfect alignment with the unit's thermal losses. The surface temperature does reach over 38 °C, which is to be expected, as the body of the PSU itself partially acts as a heatsink. The heatsinks of the PSU do reach temperatures over 50°C when the power supply is heavily loaded but that is a perfectly safe figure for an advanced PSU. The primary side is getting a little bit hotter than the secondary side.