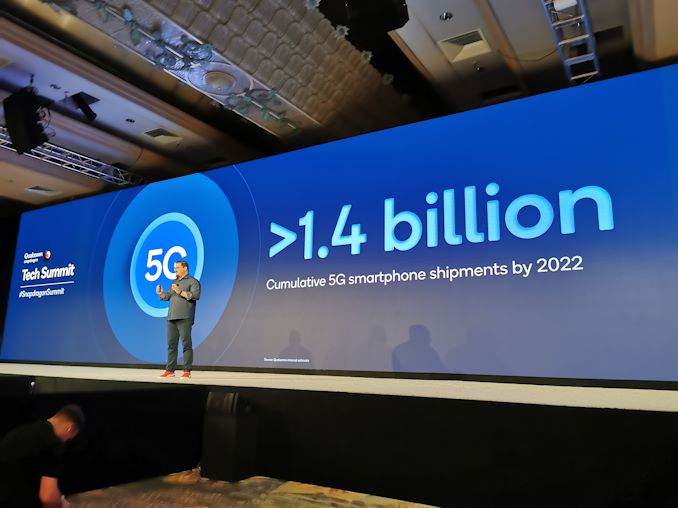 I wanted to cover a quick comment that Qualcomm made yesterday at its Snapdragon Tech Summit event. We're currently in 2019, with the first wave of 5G devices currently rolling out. The devices are here, and the networks on a global scale are taking their time to add 5G in different stages – some are starting with mmWave, some are starting with Sub-6 GHz, and then eventually everyone everywhere should support both. There is always a question about what the level of adoption is like, and Qualcomm gave a very clear figure about where the market is headed.
Now it's fairly obvious that as time goes on, as 5G gets cheaper and the operators actually give data plans that make sense, that more and more users will invest in 5G enabled devices. That will drive certain use cases that will eventually make certain forms of 5G a fundamental feature for smartphones, just like 4G is today. Of the devices out in the market that support 5G, due to the limited chipset/modem support, we're dealing mostly with flagship smartphones: the Samsung Galaxy S 10 5G, the Oppo Reno 5G, the OnePlus 7 Pro 5G, the LG V50 ThinQ 5G, and so on. It's a high cost of entry, and part of the announcement this week from Qualcomm is that they're going to be introducing 5G into more mid-range chips to enable mid-range devices.
As part of that drive to take 5G to the mass market, Qualcomm stated on stage that they expect more than 1.4 billion smartphones (that's smartphones, not 5G-enabled IoT devices) with 5G to be shipped by 2022.
At the moment, the biggest market for 5G adoption is South Korea. Qualcomm has stated in an interview with us that there are 2 million 5G subscribers in South Korea, and Samsung has stated in September that they had passed that 2 million mark and they expect 4 million by the end of 2019. Samsung is the only smartphone provider with a 'mid-range' 5G implementation right now, the Galaxy A90 5G, which starts around $620.
In order to go from 2 million to 4 million to 1.4 billion is going to require a wide adoption of Qualcomm's new mid-range 5G-enabled chipsets. To that end, Qualcomm announced the Snapdragon 765 and 765G, which will power upper-mid range smartphones in 2020. The SoCs will have integrated X52 modems that will offer support for both mmWave and Sub 6 GHz 5G (assuming the OEMs add the antennas). In order to go to 1.4 billion, it's going to require more than just Qualcomm to bring 5G to the mid-range, and in an interview earlier this year with Richard Yu, he stated that they are also ready to bring 5G to the mid-range in 2020.
In order to provide some context and to see if this number is viable, I looked back at the data for 4G/LTE adoption. It's worth noting that the 1.4 billion number for 5G that Qualcomm presented is for 'smartphones', not 'phones' – there are a large number of 4G non-smart phones that are sold every year.
Smartphone Unit Shipments
AnandTech
4G
Year
4G
Shipments
4G
Sum
5G
Year
5G
Sum
Year 1
2010
4m
4m
2019
4m
Year 2
2011
18m
22m
2020
-
Year 3
2012
95m
117m
2021
-
Year 4
2013
273m
390m
2022
1400m ?
Year 5
2014
542m
932m
2023
-
Year 6
2015
967m
1899m
2024
-
Year 7
2016
1206m
3109m
2025
-
(Editor's note: This information is from Statista, which only discloses the underlying data sources to Pro subscribers. Normally Statista data is questionable if you don't have the original source, however we were able to find media reports with similar numbers for specific years.)
The title of the first 4G smartphone (albeit WiMAX rather than LTE) is usually attributed to the HTC Evo 4G, which came out in June 2010. By the end of 2010, there were 4 million 4G smartphone shipments, and it took 6 years to reach a sum of 1.4 billion. So in order for the market to hit that 1.4 billion number within 4 years of 5G devices coming to market (2019-2022), they're going to have to beat the rate of 4G adoption by a significant factor.
That being said, the device market is a lot more mature. Both Qualcomm and Huawei are saying that consumers looking for a new phone will want a 5G future-proof device from next year, and this will drive sales. I have confidence in companies like Qualcomm and the OEMs to push out plenty of 5G devices, though I remain skeptical about infrastructure rollout.
Qualcomm has stated that they have 150 designs with 5G already, although not all of those are smartphones. In the presentation today, they said 230+ were either deployed or in development.

Quick Bytes are shortened news pieces about topics mentioned at large press events. Because sometimes smaller announcements get buried at a keynote presentation because a dozen key points are mentioned in one article, and our Quick Bytes series separates out a few topics for targeted discussion.