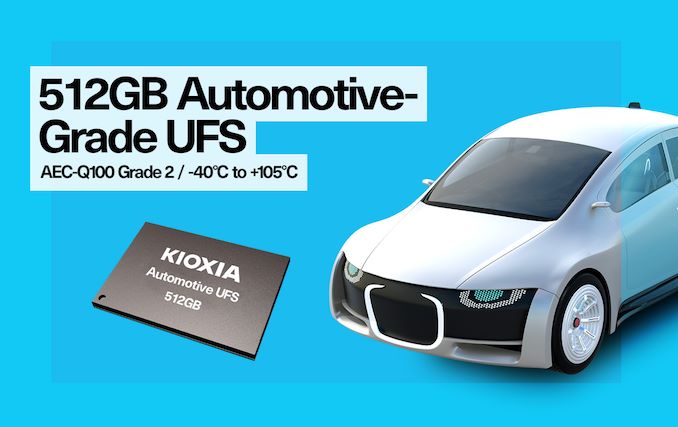 Kioxia (formerly Toshiba Memory), has expanded its lineup of embedded UFS (eUFS) storage with a 512 GB device based on the company's BiCS 3D NAND flash. The chip is rated to support a very wide range of operating temperatures along with special features that increase its reliability and endurance.
Kioxia's eUFS 512 GB drive for automotive applications uses the company's specially developed controller as well as BiCS 3D TLC NAND flash memory. The chips are compliant with the UFS 2.1 HS-G3 specification and can use two full-duplex HS-Gear3 lanes with a 5.8 GT/s data transfer rate per lane, which means a hypothetical maximum bandwidth of 1200 MB/s (assuming that pSLC caching and other performance-boosting methods are used, of course). Other members of the automotive eUFS 2.1 family include drives featuring capacities between 16 GB and 256 GB.
Since Kioxia's automotive grade eUFS storage devices will work in rough environments, they are AEC-Q100 Grade 2 qualified and can operate in extreme temperatures between -40ºC and 105ºC for prolonged amounts of time. In addition, controllers of these drives support functions like Refresh, Thermal Control, and Extended Diagnosis that are designed to improve overall reliability and endurance.
Kioxia has started sampling of its automotive grade eUFS 2.1 512 GB drives with customers. Commercial shipments of such storage devices will begin no earlier than in 2020.
Related Reading:
Source: Kioxia