Visual Inspection
The ASRock X570 Phantom Gaming-ITX/TB3 is a mini-ITX motherboard which is priced for the mid-range of X570 but has some very premium features. This makes it one of the most versatile small form factor models on the AM4 socket. The design feels refined and fits in line with its other Phantom Gaming branded models with red and black accents on the aluminium rear panel cover and heatsinks. It wouldn't be a Phantom Gaming series motherboard without at least some integrated RGB which is located at the bottom of the board. Users looking to expand on the RGB capabilities can do so via a single addressable RGB header and standard RGB LED header.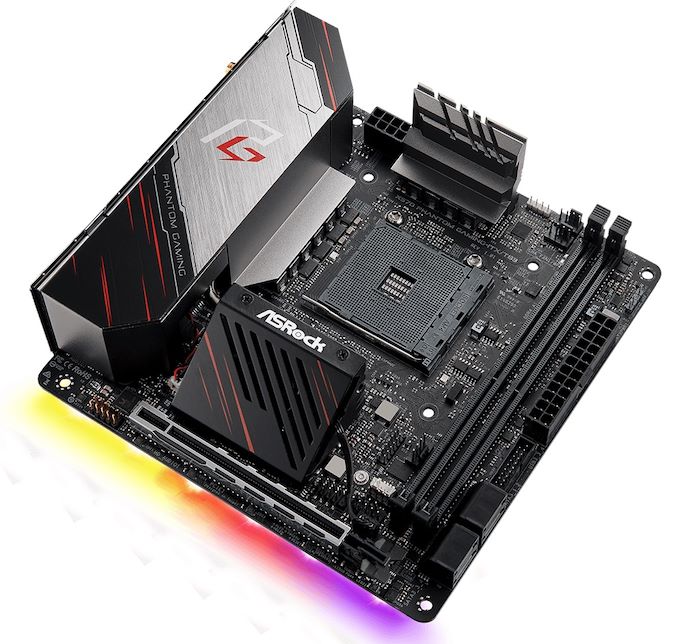 The most notable design aspect to consider from the ASRock X570 Phantom Gaming-ITX/TB3 is the supplied cooling mounts. Here we have an AM4 motherboard, but it uses Intel cooling spacers, not AMD. Seems odd, right?
ASRock's decision is down to low profile cooling support. Low profile offerings on AM4 are a little lacklustre in comparison to Intel's current desktop mount. The idea is that users can use the ASRock X570 Phantom Gaming-ITX/TB3 with a low profile cooler in a smaller form factor mini-ITX chassis to save space. While the majority of users are questioning what the logic is behind this, this model is mini-ITX and as such, there aren't as many low profile coolers available on the market for AM4 as there are for LGA115x. Including an Intel mount on this smaller form factor AMD board improves cooler compatibility with some coolers, but the implementation of the heatsinks does cause concern that some coolers just will not fit. ASRock does include its cooler compatibility list for this board with supported models from Corsair, Noctua and Silverstone, but it's a little bare and the heatsink placement on this model will certainly hinder the installation of larger air coolers on the market.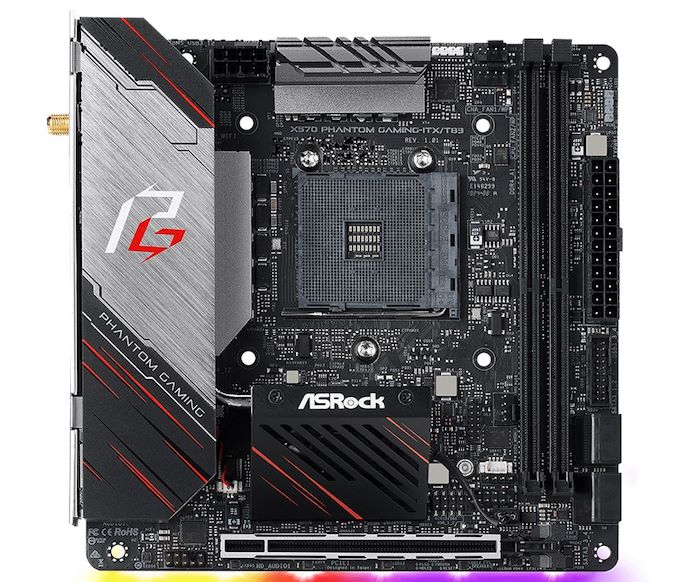 At the bottom is a single PCIe 4.0 x16 slot which includes a coating of ASRock's Steel Armor slot re-inforcement. The restrictions on mini-ITX models also mean that there are only two memory slots which allow users to install up to 64 GB. Memory overclockers typically favour dual-slot boards and the ASRock X570 Phantom Gaming-ITX/TB3 does have support for DDR4-4533 which is one of the fastest out of the box compatibilities of any X570 model on the market. Due to space limitations, there are fewer fan headers included too with just three 4-pin headers featured; these are divided into a single header for the CPU, a CPU/water pump, and a chassis fan header. Providing power to the board is a 24-pin 12 V ATX motherboard power input, while a single 8-pin 12 V ATX CPU power input delivers power to the processor.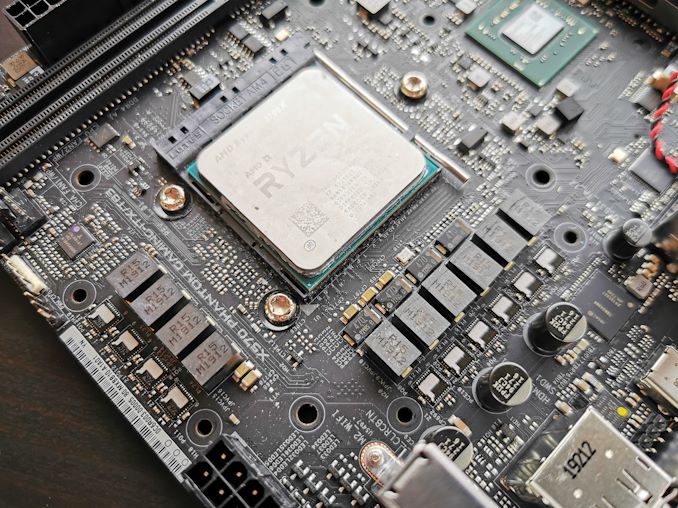 Touching on the power delivery, and the ASRock X570 Phantom Gaming-ITX/TB3 is using a 10-phase setup with a 4+2 controller, relying on doublers on the CPU section. The CPU section is using eight Renesas ISL99227 60 A power stages which are paired up with four ISL6617A doublers. On the SoC section, the ASRock X570 Phantom Gaming-ITX/TB3 is using two ISL99227 60 A power stages similar to the CPU section, but without doublers. This means the Renesas ISL69147 PWM controller is operating at 4+2. As is the norm with most motherboard models, each power stage is complemented with its own inductor. For such a small board, the ASRock X570 Phantom Gaming-ITX/TB3 power delivery is solid and is made of up of high-quality components. Although high power in small packages generally increases thermal output, the power delivery heatsinks look and feel more than adequate up to the job; something we explore in our thermal VRM testing later on in the review.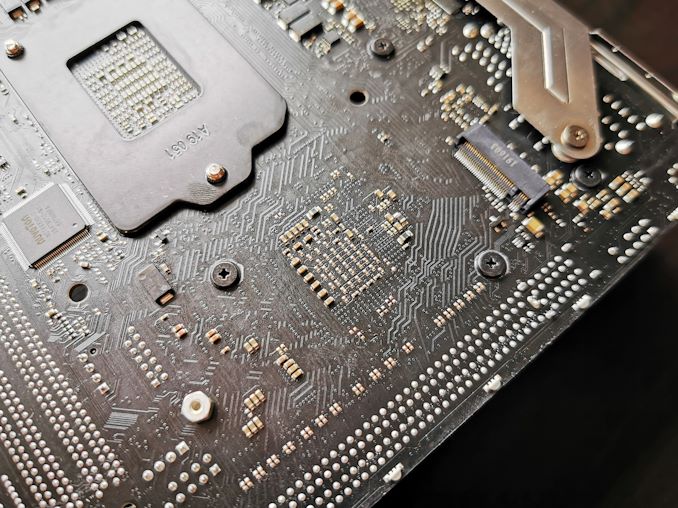 On the rear of the PCB is the sole PCIe 4.0 x4 M.2 slot which accommodates drives up to M.2 2280. Surprisingly, the solitary M.2 slot doesn't support SATA based drives, but users can make use of the four SATA ports which allows users to use RAID 0, 1, and 10 arrays. The hotter running NVMe based M.2 SSDs may experience a thermal bottleneck under intense loads as there is no heatsink on the rear of the board. This means users looking to use an NVMe drive with this board will need to consider cooling within a chassis to maximise performance.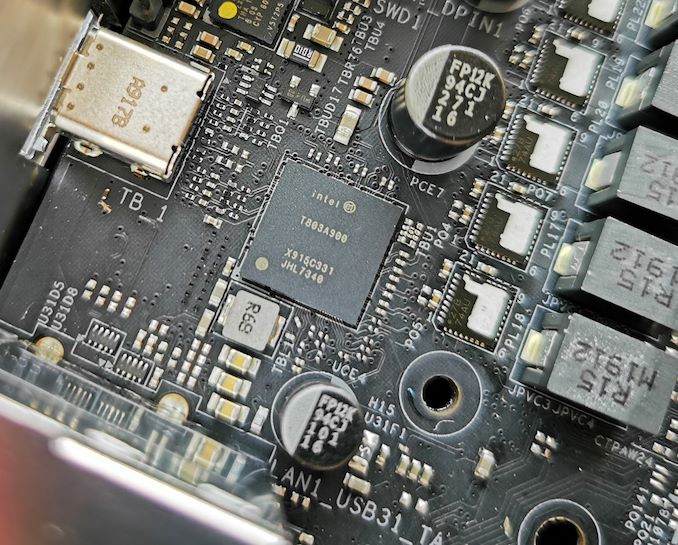 Located underneath the aluminium rear panel cover and the combined power delivery/chipset heatsink is Intel's Titan Ridge JHL7340 Thunderbolt 3 controller. This offers users with a Type-C on the rear panel with up to 40 Gbps of throughput with TB3 devices. The single DisplayPort 1.4 input on the rear panel also allows users to hook-up a discrete graphics card to the Type-C port which means users drive multiple 4K panels from the DisplayPort 1.4 input. Thunderbolt 3 isn't commonly implemented on other X570 models with some vendors including front panel connectors with AIB cards, but ASRock is the only manufacturer to offer a comprehensive 40 Gbps solution on the rear panel on its AMD models.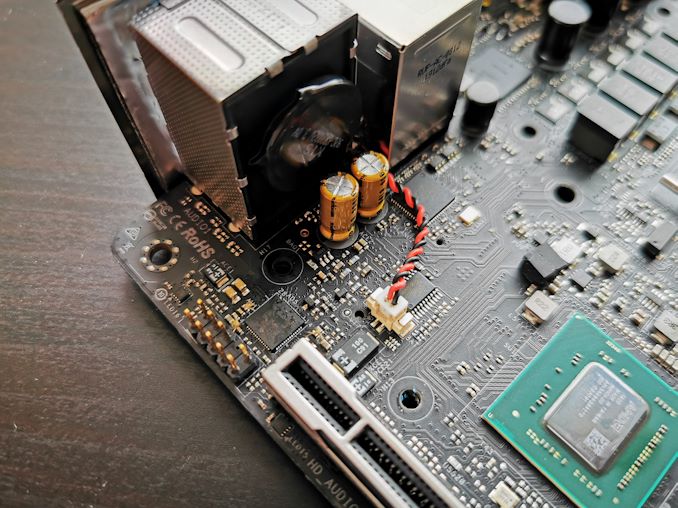 The onboard audio on the ASRock X570 Phantom Gaming-ITX/TB3 is powered by a Realtek ALC1220 HD audio codec, with a front panel header present for users reliant on the chassis I/O. The audio PCB area is a little cramped with just two Japanese gold audio capacitors, and some basic PCB segregation which isolates it from the rest of the board for reduced EMI. The ALC1220 codec itself isn't EMI shielded, but ASRock does use individual PCB layers for both the R and L audio channels. Stuck to the rear of the audio connectors on the rear panel is the boards CMOS battery.

On the rear panel we find the single Thunderbolt 3 Type-C connector which is the highlight of the board. The ASRock X570 Phantom Gaming-ITX TB3 also includes two USB 3.1 G2 Type-A and two USB 3.1 G1 Type-A ports. A Realtek ALC1220 HD audio codec powers the five 3.5 mm gold plated audio jacks which also includes an S/PDIF optical output. Moving from left to right on the other connections are a PS/2 combo port, two Intel AX200 802.11ax wireless antennae ports, and a small clear CMOS button. For users of AMD's Ryzen 3000 APUs, ASRock includes a single HDMI 2.0 video output, while the DisplayPort 1.4 input is present for users to interconnect a discrete graphics card with the Thunderbolt 3 Type-C port for multiple 4K monitor compatibility. Finishing off the rear panel is a single Ethernet port powered by an Intel
With only four rear panel USB ports, the board feels like it doesn't have enough Type-A ports present for modern-day gamers with plenty of peripherals and accessories, but opting for Thunderbolt 3 will pique interest due to its uniqueness and functionality.
What's in the Box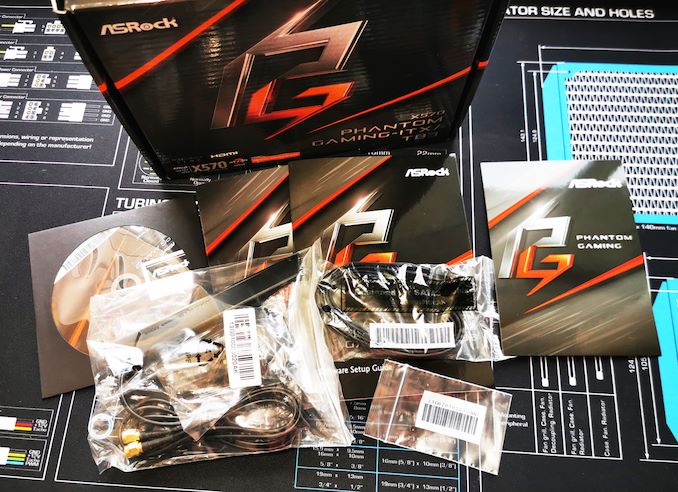 The accessories within the packaging of the ASRock X570 Phantom Gaming-ITX/TB3 are everything users need to get a system up and running out of the box. Included are two SATA cables, an M.2 screw kit, a driver and software installation disc, a quick installation guide, an ASRock sticker, and an Intel AX200 Wi-Fi antenna.
2 x SATA cables
1 x M.2 installation screw
Driver and Software installation disc
Installation manual
Intel AX200 Antenna set
ASRock sticker