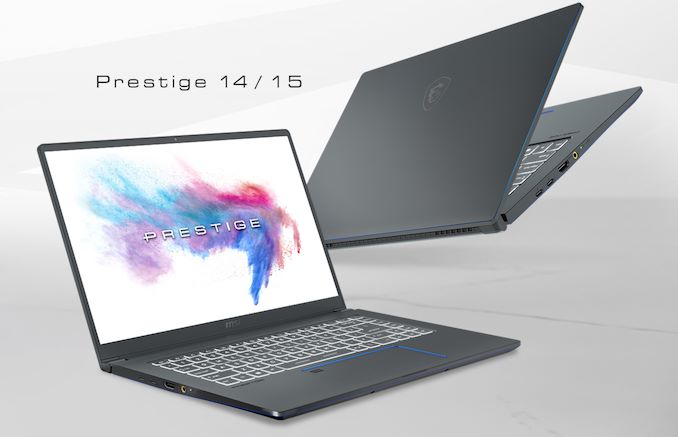 Among the many manufacturers launching new or updated laptops this week alongside the release of Intel's new Comet Lake processors is MSI. This week the company is introducing its new compact Prestige 14 and Prestige 15 laptops, which feature Intel's 10th gen Core CPUs, NVIDIA's GeForce GTX 16-series GPUs, and a factory-calibrated 4K display. The notebooks are aimed at power users running multiple threads at once – such as content creators and photographers – particularly with the machines' top-end hex-core configurations.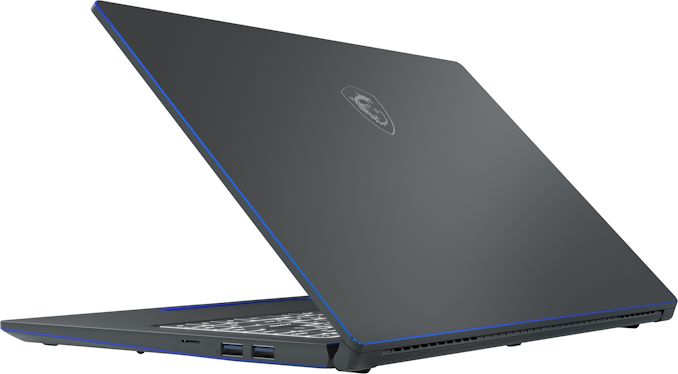 MSI's Prestige 14 and 15 laptops are based on Intel's 10th generation Core "Comet Lake-U" processors, which come with up to six CPU cores. Accompanying the CPUs at the high-end is NVIDIA's GeForce GTX 1650 in Max-Q design configuration. Officially, MSI labels this as an "up to" configuration, however looking at the SKU specs, even the cheapest Prestige 15 inclucdes the 1650. Details on the Prestige 14, on the othe rhard, are harder to come by, and it's not clear what the baseline configuration is there.
Meanwhile in terms of memory and storage, the 14-inch notebook comes with up to 16 GB of LPDDR3-2133 memory onboard and one M.2 SSD featuring a SATA or PCIe 3.0 x4 interface, whereas the 15-incher can be equipped with up to 64 GB of memory as well as two M.2 drives (see exact specifications in the table below).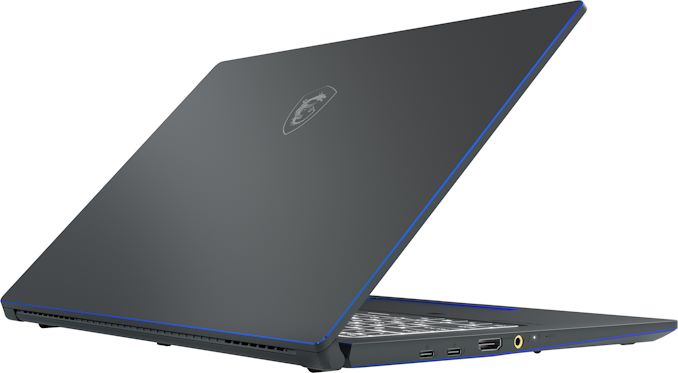 The Prestige 14 and the Prestige 15 laptops from MSI come in sleek sandblasted aluminum chassis with blue accents that are only 16 mm thick in both cases. The bodies house a 14 or 15.6-inch 'IPS-level' panel (which probably means AHVA or something similar), with MSI offering 1920x1080 and 3840x2160 options. All panel options cover 100% of the Adobe RGB color gamut and come factory calibrated to Delta-E<2 color accuracy.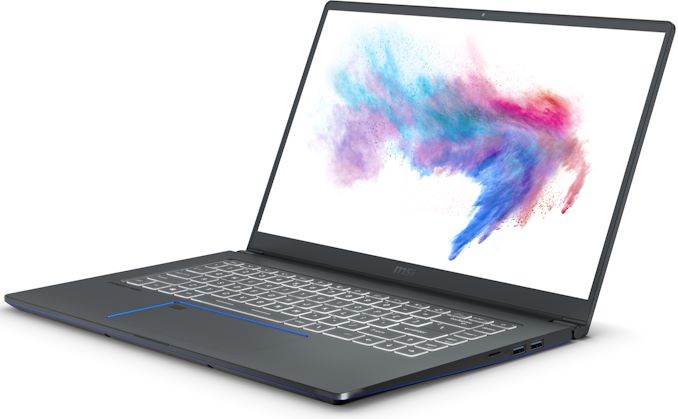 Connectivity-wise, the systems are very similar, yet not completely the same. The PCs come with a Wi-Fi 6 + Bluetooth adapter, two Thunderbolt 3 ports, two USB Type-A connectors (2.0 in case of the 14-incher and 3.2 Gen 2 in case of the 15-incher), an HDMI 2.0 output, a 3.5-mm audio connector for headsets, and a microSD card reader. As for multimedia capabilities, MSI's Prestige 14/15 laptops are equipped with a webcam with IR sensors, stereo speakers, and a microphone array.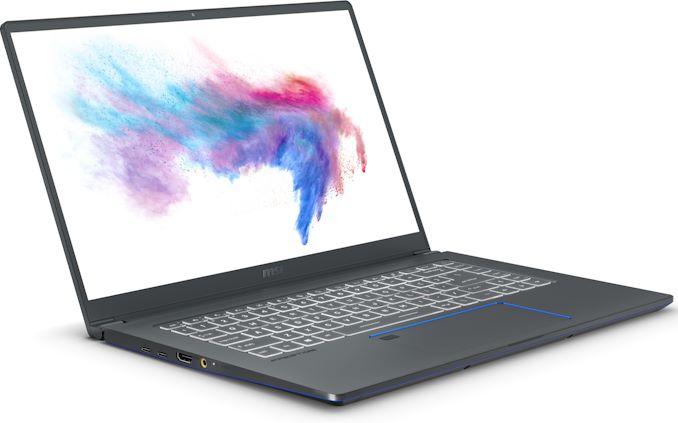 It is noteworthy that MSI's original Prestige laptops introduced in 2018 were aimed primarily at business users seeking a combination of performance and compact form-factor. Meanwhile, MSI's Prestige 14 and Prestige 15 mobile PCs in their high-end configurations are increasingly targeted at creative professionals, which essentially means that the systems are entering workstation territory. In fact, the Prestige brand plays equally well both for business users who need to show their status and for creative professionals.
Specifications of MSI's 2019 Prestige Laptops
Prestige 14
Prestige 15
LCD
Diagonal
14-inch
15.6-inch
Resolution
3840×2160
Brightness
?
Contrast Ratio
?
?
Color Gamut
100% AdobeRGB
Touch Support
?
?
Protective Glass
?
CPU
Intel 10th Gen Core

processors (Comet Lake-U)

Graphics
Integrated
Intel UHD Graphics
Discrete
up to NVIDIA's GeForce GTX 1650 with 4 GB GDDR5 w/ Max-Q
RAM
up to 16 GB LPDDR3 DRAM (onboard)
up to 64 GB of DDR4 DRAM
(two SO-DIMMs)
Storage
SSD
1 × M.2 SSD (SATA or PCIe)
1 × M.2 SSD (SATA or PCIe)
1 × M.2 SSD (PCIe)
Card Reader
MicroSD Card reader
Wireless
Wi-Fi 6 + Bluetooth 5.0
USB
3.1
2 × TB 3 (USB Type-C)
2 × USB Gen 3.1 Gen 2 Type-A
2 × TB 3 (USB Type-C)
2.0
-
2 × USB Gen 3.1 Gen 2 Type-A
Thunderbolt
2 × TB 3 (for data, charging, DP displays)
Cameras
Front
720p HD webcam with IR sensors
Other I/O
Microphone, 2 stereo speakers, audio jack, fingerprint reader
Battery
?
Dimensions
Width
31.9 cm | 12.56 inches
35.7 cm | 14.05 inches
Depth
21.5 cm | 8.46 inches
23.4 cm | 9.2 inches
Thickness
1.6 mm | 0.63 inches
Weight
1.28 kilograms | 2.84 pounds
1.65 kilograms | 3.64 pounds
Launch Price
?
MSI's Prestige 14 and Prestige 15 notebooks are available for pre-order from Amazon and Newegg and will be released in early September.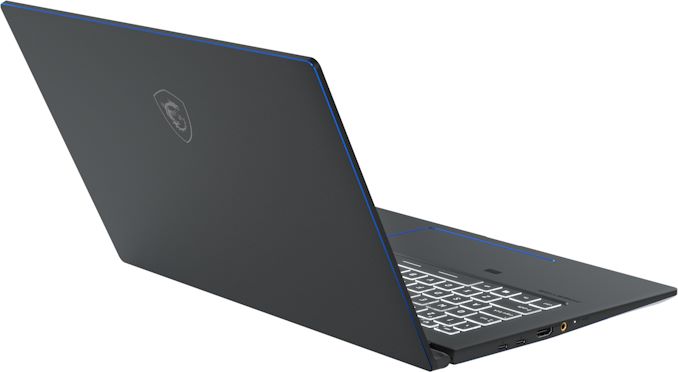 Related Reading:
Source: MSI