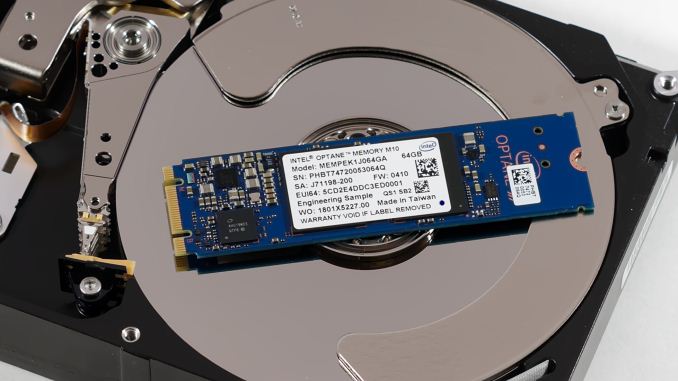 When Intel launched its Optane Memory caching SSDs two years ago, it limited their support to mainstream and higher-end platforms essentially considering them premium products. Whether or not hybrid storage subsystems were ever a prerogative of premium PCs is up to debate (they are in case of Apple's iMac AIOs), but Intel recently expanded support for its Optane Memory caching SSDs to Celeron and Pentium-based desktop systems.
The Intel Optane Memory driver for system acceleration version 17.2.0.1009 as well as the Intel Rapid Storage Technology driver 17.2.0.1009 add support for Intel's desktop Celeron and Pentium processors that are based on the Coffee Lake microarchitecture (i.e., belong to Intel's 8th Gen Core processors). In addition to software support, Intel's Optane Memory or Optane Memory M10 caching SSDs have to be supported by system BIOS and have to be installed in an M.2 slot connected to PCIe lanes of the chipset.
Caching SSDs store frequently accessed data thus speeding up time it takes to boot an OS as well as frequently used applications compared to a mechanical hard drive. As our review demonstrated back in 2017, a 32 GB Optane Memory SSD brought a noticeable improvement to a system only featuring a hard drive. But while caching SSDs enable storage subsystems that bring together performance of an SSD and a capacity of a hard drive, they cannot guarantee consistently high performance at all times.
Even considering all the limitations of caching SSDs, adding support of Optane Memory to desktop platforms based on Intel's entry-level processors will clearly make these systems more responsive, which will make them more competitive too.
Related Reading
Source: Intel