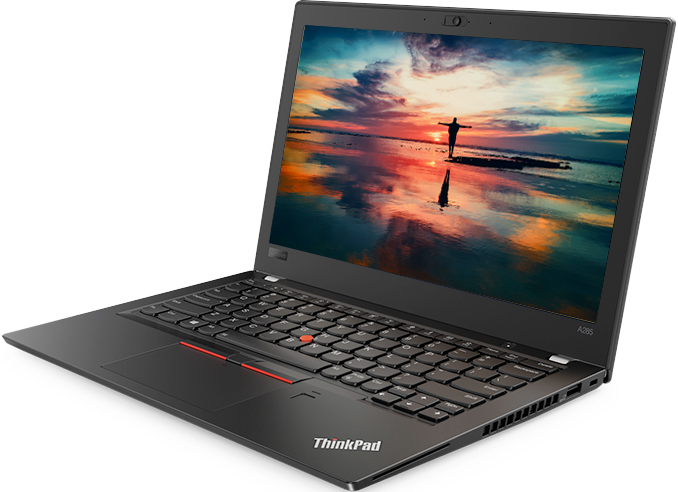 Lenovo Japan on Thursday said that it would begin selling its ThinkPad A285 laptop on September 21. The mobile PC is one of the thinnest and lightest notebooks based on AMD's Ryzen PRO introduced thus far. Besides being very compact, the ThinkPad A285 is among the first Ryzen PRO-based laptops to feature a suite of business and enterprise-oriented features from AMD and Lenovo.
Lenovo's ThinkPad A285 notebooks will be available in a variety of configurations aimed at various price points. Different configs will be based on AMD's Ryzen 7 PRO 2700U with Radeon Vega 10, Ryzen 5 PRO 2500U with Radeon Vega 8, or Ryzen 3 PRO 2200U with Radeon Vega 3 APUs. Other options will include 8 or 16 GB of soldered-down DDR4-2400 memory, and depending on exact model they will be equipped with a PCIe/NVMe SSD (up to 512 GB) with OPAL 2.0-encrypted options available to interested parties.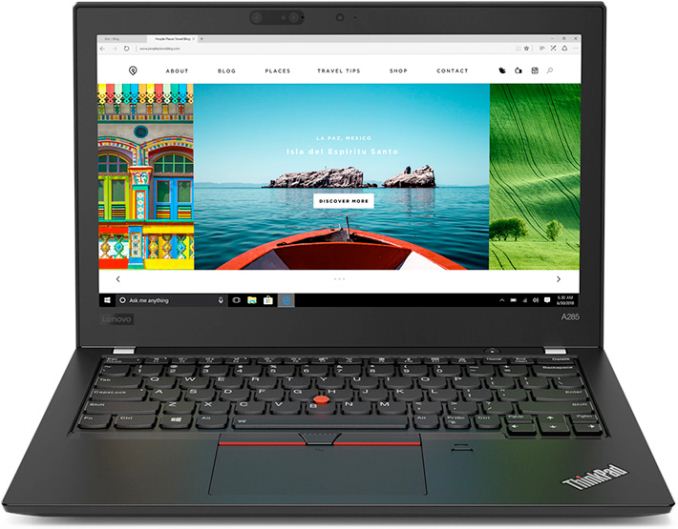 Besides different internal hardware options, Lenovo intends to offer its ThinkPad A285 laptops with two 12.5-inch display options: lower-end machines will come with a 1366×768 display, whereas higher-end models will be equipped with a 1920×1080 panel and 10-point multitouch capabilities. Meanwhile, Lenovo Japan plans to offer an A285 with a non-touch Full-HD screen.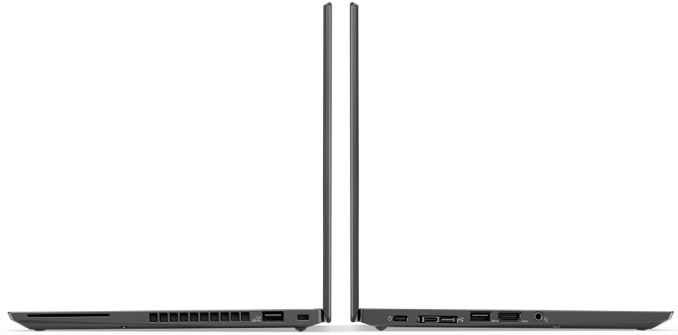 Next up is connectivity. On the wireless side of things, the Lenovo ThinkPad A285 features a 2×2 802.11ac + Bluetooth 4.2 controller, which is a standard feature for today's business notebooks. As for physical connectors, the notebook is equipped with a GbE port that requires a dongle, two USB 3.1 Type-C ports (used for data, power, display, and docking connectivity), two USB Type-A (3.0 and 2.0) ports, an HDMI 1.4 output, a micro SD card reader, a 720p webcam, a TRRS audio jack for headsets, Dolby Audio Premium-certified speakers, a microphone array, and so on.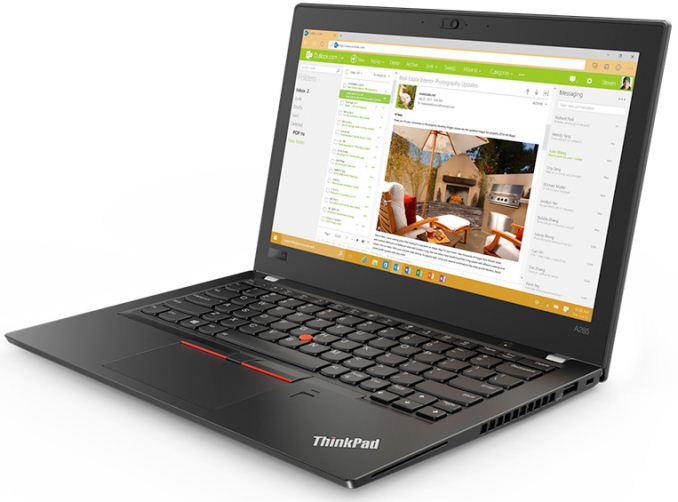 As noted above, since we are dealing with a Lenovo ThinkPad based on AMD's Ryzen PRO APU, all A285 models are outfitted with a match-in-sensor fingerprint reader, a Windows Hello-compatible webcam with ThinkShutter cover, a dTPM 2.0 chip, AMD's Transparent Secure Memory Encryption (TSME), DASH remote management, and so on. Lenovo is the first notebook vendor to offer Ryzen PRO-based mobile PCs pervasively featuring all of the aforementioned security and management features. Lenovo also notes that all A285 machines comply with 12 military-grade requirements to ensure that they can work in extreme conditions.

Moving on to dimensions and weight. Since Lenovo plans to offer ThinkPad A285 with two display options and with and without multitouch capabilities, the resulting dimensions and weights differ between the variants. Non-touch SKUs weigh 1.13 kg and are 17.4-mm thick. By contrast, touch-enabled models weigh 1.26 kg and are 17.8-mm thick. To put these numbers into perspective, Lenovo's own IdeaPad 720S comes in a 13.6-mm thick aluminum chassis and weighs around 1.14 kilograms. The consumer laptop lacks numerous features that the ThinkPad A285 has (e.g., toughness, biometric security, TrackPoint, docking capabilities, just to name a few), but its indisputable trumps are the 13.3-inch LCD (there is even a 4K option) as well as portability.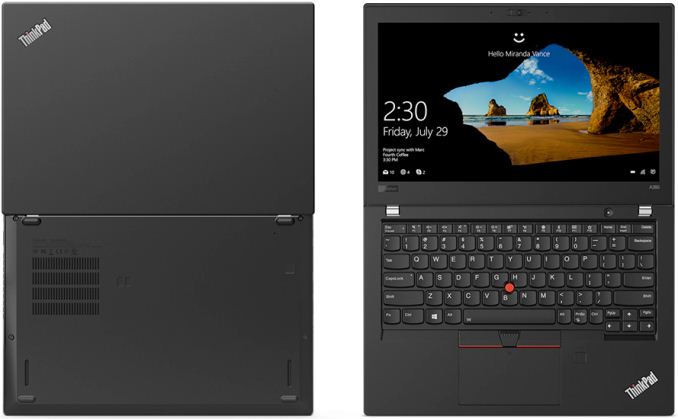 Time to talk about battery life of Lenovo's ThinkPad A285 laptops. Evidently, 12.5-inch notebooks are used by road warriors because of their dimensions and such customers need to work autonomously for prolonged periods of time. Lenovo in turn would appear to be using a 45 Wh battery pack with all of the ThinkPad A285 SKUs. This battery can last for 7.4 – 10.9 hours, depending on display panel/APU configuration (see the table below for details), which is not bad, but which is well below what the company's ThinkPad X1 Carbon offers with its 57 Wh battery (i.e. 12 hours with a WQHD display, 15 hours with a Full-HD LCD).
General Specifications of Lenovo's ThinkPad A285 Laptops
ThinkPad A285
HD
ThinkPad A285
FHD
Display
Diagonal
12.5"
12.5"
Resolution
1366×768
1920×1080
Type
TN
IPS
Touch
No
10-points multitouch
CPU
AMD Ryzen 3 PRO 2200U: 2C/4T, 2.5 - 3.4 GHz, 1 MB L2 + 4 MB L3,
Vega 3 iGPU with 192 SPs at 1.1 GHz
15 W
AMD Ryzen 5 PRO 2500U: 4C/8T, 2.0 - 3.6 GHz, 2 MB L2 + 4 MB L3,
Vega 8 iGPU with 512 SPs at 1.1 GHz
15 W
AMD Ryzen 7 PRO 2700U: 4C/8T, 2.2 - 3.8 GHz, 2 MB L2 + 4 MB L3,
Vega 10 iGPU with 640 SPs at 1.3 GHz
15 W
RAM
Capacity
8 GB or 16 GB
Type
DDR4-2400
Storage
Capacity
up to 512 GB PCIe/NVMe SSD
Options
OPAL 2.0-compatible SSD
Wi-Fi
2×2 802.11ac Wi-Fi module (unknown vendor)
Bluetooth
4.2
USB
2 × USB 3.0 Type-A (one always on)
1 × USB 3.1 Gen 1 Type-C (power, data, DP 1.2)
1 × USB 3.1 Gen 2 Type-C (power, data, DP 1.2)
Ethernet
GbE with dongle (sold separately)
Other I/O
HDMI 1.4, 720p webcam with Windows Hello and ThinkShutter, TRRS connector for audio, speakers, microphone, microSD card reader
Figerprint Reader
Match-in-Sensor fingerprint reader from Synaptics
Security
discrete TPM 2.0 chip
Dimensions
Width
307.7 mm | 12.1 inches
Length
209.8 mm | 8.3 inches
Thickness
17.4 mm | 0.68 inches
17.8 mm | 0.7 inches
Weight
1.13 kg
1.26 kg
Battery
Capacity
45 Wh (?)
Life
Ryzen 7 PRO with 12.5" TN LCD: 10.9 hours
Ryzen 5 PRO with 12.5" IPS/TN LCD: 9.5 hours
Ryzen 3 PRO with 12.5" TN LCD: 7.4 hours

Operating System
Microsoft Windows 10 Pro
Windows 10 Home
Support & Services

Premier Support by 'advanced-level technicians with the expertise' by phone.
Accidental Damage Protection (ADP) - a fixed-cost, fixed-term protection plan.
Warranty extensions.

Price
?
?
Lenovo Japan plans to start selling the ThinkPad A285 starting today (Friday). The most affordable SKU in the Land of the Rising Sun is priced at ¥178,000 w/o tax ($1,582), whereas the most advanced model costs ¥223,000 w/o tax ($1,983). Keeping in mind that PCs are somewhat overpriced in Japan, expect the ThinkPad A285 to be cheaper in other parts of the world. In the meantime, keep in mind that their configurations may be a little different as well.
Related Reading:
Sources: Lenovo Japan, Lenovo, PC Watch