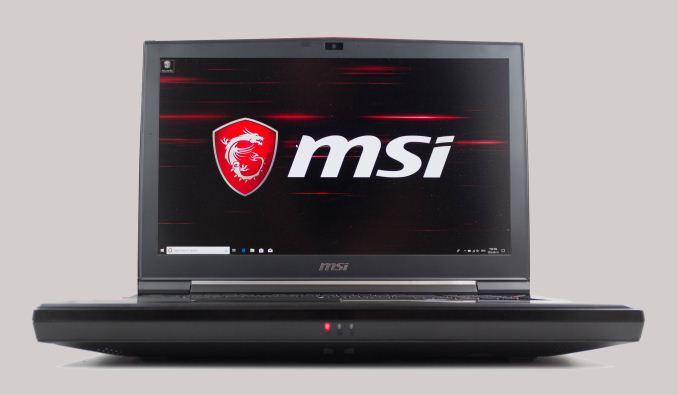 The gaming laptop segment is one of the most profitable around, and MSI has focused their laptops almost exclusively on this market for the last couple of years. Today we are taking a look at the MSI GT75 Titan, otherwise affectionately known as the GT75 Titan-093. The GT lineup is the top of the range for MSI, and the GT75 Titan offers all the accoutrements you'd be expecting in a gaming laptop.
MSI continuously updates their GT lineup with the latest equipment, and for the 17.3-inch GT75 they've moved exclusively to the hex-core Intel Coffee Lake lineup, with the Core i7-8750H, Core i7-8850H, and Core i9-8950HK options. These are all 45-Watt CPUs, but the Core i9 offers overclocking in addition to a higher base and boost frequency at stock speeds.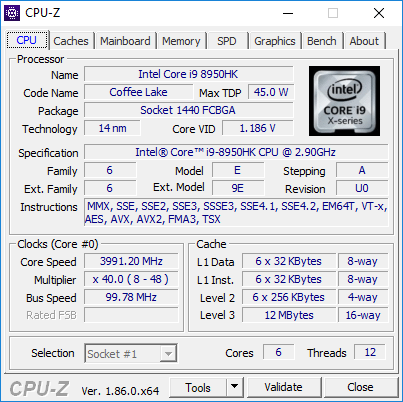 GPU options are all NVIDIA. AMD doesn't offer Vega in any sort of laptop form factor at the moment, so for now, NVIDIA has this market all to themselves. The GT75 can be had with a GTX 1070, GTX 1070 SLI, or GTX 1080.
There's lots of storage options, starting with just a 1 TB 7200 rpm drive, and then adding in SSDs for the boot drive, with either a 256 GB SATA, 512 GB SATA, or 512 GB NVMe or dual 512 GB NVMe in RAID on the higher models. If you want to add your own storage, the laptop offers 3 M.2 slots so you can mix and match flash storage.
The low-end models come with a single SODIMM of 16 GB DDR4-2400, and the high-end models come with 2x16 GB DDR4-2667. Since this is a gaming laptop, it does of course offer SODIMM slots, so you can add more RAM after purchase, unlike an Ultrabook. There are four slots, so the laptop could handle up to 64 GB of DDR4.
MSI GT75 Titan
Component
GT75 TITAN-058
GT75 TITAN-055
GT75 TITAN-056
GT75 TITAN-094
GT75 TITAN-093
(Model Tested)
GT75 TITAN-04K-071
CPU
Intel Core i7-8750H
6 Core, 12 Thread
2.2 - 4.1 GHz
9MB Cache, 45W TDP
Intel Core i7-8850H
6 Core, 12 Thread
2.6 - 4.3 GHz
9MB Cache, 45W TDP
Intel Core i9-8950HK
6 Core, 12 Thread
2.9 - 4.8 GHz
12MB Cache, 45W TDP
GPU
NVIDIA GTX 1080
2560 CUDA Cores, 160 TU, 64 ROPs
1556-1733MHz
10 Gbps GDDR5X 256-bit 8GB
RAM
16GB DDR4 2400 x 1
4 SODIMM Slots 64 GB Max
16GB DDR4 2666 x 1
4 SODIMM Slots 64 GB Max
16GB DDR4 2666 x 2
4 SODIMM Slots 64 GB Max
Display
17.3" 1920x1080 120Hz TN
170° viewing angle sRGB
17.3" 3840x2160 60Hz IPS
Adobe RGB
Storage
256GB M.2 SATA
1 TB 7200rpm
3 M.2 slots
512GB M.2 SATA
1 TB 7200rpm
3 M.2 slots
1 TB 7200rpm
3 M.2 slots
512GB M.2 NVMe
1 TB 7200rpm
3 M.2 slots
512GB M.2 NVMe x 2 (1TB RAID)
1 TB 7200rpm
3 M.2 slots
Network
Killer Gigabit Ethernet
Killer Wireless-AC 1550 2x2:2
Bluetooth 5.0
Aquantia 10Gbps Ethernet
Killer Wireless-AC 1550 2x2:2
Bluetooth 5.0
I/O
USB 3.1 Gen2 Type-A x 5
USB-C Thunderbolt 3 x 1>br />SDXC
mini DisplayPort 1.2
HDMI 2.0
Keyboard
SteelSeries Mechanical Per-Key RGB with Anti-Ghost
Audio
ESS Sabre HiFi DAC
3.5mm Headphone, Mic, Line In, Line Out
Dynaudio Tech Speakers
3W Stereo + 5W Subwoofer
Battery
8 cell 75Wh Li-Ion
8 cell 90Wh Li-Ion
AC Adapter
330W
330W
2 x 230W
Dimensions
428 x 314 x 57.9 mm
16.85 x 12.36 x 2.28 inches
Weight
4.56 kg
10.05 lbs
4.50 kg
9.92 lbs
4.56 kg
10.05 lbs
MSRP
$2,799
$2,999
$2,799
$3,299
$3,999
$4,499
As you can see, there's quite a few different models available depending on what channel you end up purchasing from, and of course the third party resellers of MSI will likely be able to customize further. There's also a single model called the GT75 Titan-057 which comes with a GTX 1070, and costs $2,399 that's not in the above table in order to prevent it becoming even more complicated.
MSI offers two display choices, with a 120 Hz 1920x1080 TN panel, or a 3840x2160 60 Hz IPS option with 100% Adobe RGB gamut support. Both displays offer G-SYNC functionality as well.
Finally, there's plenty of inputs, with five USB 3.1 Gen 2 Type-A ports, a USB-C Thunderbolt 3 port, and an SD card slot. There are also four 3.5 mm audio jacks, a Killer Wireless-AC 1550 802.11ac 2x2 network card, and, the first laptop we've reviewed with a 10 Gigabit Aquantia Ethernet port.
But wait – there's more. MSI has outfitted the GT75 with a fully mechanical keyboard from SteelSeries, with per-key RGB lighting.
Yes it's big. Yes the bezels are large. Yes it weighs just over 10 lbs. But this system is designed for performance, not actually sitting in one's lap, so we'll have to see how it does with its primary function. But first, let's go over the design.