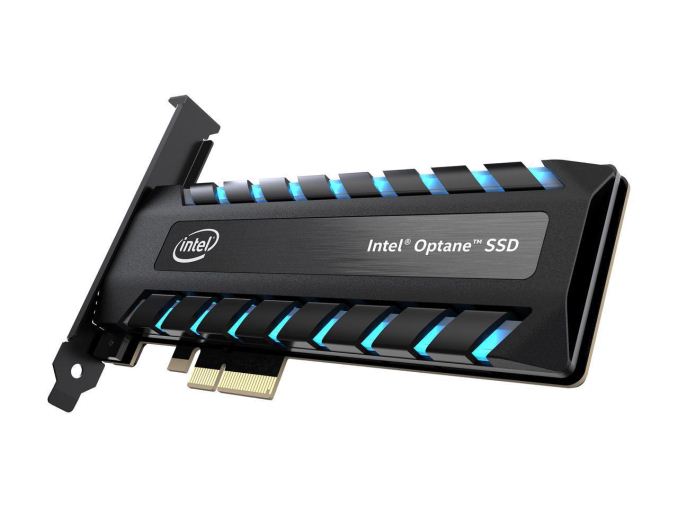 Intel hasn't officially announced it yet, but a refresh of their flagship consumer SSD is on the way. The Intel Optane SSD 905P will feature slightly improved performance and power consumption compared to the Optane SSD 900P, and will be available in higher capacities than Intel's current consumer Optane products.
Over the past week, several sightings have pointed toward an imminent announcement of the 905P. Several third-party product listings have appeared on Newegg and Amazon. A few ASRock motherboard product pages include diagrams indicating that their M.2 slots are "Intel Optane 905P Ready"— a rather meaningless statement since Optane SSDs are standard NVMe drives the same as any flash-based drive. Finally, an official Intel product brief for the 905P has been located on their website. This product brief covers a 960GB add-in card and 480GB 2.5" U.2 drive. The existing Optane SSD 900P is available as a 280GB add-in card or U.2 drive and a 480GB add-in card, so the new 905P models don't appear to replace any of the existing 900P models. Late last year there were signs that Intel was going to release 960GB and 1.5TB models of the 900P, but they never went up for sale.
The new Optane SSD 905P appears to be a fairly minor refinement of the 900P. Performance specs have improved by 5-10% across the board. We do not think this new SSD is using second-generation 3D XPoint memory yet. Instead, the improvements likely stem from the SSD controller and firmware. Earlier this year we spotted an updated Optane SSD controller on Intel's new Optane SSD DC P4801X enterprise M.2 SSD. The original SLL3D Optane SSD controller used for the 900P and enterprise P4800X was too large to fit on a 22mm-wide M.2 card, so a repackaging was necessary and a new stepping of the controller die is likely. The P4801X and (we presume) the 905P still feature the same basic 7-channel controller architecture, but Intel has spent another year working on performance.
Intel Optane SSD Specifications
Product
Optane SSD 905P
Optane SSD 900P
Capacity
960GB
480GB
480 GB
280 GB
Controller
Intel SLM58?
Intel SLL3D
Memory
Intel 3D XPoint
Intel 128Gb 3D XPoint
Interface
PCIe 3.0 x4
PCIe 3.0 x4
Form Factor
HHHL Add-in card
2.5" 15mm U.2
HHHL Add-in card
HHHL Add-in card or
2.5" 15mm U.2
Sequential Read
2600 MB/s
2500 MB/s
Sequential Write
2200 MB/s
2000 MB/s
Random Read IOPS
575k IOPS
550k
Random Write IOPS
550k IOPS
500k
Average Power Consumption
Read
10.7 W
7.6 W
8 W

Write
14.8 W
12.4 W
13 W
Burst Power Consumption
Read
11.2 W
7.7 W
14 W
Write
16.4 W
12.8 W
Idle Power
6.0 W
3.3 W
5 W
Operating Temperature
0°C–85°C
0°C–70°C
Write Endurance
10 DWPD
10 DWPD
Warranty
5 years
5 years
Recommended Price
?
$599 ($1.25/GB)
$389 ($1.39/GB)
The power consumption ratings of the 480GB 905P are a bit below that of the 480GB 900P, and the upper limit of the operating temperature range has been raised from 70 to 85 degrees C. These both suggest that these new 905P models are using the updated controller that's intended to enable M.2 versions. No official specs have been found for the M.2 version of the 905P, but it is most likely going to feature lower capacities more in line with the existing 900P models, and will probably need to be a double-sided M.2 card in order to fully populate all 7 channels of the SSD controller—the enterprise M.2 P4801X is both double-sided and 110mm long for the base 375GB capacity.
Intel Optane Product Lineup
Capacity
Consumer Products
Enterprise Products
16 GB
Optane Memory (M.2)
$27.99 ($1.75/GB)
32 GB
Optane Memory (M.2)
$58.94 ($1.84/GB)
58 GB
800P (M.2)
$111.48 ($1.92/GB)
118 GB
800P (M.2)
$198.10 ($1.68/GB)
280 GB
900P (AIC, U.2)
$339.99 ($1.21/GB)
375 GB
P4800X (AIC, U.2)
P4801X (M.2 22110)
480 GB
900P (AIC)
$549.00 ($1.14/GB)
905P (U.2)
750 GB
P4800X (AIC, U.2)
960 GB
905P (AIC)
1.5 TB
P4800X (AIC, U.2)
(Entries in bold have not been officially launched by Intel but their existence has been confirmed by Intel. Planned release dates are unknown.)
In addition to the above products, a new generation of low-capacity Optane Memory cache drives is on the way. The Optane Memory M10 is already listed by at least one third-party seller on both Amazon and Newegg, and Intel has indicated they will be providing review samples soon. The M10 is expected to be a more mobile-oriented update or replacement for the initial Optane Memory, incorporating the idle power management that the Optane SSD 800P introduced. The Optane Memory M10 is expected to add a 64GB capacity option and may include a shorter M.2 card than the M.2 2280 size used for the existing Optane Memory and Optane SSD 800P.
To complement the cache-oriented drives, Intel has updated their Optane Memory caching software for Windows. The Optane Memory functionality built in to their RST version 16 drivers released in February added the ability to cache a drive other than the Windows boot volume. This functionality is available both for 300-series chipsets supporting Cannon Lake and Coffee Lake processors, and for the existing 200-series Kaby Lake platforms that supported the original Optane Memory. No motherboard firmware update is required to use the data drive acceleration mode of the new Optane Memory drivers.
Sources: Reddit posts, ASRock, Intel