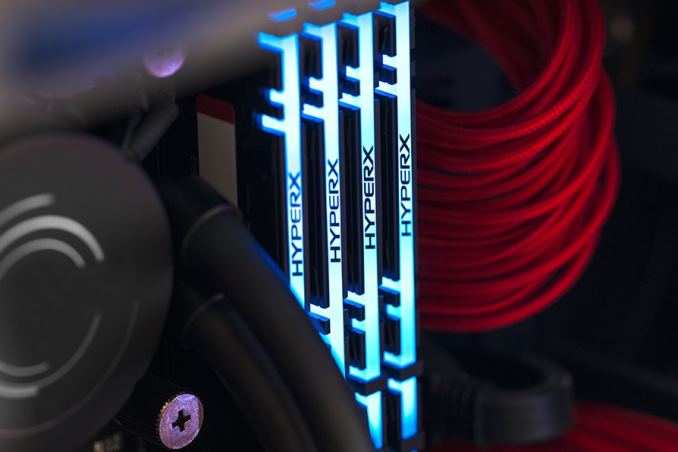 Back in January during CES week, Hyper X announced new Predator DDR4 which includes IR communication channels in each of their modules allowing multiple modules to synchronize their LED lighting. Today's announcement simply confirms the DRAM modules are now shipping. The new Predator RGB uses Intel XMP-ready profiles and is available in one speed, DDR4 2933, and as 8 GB single modules or in kits of two or four with 16 GB and 32 GB capacities respectively.
The uniquely synchronized DRAM modules have an IR sensor on it to detect the stick next to it. The master stick is determined during startup and is the module furthest away from the CPU. If the sensor gets blocked, the RGBs will be static. Hyper X implemented this methodology due to different motherboard vendors using different technologies, such as daisy chain or T-Topology design rules which can cause synchronization issues. While the methods have their own pros and cons, this IR method for syncing the sticks will ensure that no matter what the topology, the modules will stay in sync.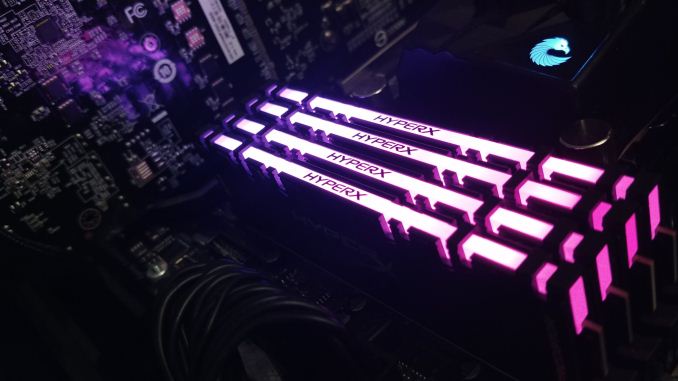 The IR sensors remove the need for a separate controller with control being managed by board partners RGB LED software such as ASUS Aura Sync, GIGABYTE RGB Fusion, and MSI Mystic Light Sync (no mention of ASRock RGB LED). Power is handled directly through the DRAM slot and avoids unsightly wires inside of the case. The RGB LED element is located at the top of the module and can be seen through a frosted plastic piece on top along with the Hyper X name in black.
There are multiple XMP profiles as well as the JEDEC standard latency of DDR4-2400 at 17-17-17 and 1.2V already programmed in the sticks. The first XMP profile is rated at DDR4-2933 CL15-17-17 at 1.35V, its rated timings, while a second is set to DDR4-2666 CL15-17-17 at 1.35V. This is the only speed currently. The modules are of standard length with a total height of 42.2 mm (1.66"). The modules are not very tall, but the heat spreader does stick up past the module's PCB.
Pricing on these sticks still have not been listed, however, a quick google search turns up pricing for the 2 x 8 GB on Amazon priced at $246. The 4 x 8 GB set will set users back $492. Predator DDR4 Memory is backed by a lifetime warranty.
Related Reading:
Source: Hyper X