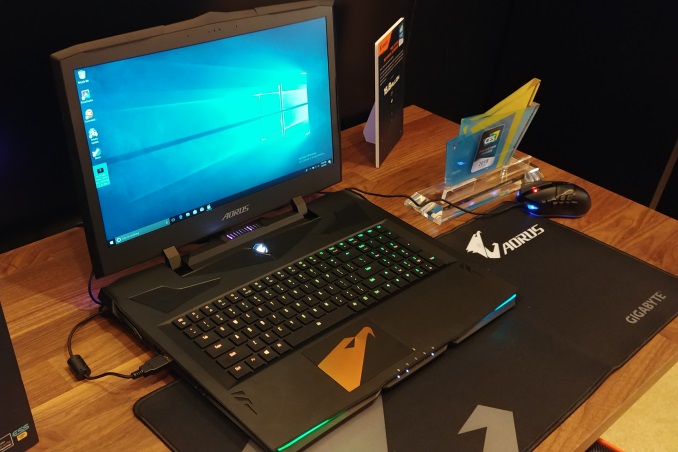 Among some of the other announcements GIGABYTE made this year at CES 2018, it also displayed some of their existing gaming laptops in the Aero 15X (now available in pure black) as well as the AORUS X9, a very thin, dual GPU laptop using true laptop mechanical switches.
AORUS X9
The AORUS X9's claim to fame is how thin it is and able to shoehorn in dual Geforce GTX 1070s in the chassis, as well as its Kailh brown mechanical keys with 2.5mm of key travel. Gigabyte states it is the thinnest laptop in the world with dual GPUs and mechanical keys. The flagship X9 laptop has a 17.3-inch panel available in two resolutions, either QHD (2560x1440) 120Hz WVA panel, or a 4K UHD (3840x2160) with Adobe RGB.
The design of the chassis is said to be inspired by supercars, fighter jets, and a Falcon which is the motif in the base and used as a cooling vent. The chassis is made from aluminum, giving the device a more high-end feel. The AORUS RGB lighting is not only for show but can provide users with information such as volume, battery indicator, CPU/GPU temperature and more. It is also able to sync up with the surrounding RGB chassis lighting (four RGB LED strips and keyboard). The big selling point is just how thin the laptop is measuring just 1.18" tall and able to stuff two GTX 1070s as well as using full travel mechanical keys.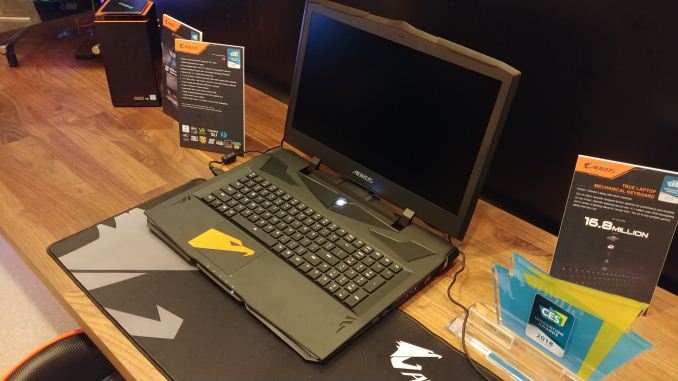 Internally, there is a quad-fan cooling solution which uses a total of eight heat pipes to dissipate the heat created by the dual GPUs, CPU, and the chipset. Cool air is taken in through the falcon shaped vents on the base and exhausted out the back away from the user. This creates a notable rake on the keyboard, but this could be beneficial on the wrists for extended periods of use.
The only processor option is the i7-7820HK quad-core which comes in at a base clock of 2.9 GHz with a maximum turbo frequency of 3.9 GHz, all in a 45W package. The processor is overclockable as well. Memory capacity is a maximum of 64GB through its four SO-DIMM slots and is able to support speeds up to DDR4-2400, although exact capacity will vary depending on the retailer. There are three possible locations for internal storage with two 1TB NVMe M.2 SSDs and bulk storage handled by a 2TB 7200 RPM HDD.
There is a range of updated connectivity on the X9, starting from Thunderbolt 3 (1 x Type-C), USB 3.1 Type-C (10 Gbps), three USB 3.1 (5 Gbps) ports, a Mini-DisplayPort (v1.3) and a HDMI 2.0 output. Additionally, it includes a single 3.5mm headphone out, a 3.5mm microphone input, and a single SD card reader. Network duties are handled by a Killer E2500 Ethernet port and a Killer AC 1535 dual-band Wi-Fi card supporting Killer's Doubleshot Pro functionality which is able to route traffic to the hardwired E2500 or the wireless adapters depending on priority.



Two configurations have been available since the end of October, the first SKU, X9-KL4K4M which has the i7-7820HK CPU, 17.3" UHD IPS screen, GTX 1070 SLI, 2 x 16GB DDR4-2400, 1 x 512GB PCIe NVMe SSD and 1 TB HDD has an MSRP of $3,649. The second SKU is a Newegg exclusive which adds another 512GB PCIe NVMe drive for a total of 2 x 512GB and removes the 1 TB HDD.
GIGABYTE AORUS X9
Max Specifications
X9-KL4K4M
Newegg Exclusive
Warranty Period
2 Year Warranty
Product Page
N/A
Price ($US)
Starting at $1749
$3649
$$$$
Type
Gaming Laptop
Processor Family
7th Generation Intel Core i7
Processors
i7-7820HK (2.9 GHz base, 3.9 GHz Turbo)
Memory
4x16 GB DDR4-2400
2 x 16 GB DDR4-2400
Network Connectivity
Rivet Networks E2500 GbE
Killer Wireless AC1535
Internal Storage
2 x M.2 PCIe SSD
1 x 2.5" HDD
1 x 512GB SSD
1 x 1TB HDD
2 x 512GB SSD
Graphics
2 x NVIDIA GTX 1070 SLI GDDR5 8GB
Expansion Slots
1 x SD card reader (UHS-II, PCIe)
Display
UHD IPS or
QHD 120Hz WVA
17.3" UHD 3840x2160 IPS
Ports and Connectors
1 x Thunderbolt 3 (Type-C)
1 x USB 3.1 (10 Gbps) Type-C
3 x USB 3.1 (5 Gbps) Type-A
1 x Mini-DisplayPort (v 1.3)
1 x HDMI (v2.0)
1 x 3.5mm Headphone (HiFi, SPDIF)
1 x 3.5mm Mic-In
1 x SD Card Reader (UHS-II, PCIe)
Input Device
RGB Mechanical Keyboard (Brown keys)
Camera
HD Camera
Power
330W External AC Power adapter,
94.24Wh Battery, Li-Po
Dimensions
16.9" x 12.4" x 0.9-1.18"
Weight
7.9 lbs+
Aero 15X
The Aero 15X, like the X9, is a thin laptop primarily designed for gaming. The Aero 15X, however, is a bit more understated in its design in that, one could easily put this laptop on a boardroom table, and nobody would be the wiser that the intent would be a gaming machine. The Aero 15X uses NVIDIA's Max-Q GPUs which are designed with thermals in mind with the physical designm and allows for a slim gaming laptop which is able to support a powerful GPU like the GTX 1080 (Max-Q will have three variants GTX 1080, 1070, and 1060). It is ever so slightly thicker and heavier at 4.8 pounds and 0.8-inches thick compared to the MSI GS63VT Stealth Pro (4.2 lbs 0.7-inches), but it packs a wallop for its small size.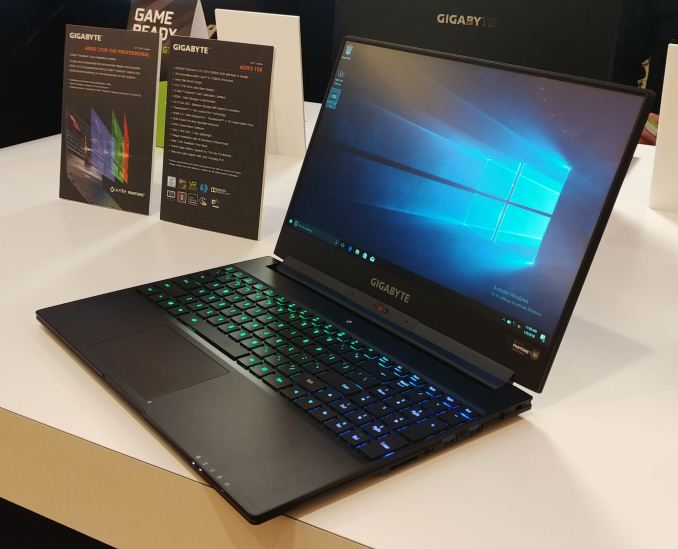 The exterior design is an all-black chassis with the back of the monitor using some carbon fiber at the bottom with the Gigabyte name in silver prominently placed in the middle. Any colors will have to come from the RGB LED per-key backlit keyboard. The regular X models did come with color options, but this simply comes in black or pure black.
Gigabyte uses a 15.6-inch full-HD display and is X-Rite Pantone color calibrated like the X9. The panel covers 106% of the sRGB color gamut and only has 5mm bezels. Due to the beze size, the camera has been placed in the hinge between the main base and the panel. The Aero 15X uses an NVIDIA Geforce GTX 1070 8GB with Max-Q design which should easily drive the FHD panel. Pushing all the data around is a 7th Generation Intel Core i7-7700HQ (2.8 GHz-3.8 GHz). Memory support ranges from 8 to 16GB of DDR4-2400 in two slots (maximum of 32GB). Storage options are only available in M.2 form supporting NVME PCIe x4 and SATA modules.


For its connectivity, the Aero 15X includes 3 x USB 3.0, 1 x Thunderbolt 3 (Type-C), HDMI 2.0, Mini-DisplayPort, headphone out jack (audio in combo), and an SD card reader. Network connectivity is handled by a Gigabit Ethernet as well as a wireless 802.11ac solution with Bluetooth 4.2 support.
GIGABYTE Aero 15X
Max Specifications
Warranty Period
2 Year Warranty
Price ($US)
Starting at ~$2200
Type
Gaming Laptop
Processor Family
7th Generation Intel Core i7
Processors
i7-7700HQ (2.8 GHz base, 3.8 GHz Turbo)
Memory
8GB/16GB GB DDR4-2400 (2 slots, up to 32GB)
Network Connectivity
802.11ac Wi-Fi
Gigabit Ethernet
Internal Storage
2 x M.2 SSD (Type 2280, NVMe PCIe x4 & SATA)
Graphics
Intel HD Graphics 630
NVIDIA Geforce GTX 1070 GDDR5 8GB
Expansion Slots
1 x SD card reader
Display
15.6" FHD (1920x1080) Anti-Glare Display
(X-Rite Pantone certified display)
Ports and Connectors
3 x USB 3.0
1 x Thunderbolt 3 (USB Type-C)
1 x HDMI 2.0
1 x Headphone-out jack (audio-in combo)
1 x CD Card Reader
1 x DC-in Jack
1 x RJ-45
Input Device
Gigabyte Fusion RGB Per-Key Backlit
Camera
HD Camera
Power
200W External AC Power adapter,
94.24Wh Battery, Li-Po
Dimensions
14.0" x 9.8" x 0.78"
Weight
4.62 lbs+
Related Reading
Source: Gigabyte