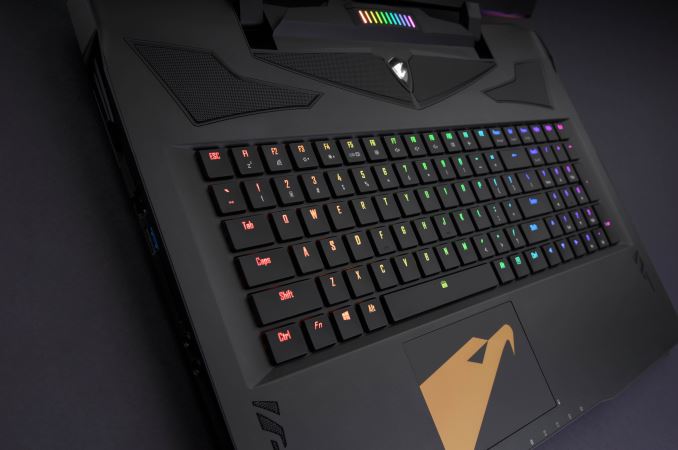 GIGABYTE has announced a powerful all-new extreme gaming laptop in the AORUS X9. The X9 comes with a 7th generation Intel i7-7820HK overclockable processor, two GTX 1070s in SLI, four DDR4 slots supporting up to 64GB of DDR4-2400 memory, and an option of either a 17.3" 4K UHD IPS monitor or QHD (2560 x 1440) 120 Hz WVA panel. Additionally, the X9 offers an ESS Sabre HiFi audio DAC, 'quad' audio setup with two speakers and two woofers, a laptop mechanical keyboard, RGB lighting, and the Killer DoubleShot Pro functionality via Rivet Network's networking.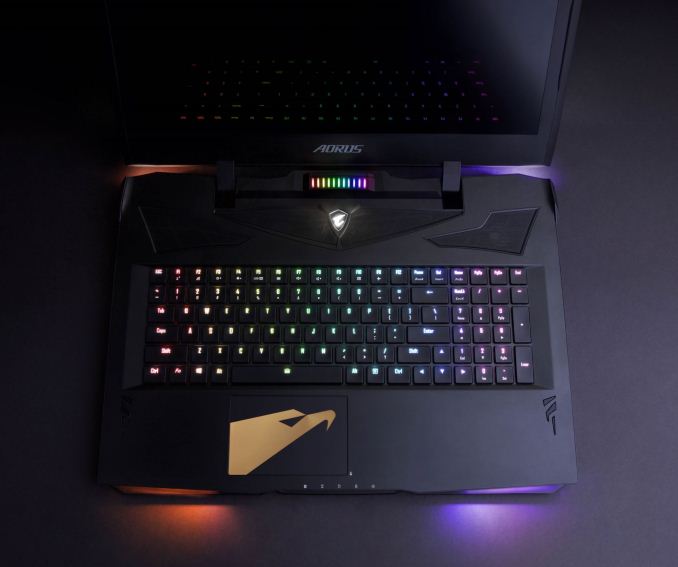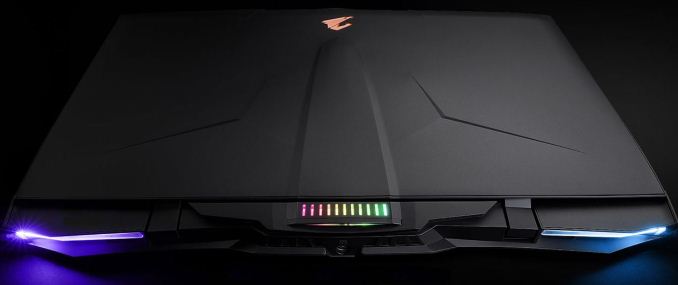 According to GIGABYTE, the laptop chassis has an exotic design based off of supercars and fighter jets for its design, and uses a 'maximum' amount of aluminum. At the nose is a LED AORUS Falcon while the other side is the AORUS HUD. The RGB HUD can show information such as CPU/GPU temperatures, battery level, volume level and others. It can also synchronize with the surrounding RGB chassis lighting. RGB LED accent lighting can be found on the front and back sides as well as in the AORUS RGB Fusion mechanical keyboard (quoted as 'brown' type keys, although the manufacturer isn't listed).
One feature many will notice is the depth of the laptop. It uses two GPUs but comes in at 1.18" thick at its peak. Inside the aluminum chassis is a quad fan cooling solution using a total of eight heatpipes to dissipate the heat output of the dual GPUs, the CPU, and the chipset. Cool air is sucked in through the Falcon shaped vents on the base and exhausted out the back away from the user, leading to a substantial rake on the keyboard, but this could be beneficial on the wrists for extended periods of use.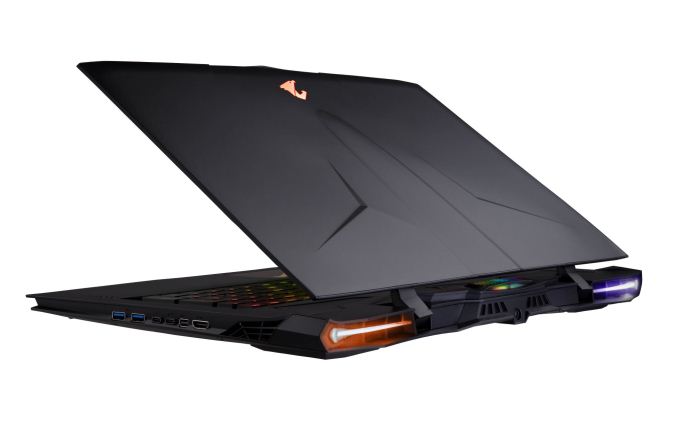 The i7-7820HK quad-core processor comes in at a base clock of 2.90 GHz with a maximum turbo frequency of 3.90 GHz, all in a 45W package. The X9 is able to overclock the CPU as well, with GIGABYTE saying up 15% increases possible. Memory capacity is up to 64GB due to its four DIMM slots and it is able to support speeds up to DDR4-2400, although exact capacity will vary depending on the retailer. Internal storage by two 1TB NVMe M.2 SSDs with bulk storage handled by a 2TB 7200RPM HDD.
The two NVIDIA GTX 1070s GPUs in SLI drive one of two monitors; users are offered a choice of high-resolution gaming or high-refresh rate monitors. The first a 17.3" 4K UHD IPS Panel with an Anti-Glare coating and 100% Adobe RGB, or a 17.3 QHD 2560x1440 120Hz WVA panel with an Anti-Glare Display.

There is a slew of modern connectivity on the device, starting from Thunderbolt 3 (1 x Type-C), USB 3.1 Type-C (10 Gbps), three USB 3.1 (5 Gbps) ports, a Mini-DisplayPort (v1.3), and a HDMI 2.0 output. It also includes a single 3.5mm Headphone out, a 3.5mm Microphone input, and a single SD Card Reader. Network functionality is handled by a Killer E2500 Ethernet port and a Killer AC 1535 dual-band Wi-Fi card, supporting Killer's Doubleshot Pro functionality which can route traffic to either the hardwired or wireless Killer adapters depending on priority.
There will be two configurations available in the US by the end of October. The first SKU is the X9-KL4K4M which has the i7-7820HK CPU, 17.3" UHD IPS screen, GTX 1070 SLI, 2 x 16GB DDR4-2400, 1 x 512GB PCIe NVMe SSD and 1TB HDD with an MSRP of $3,649. The second SKU is a Newegg exclusive which adds another 512 GB PCIe NVMe drive for a total of 2 x 512GB and removes the 1TB HDD.
GIGABYTE AORUS X9
Max Specifications
X9-KL4K4M
Newegg Exclusive
Warranty Period
2 Year Warranty
Product Page
N/A
Price ($US)
Starting at $1749
$3649
$$$$
Type
Gaming Laptop
Processor Family
7th Generation Intel Core i7
Processors
i7-7820HK (2.9 GHz base, 3.9 GHz Turbo)
Memory
4x16 GB DDR4-2400
2 x 16 GB DDR4-2400
Network Connectivity
Rivet Networks E2500 NIC
Killer Wireless AC 1535
Internal Storage
2 x M.2 PCIe SSD
1 x 2.5" HDD
1 x 512GB SSD
1 x 1TB HDD
2 x 512GB SSD
Graphics
2 x NVIDIA GTX 1070 SLI GDDR5 8GB
Expansion Slots
1 x SD card reader (UHS-II, PCIe)
Display
UHD IPS or
QHD 120Hz WVA
17.3" UHD 3840x2160 IPS
Ports and Connectors
1 x Thunderbolt 3 (Type-C)
1 x USB 3.1 (10 Gbps) Type-C
3 x USB 3.1 (5 Gbps) Type-A
1 x Mini-DisplayPort (v 1.3)
1 x HDMI (v2.0)
1 x 3.5mm Headphone (HiFi, SPDIF)
1 x 3.5mm Mic-In
1 x SD Card Reader (UHS-II, PCIe)
Input Device
RGB Mechanical Keyboard (Brown keys)
Camera
HD Camera
Power
330W External AC Power adapter,
94.24Wh Battery, Li-Po
Dimensions
16.9" x 12.4" x 0.9-1.18"
Weight
7.9 lbs+
Related Reading:
Source: GIGABYTE