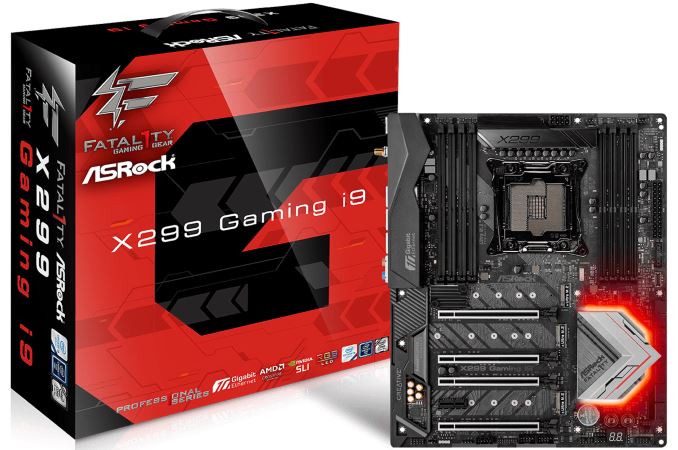 All of the main motherboard vendors have launched a long list of X299 motherboards, aiming from budget to premium users. ASRock has been involved in the melee, with all their product segments providing products to support Intel's Skylake-X and Kaby Lake-X processors. The gaming line is still under the Fatal1ty naming scheme, featuring a vibrant red motif, and at the top of that stack is the $390 ASRock Fatal1ty X299 Professional Gaming i9 motherboard. It touts a 13 phase power delivery, SLI and Crossfire capabilities, and the latest connectivity. ASRock is aiming for a mid-to-high range board to satisfy a wide range of users here. We take it for a spin for this review.
ASRock X299 Professional Gaming i9 Overview
Thinking back a generation or few, one line of boards which helped propel ASRock to be spoken about in the same breath as other popular vendors, was the OC Formula. A board specifically made for overclockers, this is where they put a lot of focus initially in building a robust product and brand, with a set of features directly targeted for a niche set of users. These efforts were supported by ASRock employee a former world #1 overclocker, Nick Shih, to help shape the board design and features.
ASRock also has the "Extreme" line-up of motherboards, built across AMD and Intel platforms, touting stability and sharing some the common features that the more expensive boards had. The Extreme series ranged from the budget models like the Extreme 3, to high-end workstation like boards in the Extreme 11 that boasted extraordinary onboard storage capabilities. This approach helped develop ASRock's name as one of the 'big four' when it came to motherboards, rather than just the low budget player it was designed to be after spinning out from ASRock. For the gaming side of things, ASRock took out a Fatal1ty licence (a pro-gamer from the early 2000s) and applied it to models based on the Extreme line with additional 'gaming' features to produce a gaming line. This included special controllers, such as a specific high-frequency USB port, allowing users to adjust their preferred mouse polling rate in older operating systems such as Windows XP, or the ubiqitous implementation of Killer Network controllers with bundled prioritization software. The Gaming line is a fully fledged arc in ASRock's ecosystem, as the word 'Gaming' is now a driving force in product discovery.
One of the newest members of the Gaming line is the board being reviewed today: the $390 ASRock Fatal1ty X299 Professional Gaming i9. It is an attempt to place a product in the market as both a professional workstation-class type of motherboard, but with an eye on gaming, hence the inclusion of both 'Professional' and 'Gaming' in its official name. SEO is a wonderful thing, perhaps.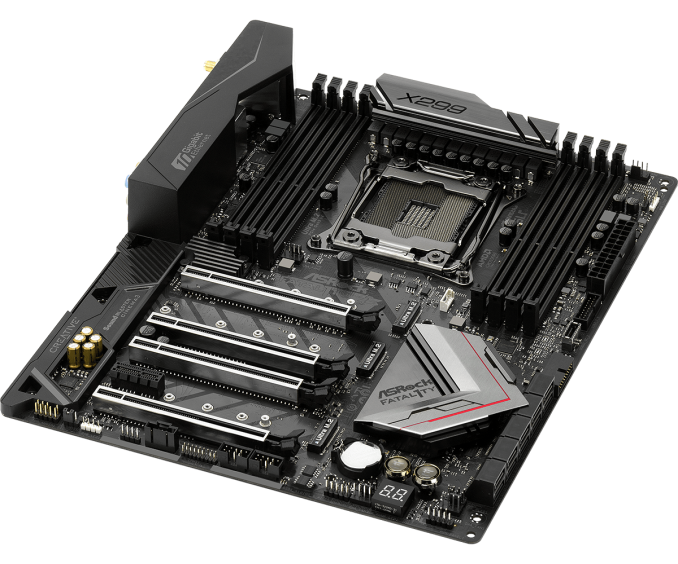 In ASRock's X299 line, the pitch starts with the X299 Killer SLI/ac at $230 at the entry level, to their flagship Fatal1ty X299 Professional Gaming i9 board we have in hand here at nearly $390. Between those two are the Fatal1ty Gaming X299 Gaming K6 ($249), and the X299 Taichi ($289), with varying upgraded features as we move up the stack. For the Gaming i9, this means upgraded ethernet to 10-gigabit provided by Aquantia's AQC107 controller, additional WiFi, support for three PCIe 3.0 x4 storage drives, upgraded audio, an onboard USB 3.1 (10 Gbps) header, support for multiple GPUs, support for Thunderbolt 3, and a multi-generational BIOS/software package. The Gaming i9 aims to be a well-rounded, feature laden option in the higher-end of the motherboard space.
Performance overall was right around the other motherboards we have tested so far. Depending on which benchmark result is taken it ended up from leading to last, though not by any significant margin either way. It used a bit less power than the MSI board tested and booted a couple of seconds faster, but in many of our CPU short form tests was bringing up the rear of the small pack at default settings, due to some 'overclocking' settings being automatically enabled on the competition by default. As far as overclocking, we were able to reach 4.5GHz using all cores before hitting our temperature limit. The devil is in the details, which will be discussed over the next few pages.
Information on Intel's X299 and our other Reviews
With Intel's release of the Basin Falls platform, encompassing the new X299 chipset and LGA2066 socket, a new generation of CPUs called Skylake-X and Kaby Lake-X were also released. The Skylake-X CPUs range from the 7800X, a hex-core part, all the way up to an 18-core 7980XE multitasking behemoth. Between the book-end CPUs are five others increasing in core count, as in the table below.
Skylake-X Processors
7800X
7820X
7900X
7920X
7940X
7960X
7980XE
Silicon
LCC
HCC
Cores / Threads
6/12
8/16
10/20
12/24
14/28
16/32
18/36
Base Clock / GHz
3.5
3.6
3.3
2.9
3.1
2.8
2.6
Turbo Clock / GHz
4.0
4.3
4.3
4.3
4.3
4.2
4.2
Turbo Max Clock
N/A
4.5
4.5
4.4
4.4
4.4
4.4
L3
1.375 MB/core
1.375 MB/core
PCIe Lanes
28
44
44
Memory Channels
4
4
Memory Freq DDR4
2400
2666
2666
TDP
140W
140W
165W
Price
$389
$599
$999
$1199
$1399
$1699
$1999
Board partners have launched dozens of motherboards on this platform already, several of which we will have an opportunity to look over in the coming weeks and months. This specific review will cover the ASRock Fatal1ity X299 Professional Gaming i9.
Other AnandTech Reviews for Intel's Basin Falls CPUs and X299
To read specifically about the X299 chip/platform and the specifications therein, our deep dive into what it is can be found at this link.
X299 Motherboard Review Notice
If you've been following the minutiae of the saga of X299 motherboards, you might have heard some issues regarding power delivery, overclocking, and the ability to cool these processors down given the power consumption. In a nutshell, it comes down to this:
Skylake-X consumes a lot of power at peak (150W+),
The thermal interface inside the CPU doesn't do much requiring a powerful CPU cooler,
Some motherboard vendors apply Multi-Core Turbo which raises the power consumption and voltage, exacerbating the issue
The VRMs have to deal with more power, and due to losses, raise in temperature
Some motherboards do not have sufficient VRM cooling without an active cooler
This causes the CPU to declock or hit thermal power states as to not degrade components
This causes a performance drop, and overclocked systems are affected even more than usual
There has been some excellent work done by Igor Wallossek over at Tom's Hardware, with thermal probes, thermal cameras and performance analysis. The bottom line is that motherboard vendors need to be careful when it comes to default settings (if MCT is enabled by default) and provide sufficient VRM cooling in all scenarios – either larger and heavier heatsinks or moving back to active cooling.
This means there are going to be some X299 boards that perform normally, and some that underperform based on BIOS versions or design decisions. We are in the process of quantifying exactly how to represent this outside of basic benchmarking, so stay tuned.