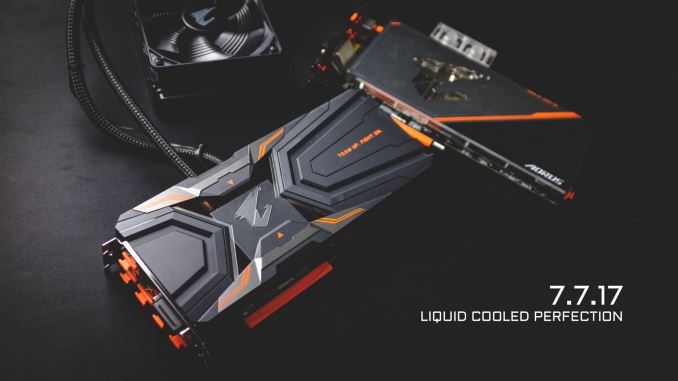 Following up after last week's teasers, GIGABYTE has officially announced two ultra-high-end graphics cards under its AORUS brand: the AORUS GeForce GTX 1080 Ti Waterforce Xtreme Edition 11G and the AORUS GeForce GTX 1080 Ti Waterforce WB Xtreme Edition 11G.
Both verbosely-named cards, as the Waterforce branding implies, are liquid-cooling oriented. The standard Waterforce Xtreme Edition is coupled with an all-in-one (AIO) closed loop cooler, while the Waterforce WB Xtreme Edition is outfitted with a full-size water block that can connect to a custom open loop. And so, without pesky fans taking up space, AORUS has dedicated the extra real estate on the card shrouds to a bountiful number of LEDs.
AORUS GeForce GTX 1080 Ti Waterforce Xtreme Editions 11G
Waterforce Xtreme Edition
Waterforce WB Xtreme Edition
Boost Clock
1746MHz (OC Mode)
1721MHz (Gaming Mode)
Base Clock
1632MHz (OC Mode)
1607MHz (Gaming Mode)
Memory Clock
11448MHz (OC Mode)
11232MHz (Gaming Mode)
VRAM
11GB GDDR5X
(352-bit)
TDP
Unspecified
Outputs
3x DP1.4, 2x HDMI2.0b (Rear), 1x HDMI2.0b (Front) 1x DL-DVI-D
VR Link VR Mode: 3x DP1.4, 3x HDMI2.0b
VR Link Standard Mode: 3x DP1.4, 1x HDMI2.0b (Rear), 1x DL-DVI-D
Power Connectors
2 x 8pin
Length
267mm
Width
2 Slot (36mm)
2 Slot (28mm)
Height
123mm
149mm
Cooler Type
AIO CLC (120mm)
Water Block (full-cover)
Price
TBA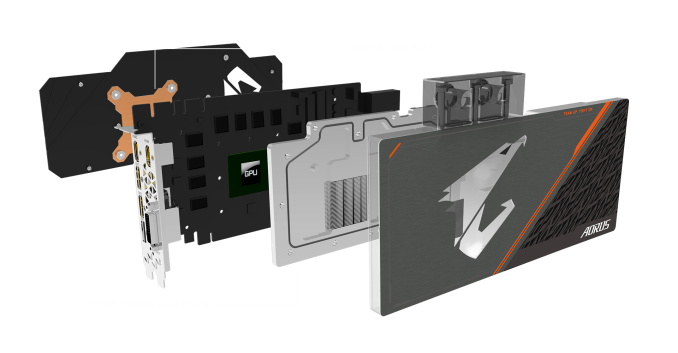 Generally speaking, both cards only differ in their cooling designs, having the same clocks, 12+2 power phases, and basic features. The 120mm AIO Waterforce Xtreme Edition has a water block that only covers the GPU, with a water block-cooled copper heatpipe and base plate covering the MOSFETs and VRAM. Behind the GPU, the card has a small copper piece embedded in the back plate. In comparison, the Waterforce WB Xtreme Edition has its water block and flow design covering all key components, and has a larger copper slab in the back plate.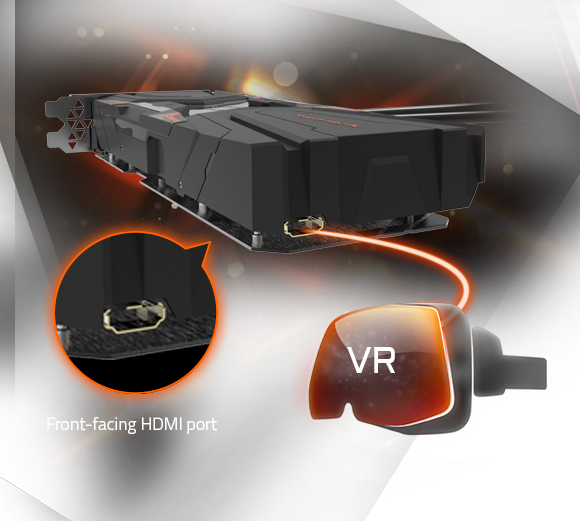 Both cards offer the AORUS VR Link design for their display outputs. What this means is that an extra HDMI port is offered on the front (internal) side of the card, while the PCIe bracket has 2 HDMI ports, a DVI-D port, and 3 DisplayPorts. Due to the limited number of display controllers on the GP102 GPU, only 4 ports/displays can be used at one time. In standard mode, a maximum of 4 outputs can be used, selecting from among the first HDMI port, 3 DisplayPorts, and the DVI-D port on the PCIe bracket. In VR Mode, the DVI-D port is not used, and a maximum of 4 outputs can be used from among the 3 DisplayPorts and 3 HDMI ports. Ultimately, the idea is here that the front-facing HDMI can be used for a VR headset, while the rear HDMIs can still be utilized simultaneously for monitors without swapping cables.
As Xtreme Edition cards, the Waterforce and Waterforce WB qualify for an extra year of AORUS Care upon registration within 30 days of purchase, which then adds to AORUS' standard three-year warranty for four total years. All-in-all, that could mean over 1400 days of guaranteed brightly-lit gaming sessions with RGB Fusion, AORUS' LED software. For the WB variant, this includes lighting up the water block fittings and the AORUS eagle emblems on both sides of the card, giving the impression that AORUS has simply opted to create a giant rectangular LED that also happens to run games.

GIGABYTE has not announced pricing information at this time. A teaser posted by the official AORUS Twitter states 7/7/17, presumably the availability date for both cards.
Source: AORUS/GIGABYTE