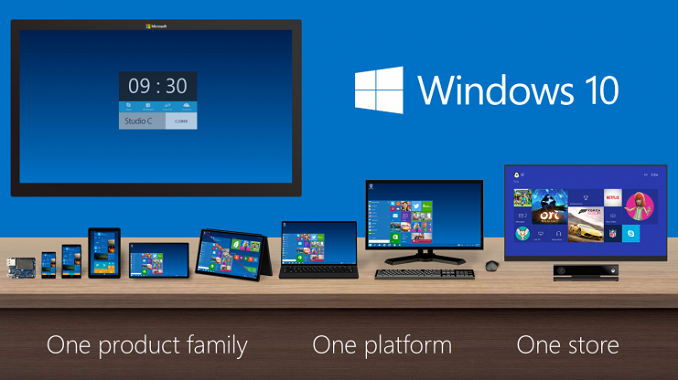 In a blog post on the Windows Blog today, Tony Prophet outlined the various editions of Windows 10 that will be available this summer. And while there are a lot of different versions for various markets, on the consumer side it is not too bad. Once you step into the more esoteric Stock Keeping Units (SKUs) it does get a bit crazy though.
The version most consumers will be seeing is Windows 10 Home. This will be the main version sold on all consumer desktops, laptops, and larger tablet form factors. It will include continuum to transform from a desktop operating system to the touch friendly tablet version, and of course include things like Cortana. Although not specified, if it continues the tradition of Windows, Home will not be able to be joined to a domain and will be missing the business features.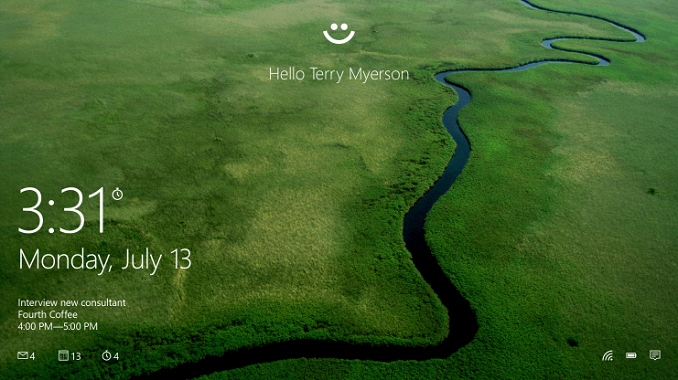 Is the date on this image a hint as to launch date? Likely not...
The other version that consumers will see is Windows 10 Mobile, which is the version that will be installed on phones and smaller tablets. This is almost Windows RT's successor, since it will be restricted to just being able to be used with the Universal Windows Apps which must be installed from the store. However this will certainly run on x86 as well as ARM, so it is not a direct successor to Windows RT. The version of Continuum available for this SKU will allow a phone or small tablet to be hooked up to a keyboard, mouse, and display, and used like a desktop PC, and although it will be restricted to Universal Windows Apps, these apps will then be able to provide the desktop experience, so as an example, Mail will expand out to the same version you would see on a PC.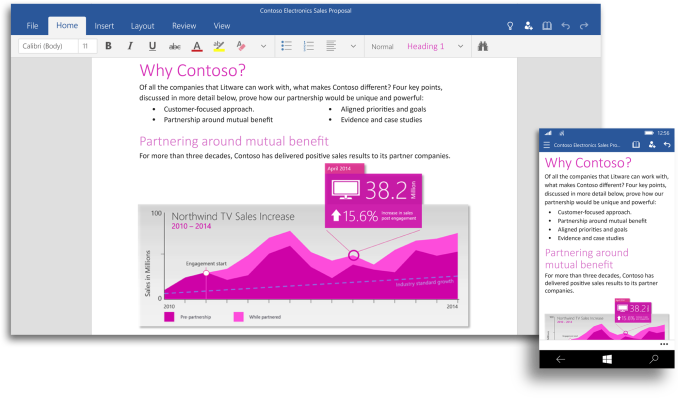 That is really it for the consumer side. Windows Mobile has been resurrected, and therefore Windows Phone is no more. Since this version will be available on more than phones though, it does make sense, and it is not like Windows Phone as a brand has been very successful anyway (don't yell at me – I use one).
On the business side, there are more choices, but these again mirror what is already available today on the business side. Windows 10 Pro is the next step up from Home, and of course it will be similar to Home but add features like the ability to join an Active Directory domain. New features coming will be the ability to use Windows Update for Business, which is a new feature for Windows which was announced at Microsoft's Ignite conference last week. This will expand upon what is already available through Windows Server Update Services (WSUS) and add some new features that we have already seen in the Technical Preview for Windows 10. By that I mean it will support distribution rings, so that updates can be rolled out easily in waves, and the most critical infrastructure can be saved for last to ensure there are no quirks. Maintenance windows can also be specified, and just like with Windows 10, updates can be delivered peer to peer, which should save a lot of bandwidth at remote locations.
The next version available is strictly for volume license customers, and that is Windows 10 Enterprise. This will have access to a Long Term Servicing Branch, as well as the aforementioned Windows Update for Business. There will be additional deployment options for this version as well to assist large companies with imaging and other methods of deployment.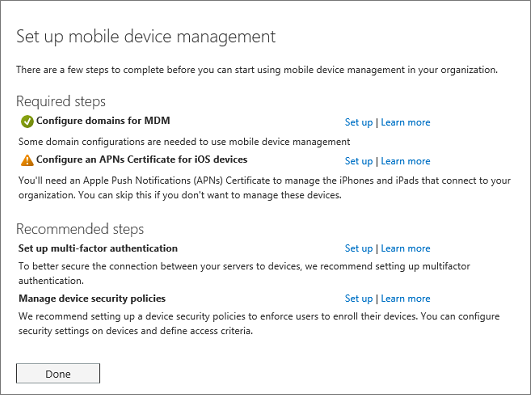 The final business SKU is actually Windows 10 Mobile Enterprise, which is certainly a new branch. This will also be available to volume license customers, and will offer additional security and mobile device management options.
There will also be an education version, aptly called Windows 10 Education, which is designed to "meet the needs of schools, staff, administers, teachers, and students" and it will be available through the academic volume licensing program. As to what this version offers that is not available on the others is unclear at this time, but assuming the price is right it may be something to combat Chromebooks popularity in schools. But we will have to wait and see.
Finally, there will be a version of Windows 10 for embedded devices like ATMs and such, as well as the Windows 10 IoT Core which will be available for devices like Raspberry Pi.
There are a pile of SKUs, but this is actually not that unusual for Windows. There are certainly some new versions available, and although it is a bit confusing, it's not too bad. As far as upgrades, they have stated again that anyone with Windows 10 will be a free upgrade for qualifying Windows 7, 8.1, and Phone 8.1 devices for the first year after Windows 10 does launch. There will be no fees later to keep Windows 10 going on that device. It will be upgraded and then kept current with whatever Windows 10 brings in future updates.
If you have any questions sound off in the comments and I'll do my best to provide answers.
Source: Windows Blog