Today Apple announced a brand new MacBook laptop. This new laptop doesn't fall under Apple's existing MacBook Pro and MacBook Air categories, but is instead simply called the MacBook. In truth, this is actually more like the return of an old name that hasn't been seen in some time, rather than the creation of a new product line. When the MacBook Air was introduced, consumers overwhelmingly chose it over the original MacBook line. It eventually absorbed that category of Apple's laptops, while the Pro line remained for users who needed something with more processing power.
| | |
| --- | --- |
| | The New MacBook |
| Dimensions | 28.05 x 19.65 x 0.35–1.31cm |
| Mass | 920g |
| CPU | Intel Core M-5Y70 or M-5Y71 |
| L3 Cache | 4MB |
| Base CPU Clock | 1.1GHz or 1.2GHz |
| Max CPU Turbo | 2.9GHz |
| GPU | Intel HD Graphics 5300 |
| System Memory | 8GB 1600MHz LPDDR3 |
| Storage | 256GB or 512GB PCI-E SSD |
| Display | 12" 2304x1440 IPS LCD |
| Battery | 39.7Wh |
| Ports | 1 x USB Type-C, 3.5mm combo jack |
| Connectivity | 2x2 802.11a/b/g/n/ac + BT 4.0 |
| Price | $1299 or $1599 |
This new MacBook was recently rumored, and there have been many different reactions from Apple fans and tech press alike. It's certainly a departure from even the existing MacBook Air, and in many ways it seems more fitting of the Air name than the current Air does. Apple's goal was clearly to make something thin, light, and almost appliance like. They've certainly succeeded, but in order to get there the MacBook makes some big changes to what is currently thought of as a notebook.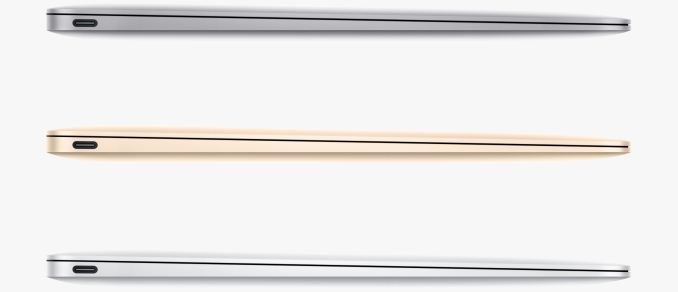 The biggest change is to physical connectivity. Macs currently come with a couple of USB ports, a couple of Thunderbolt 2 ports, a 3.5mm jack for audio, and some connector for power. The new MacBook goes in a completely different direction, ditching every single legacy port with the exception of the 3.5mm jack. Instead, the MacBook has a single USB Type-C port on the left side, and this port is the only method of connecting with other devices, as well as charging. It's a huge departure from the current MacBooks and laptops in general, and only time will tell how well consumers respond to this change.
Apple's pursuit of thinness also necessitated changes to the input devices when compared to other MacBooks. With a slimmer chassis comes less space for the key switches underneath the key caps. In order to make the keyboard on the new MacBook, Apple designed a new type of key switch which they are calling a Butterfly Switch. This new switch is 40% thinner than the scissor switches used on older MacBooks, and it eliminates the wobble that occurs when pressing on the edges of scissor switches. The trackpad has also been redesigned to use Apple's Force Touch technology from the Apple Watch. which allows the user to press anywhere on the trackpad to click, and gives a haptic response to presses. It can also determine the force of a press to perform gestures or other actions. Both of these changes are interesting, but they do make large changes to the feel of the keyboard and trackpad. Key travel distance has certainly been reduced, and the new trackpad won't have the clickiness of the old ones. It will be interesting to see how consumers react to these changes.
Apple's other goal seems to have been making the new MacBook fanless. In order to do so, the new MacBook utilizes Intel's new Core M processors. The starting configuration at $1299 uses Core M-5Y70 which has a base frequency of 1.1GHz and a turbo frequency of 2.9GHz. The 1.2GHz Core M-5Y71 is available in the $1599 model, and a 1.3GHz version is available as a build to order option on Apple's online store. All models come with 8GB of LPDDR3 memory standard.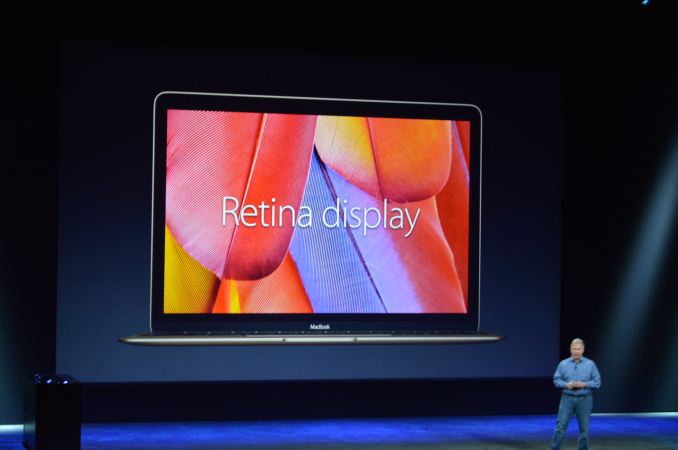 Like all of Apple's recent products, the new MacBook comes with a Retina display. This is a 12" 2304x1440 IPS display, which equates to 226 pixels per inch. While this new MacBook is not a MacBook Air, it's good to see the thin and light laptop in Apple's line finally moving both to a high resolution display as well as to an IPS panel. Assuming that Apple does the same 2x scaling that they've used in all of their other products, users will be given a desktop with the same area as a 1152x720 display which is actually slightly lower than the 11" MacBook Air. Apple specifies that the scaled resolutions available are 1440x900, 1280x800, and 1024x600, although it remains to be seen how well Intel's HD 5300 will keep up when rendering at 2880x1800 offscreen for the 1440x900 scaled mode.
This new MacBook reminds me a lot of the iPad. It has a port for charging and for interfacing with other devices via adapters, and a port for your headphones. Everything else is meant to be done wirelessly, and there's certainly no room for user upgrades or repairs. It's very much an appliance-like computer, and it's something very different from any laptop Apple has ever done before. I naturally want to feel skeptical about it, but the MacBook Air was an equally dramatic shift from the norm when it was first introduced, and it eventually replaced the original MacBook line entirely. Whether or not the changes in the new MacBook become common among future laptops is up to consumers. If you want to be one of the first people to enter uncharted territory with this new MacBook, it'll be available in just over a month, on April 10.