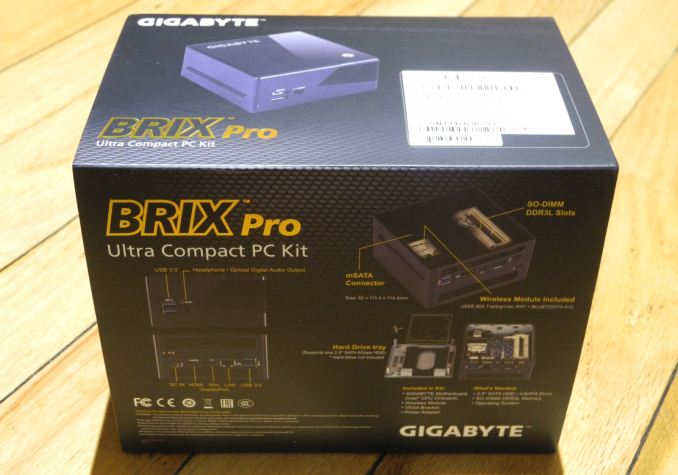 Recap
Earlier this year, we had our first look at the GIGABYTE BRIX Pro, along with a note about further benchmarks to follow. It was our first look at the Intel Core i7-4770R, a Crystal Well part with 128 MB of eDRAM built into the package. The part was aimed squarely at making integrated graphics competetive with low-end discrete GPUs. As a direct result of this, PC manufacturers could make compact gaming units. The BRIX Pro was even distributed at the Steam Developers Conference as a Steam Machine.
In our second look at the BRIX Pro, we changed the memory and storage subsystem to better reflect the expected use case. The table below provides the components utilized for the build along with pricing information.
Gigabyte GB-BXi7-4770R (2) Build Components
Component
Price
Chassis / CPU / Motherboard / PSU
GB-BXi7-4770R
$649
Memory
Corsair Vengeance CMSX8GX3M2B1866C10 2x4 GB Kit
$95
SSD
Samsung SSD 840 EVO 120 GB
$90

---

Total
$834
Readers may remember that the first part of our BRIX Pro review used Crucial DRAM modules and an Intel mSATA drive. Gamers usually go for higher memory speeds and SATA-based 2.5" drives are usually much cheaper compared to mSATA drives for the same capacity. The Corsair memory modules are rated for 1866 MHz (compared to Crucial's 1600 MHz) and, while the capacity of the 840 EVO (120 GB) is lower than that of the Intel mSATA drive (180 GB) used earlier, it is fine for applications where games and other heavy content are stored on an external drive.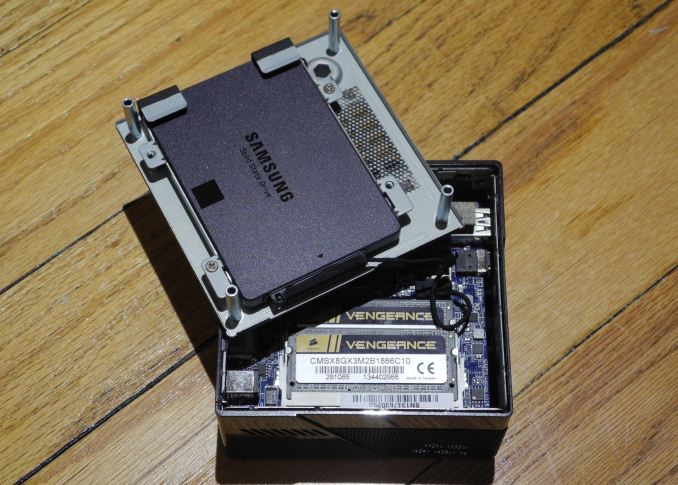 Benchmark numbers change with the new configuration and so we reran our evaluation suite. The first two sections will deal with the updated benchmark numbers. Following this, we have a section presenting our gaming benchmarks. Recently, we have started evaluating the wireless networking and storage subsystem for mini PCs and results for the BRIX Pro are presented in a separate section. We touch briefly upon the HTPC aspects before discussing the thermal aspects. However, prior to all that, we have a table presenting the details of various systems that are compared against the BRIX Pro in this review.
Comparative PC Configurations
Aspect
GIGABYTE GB-BXi7-4770R (2)
CPU
Intel Core i7-4770R
Intel Core i7-3720QM
GPU
Intel Iris Pro Graphics 5200
Intel HD Graphisc 4000
RAM
Corsair Vengeance CMSX8GX3M2B1866C10
10-10-10-32 @ 1866 MHz
2x4 GB
Super Talent W1333SB4GH
9-9-9-24 @ 1333 MHz
2x 4GB
Storage
Samsung SSD 840 EVO
(120 GB, 2.5in SATA 6Gb/s, 19nm, TLC)
Intel® SSD 330 Series
(60 GB, SATA 6Gb/s, 25nm, MLC)
Wi-Fi
Realtek 8821AE Wireless LAN 802.11ac
(1x1 802.11ac - 433 Mbps)
N/A
Price (in USD, when built)
$829
$1300