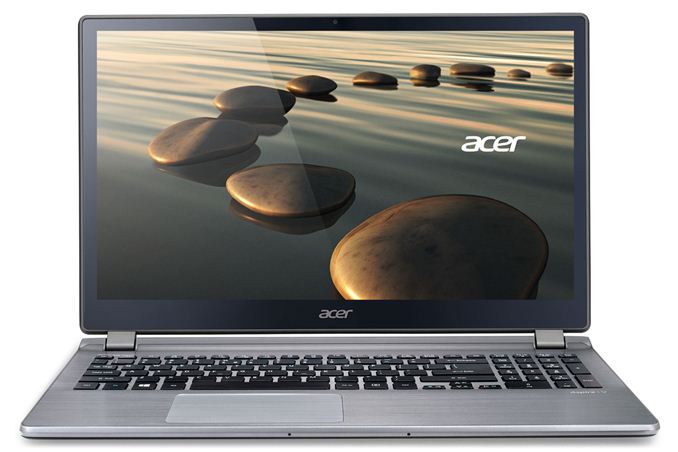 The final piece of news out of Acer from today consists of updates to their Aspire V series of laptops targeted at value-conscious consumers. We've previously reviewed the Aspire V3-571G and the Aspire V5-171, and while neither was able to set the stage on fire, in both cases we came away impressed with the value being offered. The updated systems look to build on that successful combination of performance and value, and what's more, Acer is adding AMD APUs to the V5 11.6" series. Let's start there.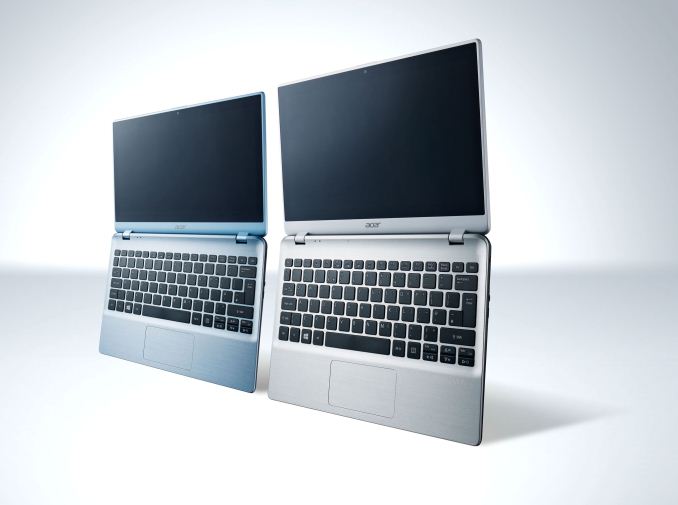 The specs for the V5 11.6" model are relatively light right now: it has an 11.6" HD LCD (which almost certainly means 1366x768 TN), it measures 289mm x 206.3mm x 19.35-21.2mm, and it weighs 1.38kg, or 1.55kg with a second battery. Wait, second battery? What's this? It seems as though Acer is suggesting you buy and carry around a second battery if the 3-cell standard battery is insufficient, though the second battery is apparently slightly lower capacity (2500mAh vs. 2640mAh). The processor is merely listed as "Next Generation AMD Dual/Quad Core CPU", so it's likely either some variant of Kabini or Richland (I'm hoping for the latter but wouldn't be surprised by the former). There will also be an Intel version of the 11.6" model, at least in some regions of the world. All of the 11.6" models are apparently touchscreen models.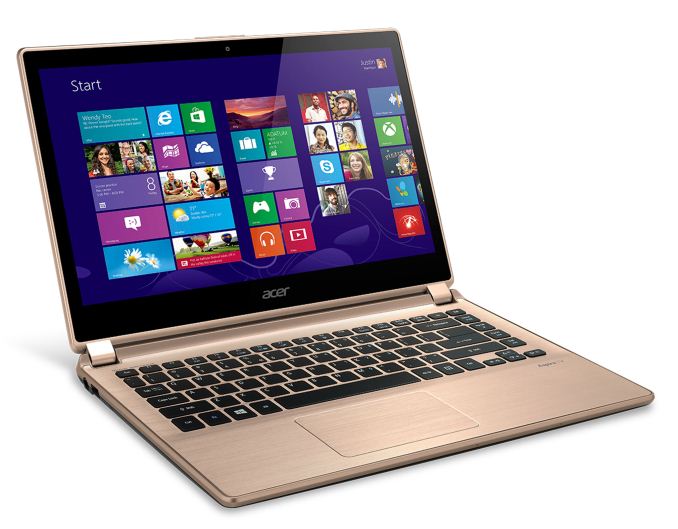 Moving up to the V5/V7 series 14" offerings, Acer takes an interesting step forward by offering either a 1366x768 TN LCD or a 1080p IPS display. Hallelujah! This is something we've wanted to see for a long time from Acer, and hopefully they can manage to keep the IPS upgrade affordable.
Available in touchscreen and non-touchscreen configurations, the touch-enabled models will be slightly thicker and weigh a bit more. Acer lists the dimensions at 340mm x 240mm x 20.75mm for the non-touch models and 22.85mm thick for the touchscreen offerings. Similarly, weight is 1.95kg for the standard models and 2.1kg for touchscreens. (Wow—who knew touchscreens weighed so much more?)
Other features of the 14" models include Core i3/i5/i7 CPU support, optional GeForce GT 740M 2GB DDR3 graphics, a 4-cell battery, hard drive capacities up to 1TB or SSD capacities up to 256GB, and four stereo speakers. Acer also lists a "ZoomPerfect Touchpad" as a feature, which will hopefully work better than some of the other touchpads we've seen lately.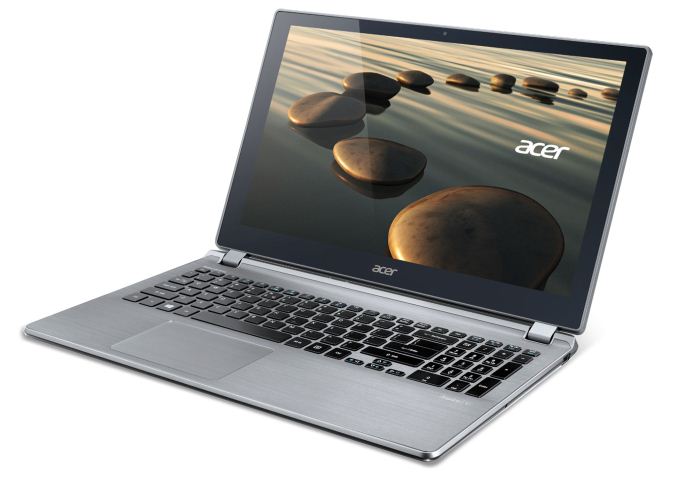 Last but not least, the V5/V7 15.6" series of laptops has many features that overlap with the above, including the 1080p IPS LCD upgrade, optional touchscreen, and optional dedicated graphics. Battery capacity remains unchanged, and the same goes for the storage options; the only real difference is in the dimensions and weight, as well as the GPU options. The keyboard also gets a dedicated 10-key on the right.
The non-touch models measure 381.6mm x 255.95mm x 20.75mm, while the touchscreen models are 22.85mm thick (so same thickness as the 14" models). Weight for the non-touch models is listed at 2.1kg, with the touchscreen bumping that to 2.3kg. As for the GPUs, Acer is offering a GT 720M 2GB DDR3 as one possibility, with a GT 750M 4GB DDR3 as a higher performance option. What's frustrating is that both GPUs have to make do with DDR3; really, the GT 750M doesn't deserve to be paired with anything less than GDDR5, particularly if you plan on getting a 1080p LCD!
Acer didn't provide details on specific models, configurations, or pricing. It seems as though there will be AMD APUs available in the 14" and 15.6" chassis as well, and one of the documents mentions the availability of Radeon HD 8750M. The V7 models will also apparently make the grade for Ultrabook classification (and probably pricing to go with that). Acer notes that keyboard backlighting will be available on all three sizes, depending on your region. As for pricing and availability, all we have to go on right now are that models will begin shipping at the end of May with a starting MSRP of $500.