System Performance
Although we saw the announcement of some 11th generation Intel Core "H-Series" processors at CES 2021 based on their newest Tiger Lake platform, Intel has yet to roll out those chips. So the Comet Lake platform remains Intel's leading platform for high-end laptops, which Razer is leveraging here in the Razer Blade 15.
On the CPU side, Razer offers only two options. The Base model, which we are reviewing today, features the Core i7-10750H processor, which is six cores, twelve threads, and a peak boost turbo of 5.0 GHz. The Advanced model steps up to the Core i7-10875H, which is eight cores, sixteen threads, and a slightly higher maximum boost of 5.1 GHz. Some will likely lament the lack of an AMD offering, but that would require a complete re-engineering of the product, which would be a significant undertaking, especially since the device leverages NVIDIA's Optimus technology. Never say never of course.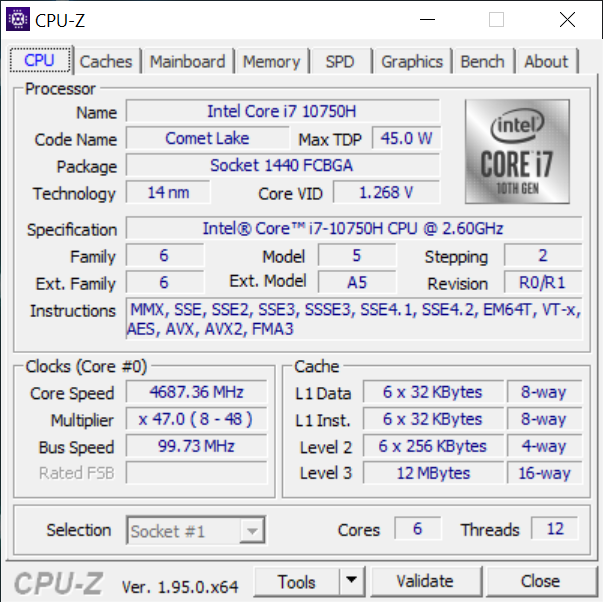 Razer offers dual-channel memory with 16 GB and 32 GB options depending on if you go Basic or Advanced, and the system can support up to 64 GB of DDR4 if you want to add memory. Storage is all M.2 NVMe, with 512 GB or 1 TB options, and both the Basic and Advanced models have an open M.2 slot if you want to add more storage.
To see how the Razer Blade 15 performs, it was run through our laptop system test suite. For comparison systems, most of the other systems are dGPU based as well, with the exception of the MSI Prestige 14 Evo, which will showcase Tiger Lake vs Comet Lake.
PCMark 10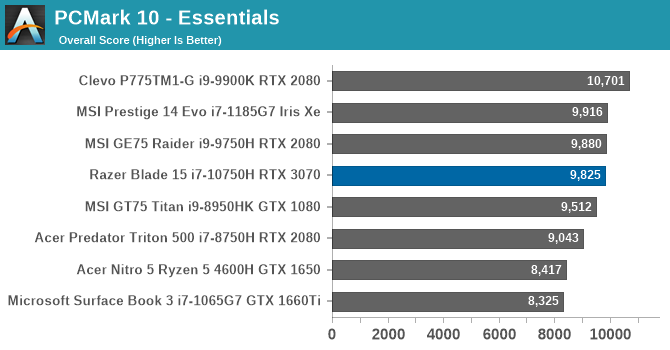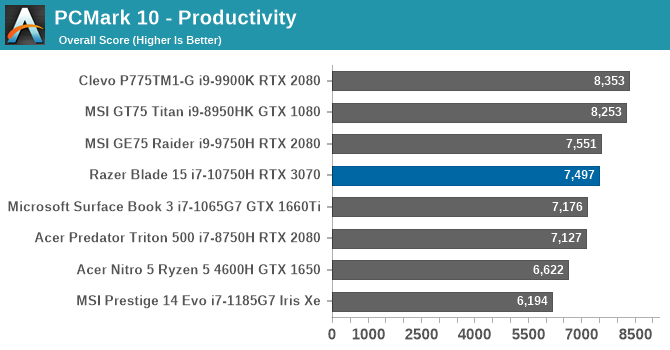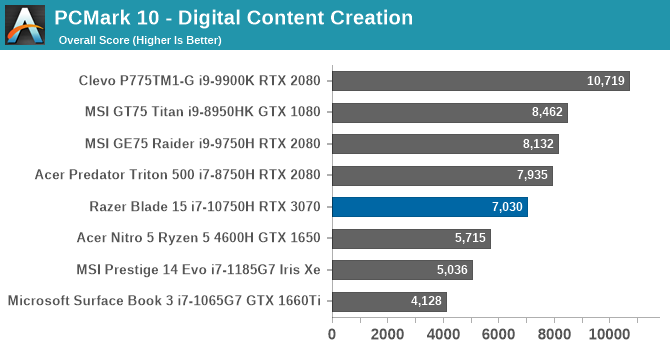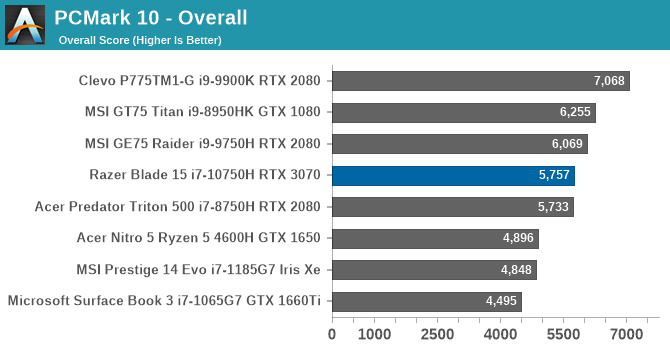 UL's PCMark 10 is a full-system benchmarking suite, with different sub-test categories testing different aspects of the system. CPU, GPU, RAM, and storage all play a part in the overall score. The Razer Blade 15 nestles in about mid-pack in this configuration. The higher core counts of some of the other systems allow them to win the day.
Cinebench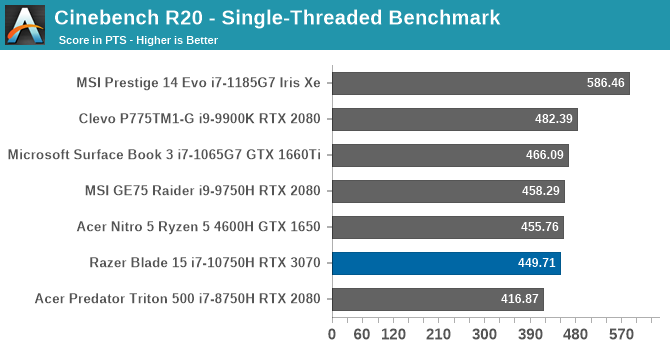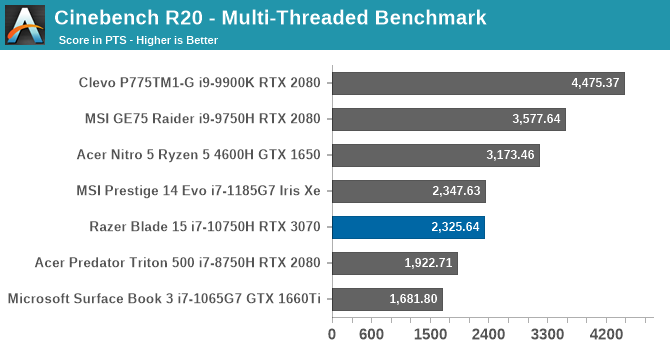 Cinebench, as a pure CPU test, really highlights how much the Skylake architecture at the heart of the Core i7-10750H is showing its age. In the single-core test, it slots in about where expected, but is demolished by the newer Willow Cove core found in the MSI Prestige, and even in multi-threaded, the Tiger Lake platform with just four cores can still slightly edge the hex-core i7 in the Razer Blade. Of course, the Advanced model of the Razer Blade 15 comes with an eight-core processor which would boost this result up a tier, but there is no denying that Comet Lake is not as competitive as it once was.
7-Zip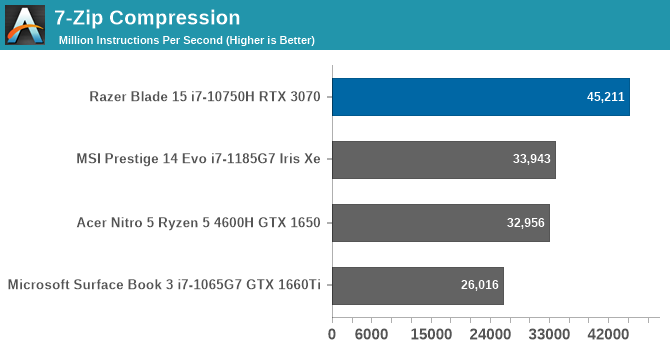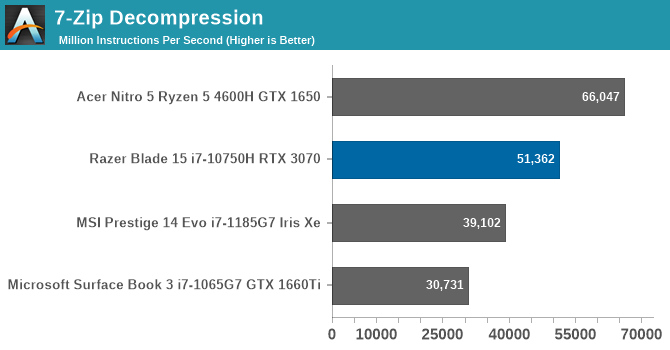 The open-source file compression and decompression tool 7-Zip includes a built-in benchmark to show how capable a system is doing a very basic, yet necessary, task. As a newer test in our suite, we don't have quite the back-data of all of the systems, but unlike Cinebench, the extra cores do help propel the Razer Blade ahead of the Tiger Lake based MSI Prestige.
Handbrake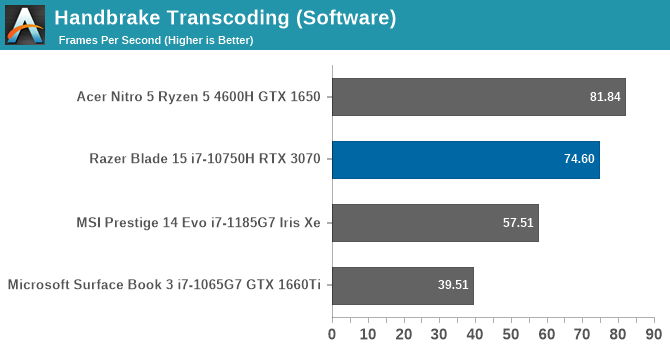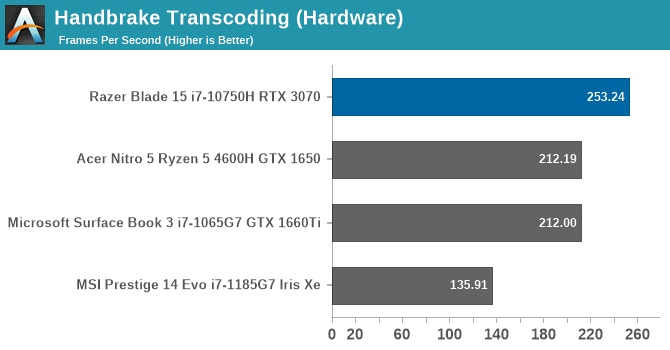 Transcoding video is a task that is very demanding, and although Intel, AMD, and NVIDIA all provide fixed-function hardware to accelerate this task, software encoding tends to provide the best results. The hex-core i7-10750H has a strong showing in software transcoding, almost matching the Renoir Ryzen 5, but not quite. On the hardware side, NVIDIA's RTX 3070 provides plenty of grunt to push past the Pascal GPUs.
Web Performance
Although a critical feature of any system, web performance is arguably the least reliable to test, as the browser itself plays such a key in performance, and yet the browsers are constantly upgraded, with some upgrades bringing better performance, while others may improve reliability at the cost of performance. For our web tests, we are using the now-default Microsoft Edge based on Chromium. The systems which have results for Speedometer 2.0 were tested with the new Chromium Edge, while the others were tested on the EdgeHTML version, so the WebXPRT 3 scores somewhat showcase the performance discrepancy with different browser scripting engines.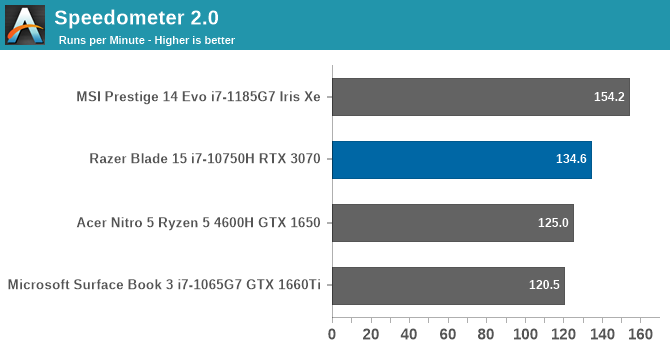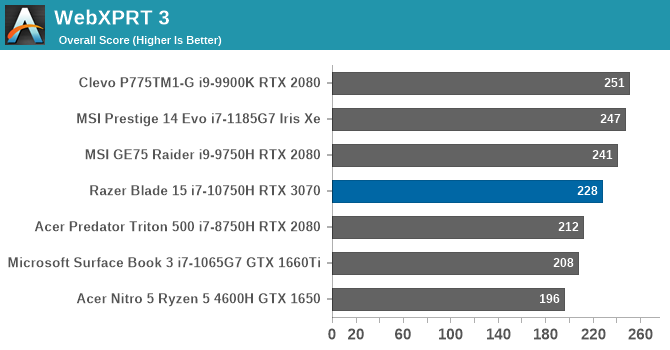 Unlike some of the more processor-intensive scores, the Intel Core i7-10750H, which can hit a maximum turbo of 5.0 GHz, is able to outclass the AMD Ryzen in the Acer Nitro 5, but Tiger Lake is well ahead here.
Storage Performance
In an effort to showcase more real-world storage results, we have moved to using UL's PCMark 10 suite with its new storage tests, which use actual traces from common applications, booting, and more. On the storage side, Comet Lake does not support PCIe 4.0, unlike Intel's latest Tiger Lake, but Razer has outfitted the Razer Blade we received with Samsung's PM981 drive.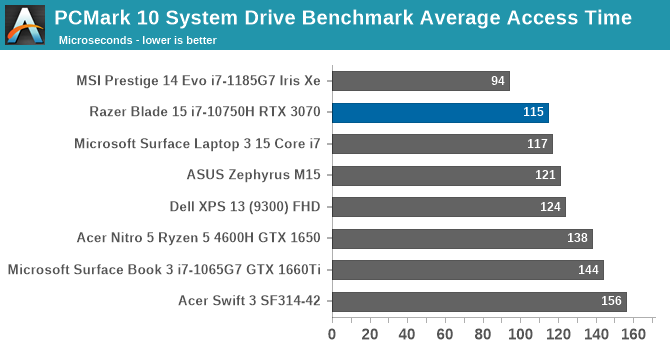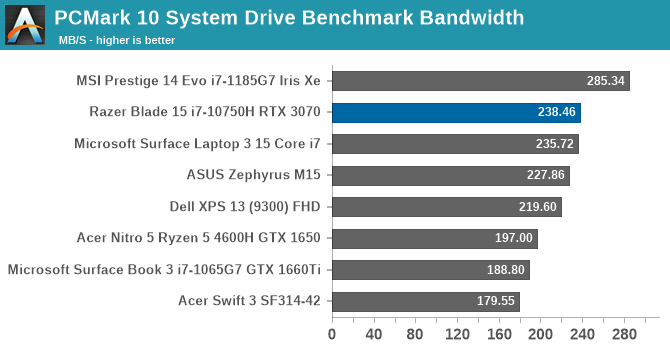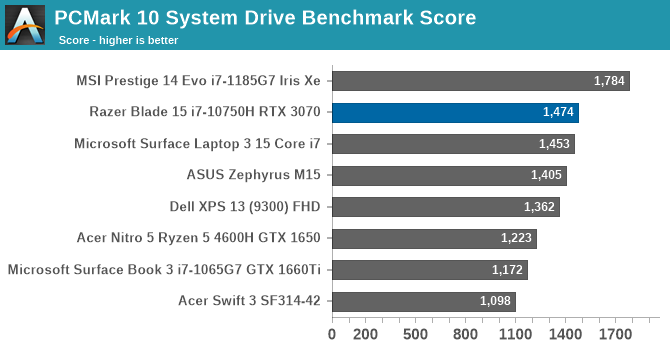 For a PCIe 3.0 setup, the PM981 performs very well in this 512 GB configuration. Other than the PCIe 4.0 drive, it is ahead in all aspects compared to any other laptop we've tested with this new suite.
As always, storage is somewhat of a commodity now, so there is no guarantee that any laptop will ship with the same storage, but the Razer laptops we have tested tend to come with Samsung drives, and the PM981 with its 3D TLC NAND is a strong performer.