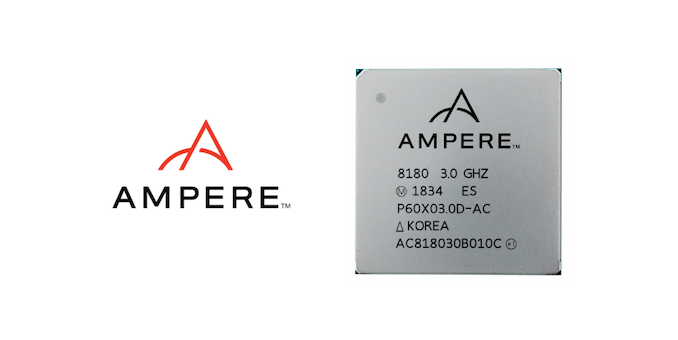 The pipeline for Arm based server products has a few companies fighting for as much of the market as they can get – the server market is a big pie to consume, and not only do these companies have to tempt customers from x86, but they also have to compete with each other to get customers. Most of them do this by having highly focused and niche products, targeted to a few key select markets. Ampere is one of those companies, using the old AppliedMicro IP, and now the company has a solid presence in its investor lineup: Arm.
Ampere, founded by former Intel president Renée James and funded by the Carlyle Group, currently offers its eMAG range of processors since October 2018. The company purchased AppliedMicro's X-Gene Arm-based server assets back in early 2018, and offers a custom Arm v8.0-A chip design with 32 cores running at 3.3 GHz, built on TSMC's 16FF+ process. The chip is based on the X-Gene II platform with optimizations, and the company has a roadmap planned for the next few years with updated generations of its eMAG product line. Recent product wins with eMAG include publicly available cloud instances from Packet, running at $1/hour.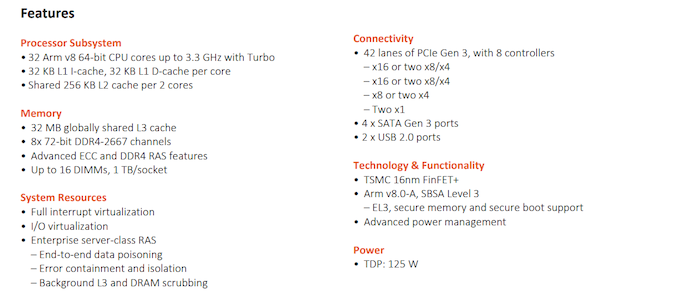 One of the aspects of these server companies using the Arm architecture is getting their elbows out into the market and selling at volume. At present, only Cavium has succeeded with its ThunderX2 platform, finding its way into servers, cloud instances, and even HPC deployments. These companies rely on rounds of investment early on in the design cycle, both in terms of money to develop products but also with respect to expertise that potential investors can bring. Ampere is part of The Carlyle Group, which has a large portfolio of investment, however the most recent round of investment into Ampere brings Arm under that list as well.
With Arm as an investor, it will be interesting to see how much the companies will want to interact beyond the raw cash injection. Arm doesn't invest in every Arm server chip company on the market, but the relationship has the potential to give Ampere some insight into Arm's future design portfolio (perhaps more than previously) as well as opportunities to focus resources, drive down development costs, or enhance final products. Depending on the level of interaction, this could give Ampere an advantage, especially in front of customers, compared to Arm's other licensees that also play in this space.
This was the second round of investment for Ampere. It was not disclosed how much investment was made, nor the valuation, or how much each investor has contributed.
"This significant investment from Arm and our initial investors signals their confidence in the future of Ampere and allows us to continue to accelerate and deliver our robust roadmap," said Renee James, Ampere founder, CEO and Chair. The company announced its first product, eMAG™, in October 2018.

"A robust ecosystem is critical to advance the Arm® architecture as the foundation for transforming the modern cloud to edge infrastructure," said Rene Haas, president Arm IP Products Group. "Investing in Ampere underscores Arm's commitment to accelerating both our ecosystem and availability of diverse Arm-based silicon solutions for an infrastructure market long deprived of choice and flexibility."
Related Reading
Source: Ampere