This week, AMD released their Radeon Pro Software for Enterprise 19.Q1 WHQL.
Headlining this release, on the heels of the launch of the prosumer-oriented Radeon VII, AMD is introducing Radeon Pro Software compatibility for many of their consumer parts. Under the program, certain Radeon consumer cards, including R5 300, R7, and RX series products will be able to install the Radeon Pro drivers. These products, in turn will be able to access certain professional features of the Radeon Pro drivers, but lack the all-critical certifications and optimizations that typically set the Pro drivers apart. Meanwhile for the new Radeon VII, AMD has announced that support is due soon, but isn't available at lanch.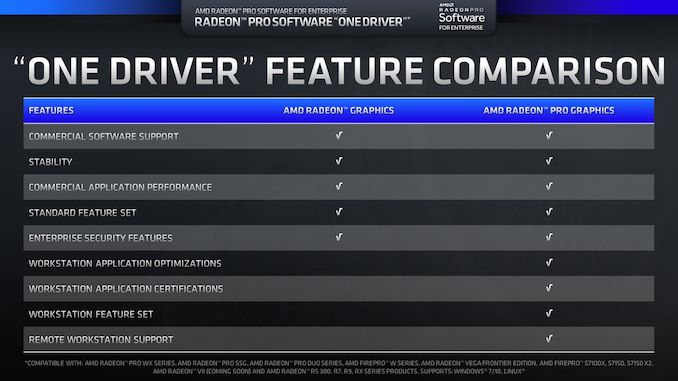 More on enterprise matters, similar to the continual push for day-0 video game support in AMD's regular Radeon Software, the company is stressing their efforts in day-0 ISV certification for professional applications. By AMD's count, 431 application/OS/device configuration certifications are included in 19.Q1, largely covering the Radeon Pro WX series but also some FirePro cards as well. AMD also cites year-over-year improvements in CAD/workstation software, as seen in SPECviewperf 13 performance increases over Radeon Pro Software Enterprise Edition 18.Q1.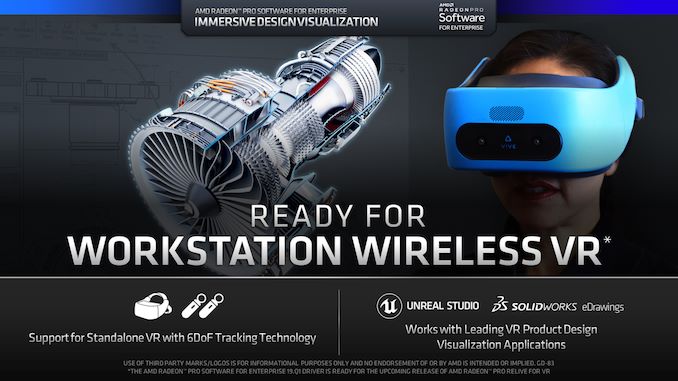 19.Q1 additionally improves AMD Remote Workstation to fully support Citrix Virtual Apps and Desktops, as well as bringing support for workstation wireless VR in Unreal Studio and SolidWorks eDrawings. This quarterly release also integrates Virtual Super Resolution into a professional feature called Radeon Pro Image Boost, which looks to improve image quality by scaling down an image rendered at higher than native resolution (up to 5K).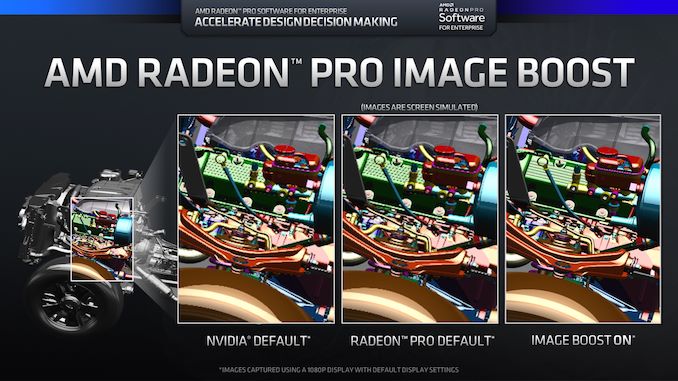 And lastly on their eGPU technology, AMD XConnect with Radeon ProRender support allows acceleration by both internal GPU and external Radeon Pro GPU for certain configurations.
Bugfixes and Resolved Issues
As expected, 19.Q1 also comes with fixes for the following issues:
Some color corruption issues seen in Adobe Premiere Pro with 10 bit pixel format
Flashing corruption issues with Adobe Photoshop
Issues with video playback with 10 bit pixel format
Radeon Pro Settings does not launch after driver install
"No AMD graphics driver is installed" popup error on switching from Gaming Mode to Professional Mode
Known Issues
AMD notes that Multi-GPU Eyefinity Pro on Windows 10 is only currently supported on the Radeon Pro WX 7100.
Some display issues may be observed While switching to latest drivers of gaming/professional mode
Applications using DOPP may experience some issues with Display Overlap enabled
Some rendering issues may be observed in a multi-display scenario with VMware while hot plugging
Users may encounter issues when creating compute intensive explosions with previous generation AMD FirePro products in Houdini
The updated drivers for AMD's professional workstation GPUs are available online at the AMD's professional graphics driver download page. More information on this update and further issues can be found in the Radeon Pro Software for Enterprise 19.Q1 summary notes, as well as full release notes.
Source: AMD